Medical College of Wisconsin Strategic Direction
In 2010, shortly following the appointments of John R. Raymond, Sr., MD, President and CEO and Joseph E. Kerschner, MD, Executive Vice President and Dean, School of Medicine, a strategic process commenced at the Medical College of Wisconsin to reflect the dynamic environment of academic medicine.
To be both responsive to healthcare market changes and nimble enough to seize opportunity, MCW engages in a planning process that rapidly and rigorously assesses newly proposed strategic initiatives. Then, annually, we update our rolling five-year forecast to reflect revisions and additions to our strategic direction and any changes made to current initiatives.
This process, although divergent from a traditional strategic planning process, has demonstrated great success over the past five years. The approach of "setting a direction and testing to it" has invigorated the people of MCW, reflecting the innovative spirit that is part of our institutional DNA.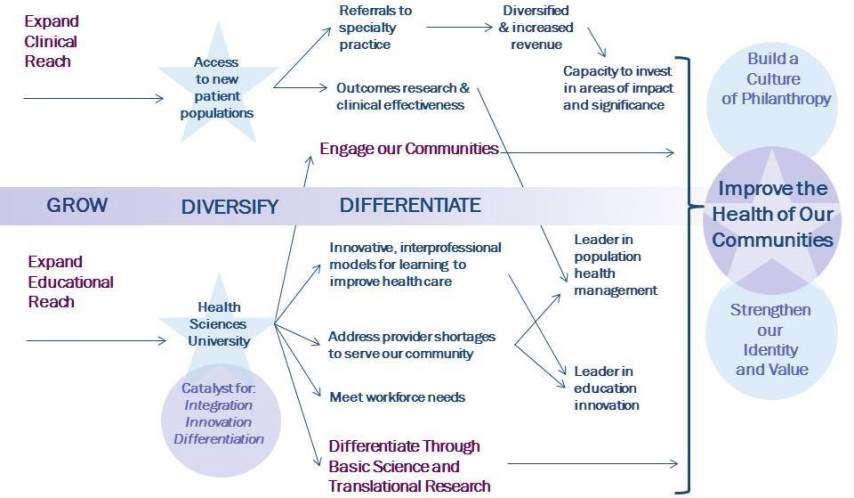 Strategic Imperatives
In 2011, the MCW Board of Trustees set forth a set of strategic imperatives for the organization. Strategic imperatives are the high-level criteria used to assess the value of pursuing new strategic initiatives.
Strategic imperatives:
- Grow
- Diversify
- Differentiate
- Strengthen Our Brand
- Build a Culture of Philanthropy
- Improve the Health of Our Communities
Strategic Process
August – September
Strategic Retreats for schools, physician practices and major partnerships
October
MCW Trustees Strategic Retreat
October – December
Program planning meetings with Department Leadership
January
Department Leaders submit strategic updates, goals and proposals
February – March
Strategic assessment conducted for new projects
April
Annual budgets submitted
May
Strategic changes made to long-range plan
June
Trustees approval annual budget and margin target for fiscal year starting July 1
Strategic Initiatives - Phases
Discovery Phase
Discovery Phase
Background research, feasibility study, business plan with 5-7 year pro forma, assessment against strategic imperatives and long-range financial plan, and a vetting process with executive leaders, faculty leadership groups and Trustees.
Development Phase
Development Phase
Upon approval of the business plan associated with a strategic initiative, a project team is formed to launch the development phase. The project team is composed of a strategic leader, a strategic advisory committee, and a project manager. Strategic initiatives must hit key milestones – including timing, resources, recruitment and fundraising milestones – before moving to the Implementation Phase.
Implementation Phase
Implementation Phase
Depending upon the magnitude of an initiative, the development team may hand-off the initiative to an implementation team. An example is the regional medical school campuses, in which the development team was located in Milwaukee and focused on establishing the foundation for the campuses such as contracting, Dean and key faculty recruitment, curriculum development and marketing. Once Campus Deans were recruited, the initiative moved into the implementation phase with the Deans in the lead.
Integrated Into Operations
Integrated Into Operations
MCW considers that once an initiative reaches year two of implementation, it integrates into overall operations and falls off the strategic initiatives list.
Strategic Direction - 2016 to 2020
Maintain Excellent Financial Performance
Diversify and grow revenue
3-5% operating margins
Maintain or improve credit ratings
Reinforce MCW's Value to Our Communities Across Wisconsin
Expand MCW's visibility, value and brand salience across Wisconsin, inciting engagement and action by stakeholders and partners
Implement innovative education programs that address workforce needs and lead to improved health in our communities
Build the Capacity for Sustainable Growth
Enable clinical expansion projects on Milwaukee Regional Medical Center campus
Maintain strength of existing partnerships
Expand geographic presence by building new partnerships
MCW 2025 Strategic Framework
MCW Strategic Initiatives
Clinical Partnerships
Strengthen existing relationships with essential partners Froedtert Health and Children's Wisconsin. Recruit specialists for Medical College Physicians partnership with Ascension St. Clare's Hospital (Wausau/Weston).
Regional Medical School Campuses - Green Bay and Central Wisconsin
Address physician needs in underserved areas through an immersive, community-based medical school program with a unique curricular model that gets physicians into practice sooner.
School of Pharmacy
Address physician needs in underserved areas through an immersive, community-based medical school program with a unique curricular model that gets physicians into practice sooner.
National Cancer Institutes Designation
Obtain NIH National Cancer Institute status and be recognized for our scientific leadership, resources, and the depth and breadth of our clinical, basic science and translational research.
Biomedical Engineering Program
In partnership with Marquette University, become a premier biomedical engineering program offering unique undergraduate and graduate programs.
Professional Office Building
Transition MCW's adult clinical practice to a collaborative work environment that strengthens MCW's competitive advantage for retention and recruitment of world class faculty and staff.
Comprehensive Campaign
A comprehensive fundraising campaign for MCW and Froedtert Hospital focused on transforming our educational mission; providing the very best care backed by the best medical discovery; and, leading the way in cancer care.
Brand Strategy
Clearly articulate MCW's vision and value to our community and stakeholders and reflect this in a brand strategy that elevates our visibility and demonstrates our positive impact.
Health Science University
Transform into a comprehensive university focused on training the next generation of physicians, pharmacists, scientists and other allied health professionals through innovative education and research models.
Forensic Science Center
In partnership with Milwaukee County and many others, develop a national center of excellence for forensic science that integrates opportunities to advance research and education that will help keep our communities safe.