MCW/Marquette Medical Alumni Association
The Alumni Association is dedicated to facilitating the lifetime connection of alumni and students with the Medical College of Wisconsin and each other.
Connect on MCW ENGAGE now!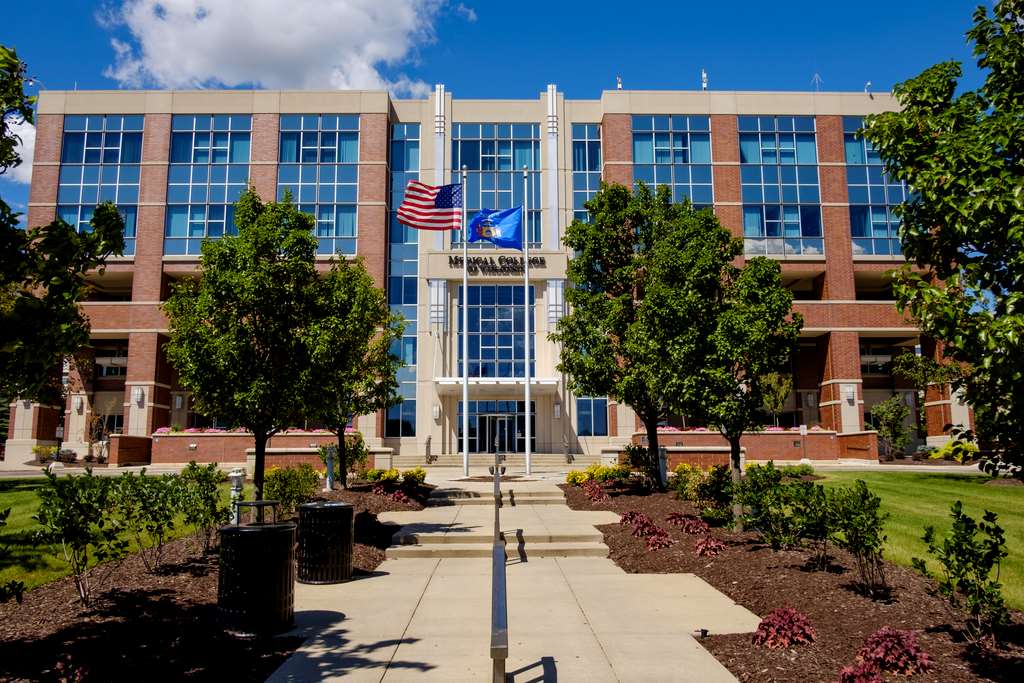 Alumni Association Board of Directors
Neil R. Guenther, MD '83, GME '88, President
Neil R. Guenther, MD '83, GME '88, President
As I embarked down my road in health care 40 years ago, I learned early on to "go with the flow". My career in Pharmacy was short-lived, but the experiences served me a lifetime. I took a chance in leaving Pharmacy to pursue Medicine, a change I have never regretted. MCW gave me a unique opportunity in life and I would like to think I made the most of it.

Milwaukee has been home since I started medical school. My Anesthesia career started at St. Mary's in Milwaukee and continued at Aurora St. Luke's Medical Center where I have practiced since 1992. I cannot begin to reflect on the number of individuals that have influenced my life and my career and have taught me so much.

Being involved with MCW at this time of my career has been personally rewarding. Over my decades in the health care fields, I learned a lot. I am grateful for the opportunity to give back to those embarking on their own journeys.
Barbara B. Calkins, MD '96, Vice President
Barbara B. Calkins, MD '96, Vice President
I have been practicing general pediatrics in an outpatient setting since 1999. My education started at the Medical College of Wisconsin, where I have made lifelong friends and colleagues. After completing my residency at The Children's Hospital of Colorado, I served as a Chief Resident, and then joined Aurora Pediatric Associates. After practicing there for three years in Colorado and then in Kansas City at Child Care Limited for two years, I settled in Wisconsin in 2005, and joined Westbrook Pediatrics. I am proud to be a part of Children's Medical Group (CMG) within the Children's Hospital of Wisconsin, caring for children ages birth to 21. I have been fortunate to return to the community I grew up in, work in the community I live, and live near my extended family.
I have also been fortunate to have multiple leadership positions within Children Hospital/Children's Medical Group.
Matthew I. Goldblatt, MD '97, GME '04, Secretary-Treasurer
Matthew I. Goldblatt, MD '97, GME '04, Secretary-Treasurer
I was born in Johannesburg, South Africa and moved to the United States when I was 2 years old. My parents instilled in me the concepts that education and giving back to your community are extremely important. Because of that, I decided to serve in the US Air Force as a way of paying back for everything this country as allowed me to do. I also feel that being active with committees at MCW allows me to give back to this medical school.
I grew up in the Milwaukee area and went to the University of Wisconsin for undergrad. I went to MCW for medical school and Surgery residency. After completing a fellowship at the Ohio State University (don't worry, I'll always be a Badger), I completed my military commitment. Thankfully, I was able to come back home to continue my career and raise my children in Milwaukee.
Jonathan M. Bock, MD '01
Jonathan M. Bock, MD '01
I am currently an Associate Professor in the Division of Laryngology & Professional Voice in the Department of Otolaryngology & Communication Sciences at the Medical College of Wisconsin. My clinical practice focuses on care of voice and swallowing disorders, and involves care for a multitude of teachers, pastors, lawyers, actors, singers, and other people who use their voice extensively for vocation or avocation. My research work has included both clinical and translational science protocols. I am currently the Otolaryngology Clerkship Coordinator for our department at MCW. I am an active performer and musician and perform both solo and with my band regularly around the greater Milwaukee area. I live in Milwaukee with my wife and 4 very musical and dramatic children.
Mark W. Bosbous, MD '05, GME '11
Mark W. Bosbous, MD '05, GME '11
I am a board certified plastic surgeon practicing in the West Bend area for Froedtert and the Medical College of Wisconsin Community Physicians since completing my fellowship in 2012. My patient care focus is a balance of the latest cosmetic and reconstructive surgery techniques with a passion for delivering each patient natural results in a safe and thoughtful manner.
Currently serving as a preceptor in Plastic Surgery for students from the Marquette University PA program and an adjunct faculty in the MCW Department of Plastic Surgery serving as a preceptor for the cosmetic surgery rotation.
Bruce H. Campbell, MD, GME '85
Bruce H. Campbell, MD, GME '85
I completed the MCW otolaryngology residency in 1985 and a fellowship in head and neck surgical oncology at MD Anderson in Houston TX. I have been on the MCW faculty since 1987.
I love working with students and residents who are our soon-to-be alumni. Over the years, I have been clerkship director, pathway director, and residency program director. In addition, I have been privileged to work with many MCW alumni, both on campus and in the community.
I have a special interest in narrative medicine, and how it can help our learners be resilient and establish healthy physician-patient and collegial relationships.
One of my sons is an MCW alumnus (Class of 2016) and will complete his MCW otolaryngology residency in 2021.
Michael D. Curtis, MD '89
Michael D. Curtis, MD '89
Ronald J. Gerrits, PhD '99
Ronald J. Gerrits, PhD '99
Since graduating from MCW in 1999 I have served on the faculty at Milwaukee School of Engineering (MSOE), my undergraduate alma mater. My specialty is teaching health-science courses such as physiology, pathophysiology, pharmacology and similar.
I have served as the program director for the Master of Science in Perfusion program since 2001, led our faculty governance body for multiple years and have worked with a variety of educational programs for both high school students and high school faculty.
Professional projects have generally been curriculum and educational research focused. This includes developing curriculum for the Open Learning Initiative Physiology project, Pearson foundation, Tophat Corporation, and others.
Donald A. Hackbarth, MD '77, GME '82
Donald A. Hackbarth, MD '77, GME '82
I have spent the better part of 45 years in and around the MCW campus. I was accepted to MCW in 1973. Following graduation from MCW in 1977, I matched into the MCW Orthopaedic surgery residency graduating in 1982. I spent 2 ½ fulfilling and exciting years in general orthopaedic practice in Burlington, WI. I was accepted into the Orthopaedic Oncology Fellowship at the University of Florida in 1985 where I was educated by William Enneking, MD and Dempsey Springfield, MD. I was invited to return to Milwaukee and MCW by my old Chief, Bruce Brewer, MD in July 1986 to establish a Division of Musculoskeletal Oncology at MCW. I was busy building and running the section until November 1993 when I took a hiatus and re-entered private Orthopaedic practice with colleagues from MCW
In May 2000, I was invited by Jeffrey Schwab, MD to return to the MCW residency faculty to re-establish the Orthopaedic Oncology section and a multi-disciplinary musculoskeletal oncology group. Dave King MD joined me in 2002. He became our chair of Orthopaedic Surgery in 2016. J.C. Neilson MD joined us in 2010. Recently Adam Wooldridge MD has joined our Orthopaedic Oncology section.
It has been an exciting journey over the past 19 years as we built a nationally recognized Musculoskeletal Oncology program. The highlight of each week has been our very well attended (standing room only), Musculoskeletal Oncology Tumor Boards at both Froedtert/MCW and Children's Hospital of Wisconsin as well as our multi-disciplinary tumor clinics. We participate in many studies, and our group has published over 30 studies and articles.
Beth B. Krippendorf, PhD '93
Beth B. Krippendorf, PhD '93
I have dedicated my teaching service to MCW for more than 20 years. During that time, I taught and served as laboratory director for several courses including Cell and Tissue Biology, Medical Neuroscience and Clinical Human Anatomy. I am currently the course director for Medical Neuroscience, and help students learn anatomy in the School of Medicine and School of Pharmacy.
My educational scholarship has focused on the development of teaching materials and assessment methods. Topics for my educational publications and presentations include virtual microscopy, an online interactive laboratory manual, computerized examinations and grading, and video examination questions.
George M. Lange, MD '75
George M. Lange, MD '75
After serving patients in my internal medicine/geriatrics practice, first in private practice and then with Ascension-Columbia St. Mary's Westgate Clinic since 1978, I retired in 2018. My practice included inpatient, nursing home, hospice and clinic care as a primary care physician. I have provided extensive professional and lay education on End of Life care and decision-making. Holding leadership positions in hospital and nursing home quality improvement has allowed me to contribute to better health care for patients. I have been very active in my local, Wisconsin, and American Medical Associations, speaking on behalf of Wisconsin's physicians and patients.
Marie L. Nakata, MD '89, GME '93
Marie L. Nakata, MD '89, GME '93
A native of Milwaukee, I am a board-certified dermatologist and have been practicing dermatology for over 20 years. I relate closely with my patients since I, too, experienced many skin issues as a child, and as a result of those issues I decided to become a dermatologist to help others. While focusing on general dermatology, I take special interest in skin cancer detection and treatment, acne, eczema, itchy skin, rashes, moles, and abnormal growths.
Jessica M. Olson, PhD '15, MPH '17
Jessica M. Olson, PhD '15, MPH '17
I am an Assistant Professor in the Institute for Health & Equity. My research is dedicated toward leveraging and integrating the strengths of basic, clinical, and community research to reduce disparities in cancer incidence and mortality.
Currently, I am a member of the Advancing a Healthier Wisconsin Endowment's Cross-Cutting Initiative, an eight-year investment focused on reducing breast and lung cancer disparities in the state of Wisconsin. In addition, I am collaborating on projects to identify circulating biomarkers that indicate cancer incidence, tumor progression, or subsequent cancer treatment-induced cardiotoxicity.
Additionally, I currently serve as Chair of the Medical College of Wisconsin's Women in Science Sciences. I am passionate about scientific educational outreach, pipeline programming, and increasing diverse representation of researchers and clinicians on MCW's campus.
Thomas E. Palmer, MD '71, GME '76, FEL '85
Thomas E. Palmer, MD '71, GME '76, FEL '85
After graduation from MCW in 1971, my professional life of 43 years has been dedicated to the clinical practice of medicine, which included seven years in primary care, followed by twenty-nine years in specialty care (interventional cardiology), mostly in the Milwaukee area.
I have been very fortunate to have had the strong support of my wife and three sons during this time. My greatest fulfillment in my medical life has been the opportunity to serve the patients and families entrusted to my care, with skills, insights, and sensitivities taught me by all of my MCW professors and instructors. I am very grateful for all of these experiences.
Philip I. T. Regala, MD '91
Philip I. T. Regala, MD '91
When I completed my Orthopedic Surgery in 1997 I had plans to go back to my small town of Hartford, Wisconsin. However, faith intervened and I took the chance of opening a solo practice in Naples, Florida. Since then I found a home where I was able to raise my family, give to the community and thrive professionally. I am still in solo practice, doing general orthopedics with a focus on sports medicine.
I have served as a volunteer team physician for several of the local high schools. I volunteer at the Neighborhood Health Clinic which serves the uninsured working poor of our community. I have been an instructor for the NOVA University physician's assistant program. I have been a member of the Rotary Club of Naples and have been Rotarian of the Year.
Alumni Association Directors Emeritus
Cynthia A. Bauer, MD '74, GME '75
Brian J. Bear, MD '84, GME '89
Steven C. Bergin, MD '74, GME '78
John T. Bjork, MD '71, Fel '76
Robert O. Buss, MD '66, GME '68
John O. Chamberlain, MD '52
Donald E. Chisholm, MD '56, GME '64
Timothy A. Crummy, MD '97
Ronald J. Darling, MD '62, GME '67
Donna D. Davidoff, MD '78, GME '81
Timothy T. Flaherty, MD '59
Walter E. Gager, MD '63, GME '67
Daniel J. Geenen, MD '89, GME '92
Paul E. Hankwitz, MD '74, GME '78
Kathleen M. Hargarten, MD '82, GME '85
Donald J. Heyrman, MD '56
Walter J. Hogan, MD '58
Roger P. Johnson, MD '67, GME '73, MS '65
William J. Listwan, MD '68, GME '74
Jane L. Neumann, MD '70, GME '73
James A. Stadler, MD '73, GME '77
Kathleen S. Stokes, MD '87, GME '91
Gilbert S. Wadina, MD '61
Daniel R. Wartinbee, MD '77, GME '82
William G. Weber, MD '60
Thomas G. Wittmann, MD '84, GME '87
Contact Us
MCW/Marquette Medical Alumni Association
8701 Watertown Plank Rd.
Milwaukee, WI 53226
Anthony Perez, Interim Director
(414) 955-4780 | anperez@mcw.edu
Angie LaLuzerne, Program Coordinator
(414) 955-4781 | alaluzerne@mcw.edu