Pediatric Dermatology at Children's Wisconsin
The Division of Pediatric Dermatology is directed by Dr. Kristen Holland. This team of six full-time attending physicians, three physicians assistants, one pediatric dermatology fellow, and seven registered nurses offer unparalleled expertise and provide comprehensive services in pediatric dermatology.
The program is one of the largest of its kind in the country with more than 20,000 outpatient pediatric visits per year located at Children's Wisconsin and our offsite location in New Berlin. In addition to outpatient services, there is also an inpatient service and a thriving inpatient consultation service.
The division's main academic focus is on clinical research and teaching.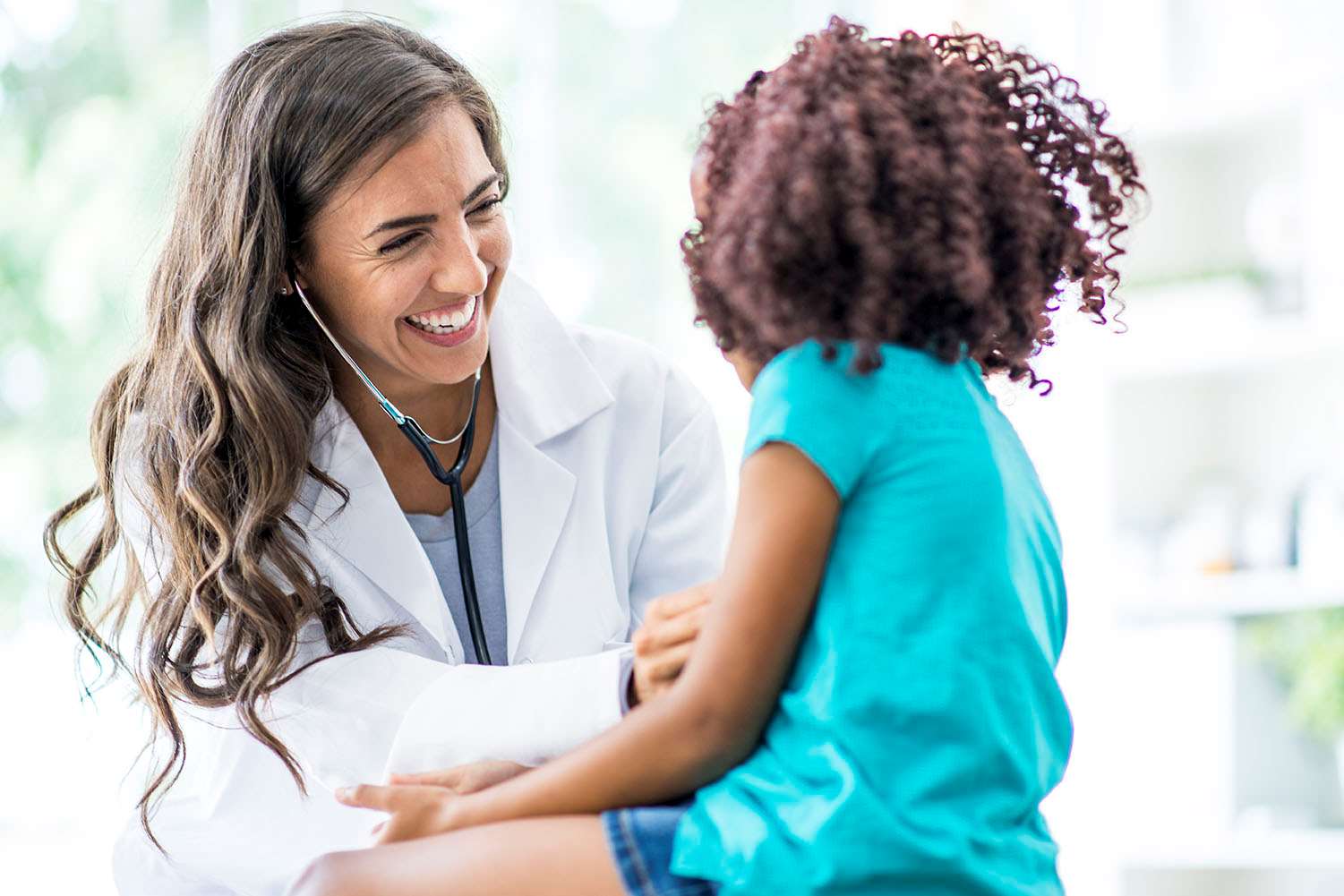 Pediatric Diagnosis and Treatment Specialty Areas
Active Pediatric Research Studies
For more information on a study, contact aschamerhorn@mcw.edu.
Genetic Analysis of PHACE
The purpose of this study is to determine if there are genes that are common in the cause of PHACE syndrome. Identification of causal gene(s) in PHACE syndrome would contribute to a better understanding of the molecular pathways involved in hemangiomas.
Longitudinal Study of Neurologic, Cognitive, and Radiologic Outcomes in PHACE Syndrome
The purpose of this study is to establish a cohort of 30 subjects from ages 4 to 18 years of age; define the functional and neurodevelopmental outcome of PHACE syndrome and identify potential biomarkers that predict progressive vasculopathy, ischemic stroke, and neurodevelopmental impairment.
Longitudinal Characterization of Pediatric-Onset Morphea
This study aims to better understand the natural history and clinical features of morphea. A retrospective review of our institutional experience with this disease is combined with a prospective registry. Standardized assessments will be completed at each visit. A tissue bank consisting of blood and skin samples will be accumulated over time to allow for translational research projects in the future.
International Registry for Vascular Anomalies Associated with Coagulopathy
A longitudinal cohort study of vascular anomalies associated with coagulopathy to describe clinical features, histopathological features, prognosis and therapeutic options. The goal is to provide an international resource for physicians and families by establishing diagnostic guidelines and developing standards of care for evaluation and treatment of kids with vascular anomalies associated with coagulopathy.
Vascular Malformations and Abnormalities of Growth
The primary goal of this pilot study is to identify potential biomarkers for patients with vascular malformations and variable clinical phenotypes that are potentially be tested in larger clinical trials. Patients with vascular malformations will be evaluated for global or mosaic growth abnormalities in an effort to assess the extent of these associations. Patients will be clinically evaluated for growth abnormalities and will have systematic molecular studies performed to detect abnormalities in the P13 kinase/AKT signaling pathway.
Clinical and Genetic Analysis of Genetic Skin Diseases
The purpose of this research is to develop a better understanding of the cause of genetic skin disorders. The researchers will also seek to determine if there is a relationship between the specific gene mutation and the skin changes or other medical problems
Efficacy, Safety and Pharmacokinetics of Topical Timolol in Infants with Infantile Hemangioma
This is a prospective, multi-center, double-masked, randomized, efficacy, safety, and PK study. This study will serve as a tool to better identify the efficacy and safety of using topical timolol to treat infantile hemangiomas.
A Pilot Study of a Single, Easily Measurable Outcome for Psoriasis in Pediatric Patient
The primary objective of this study is to determine whether a single, easily measurable outcome correlates to therapeutic targets and quality of life goals for pediatric psoriasis patients.
Prospective, Observational, Longitudinal Study in Pediatric Patients with Moderate to Severe Atopic Dermatitis Whose Disease Is Not Adequately Controlled with Topical Prescription Therapies Or When Those Therapies Are Not Medically Advisable
The purpose of this study is to better characterize atopic dermatitis and document the real-world effectiveness and safety of treatments.
Multicenter, Double-Blind, Randomized, Placebo Controlled Study to Evaluate Safety, Tolerability, and Efficacy of Ixekizumab in Patients from 6 to Less than 18 Years of Age with Moderate-to-Severe Plaque Psoriasis
This study is part of the European PIP and USA Pediatric Study Plan, and it is intended to investigate the safety, efficacy, and PK of ixekizumab in pediatric subjects (children and adolescents).
The Impact of Pediatric Skin Disorders
This study leverages the availability of a validated series of instruments to measure the effect of highly visible, chronic skin disorders, including atopic dermatitis (AD), on patients 8 years of age and above in causing stigma and psychiatric issues, particularly anxiety and depression. These include measures in the PROMIS (Patient Reported Outcomes Measurement Information System) toolbox, among them short form assessments for pediatric anxiety, depression and social functioning, as well as a modified Neuro-QoL stigma instrument that includes skin-specific questions. Patient and parental instruments will be used to allow comparison in outcome assessment.