Rare Diseases and Rare Cancers in the Era of Systems Biology Symposium
October 11-12, 2023 | Milwaukee, WI
This symposium is a two-day hybrid event featuring seminars and panel discussions from expert researchers and clinicians in five focus areas: precision medicine, innovative technology, mitochondrial system dysfunctions, immune system dysfunction, and systems biology.
Invited speakers, from regional to international, will focus on the current and desired future state of rare disease research and advocate for greater understanding and therapeutic interventions for rare diseases and rare cancers.
Specifically, our goals are to 1) share and promote novel strategies for genomic analyses and precision medicine, 2) foster cross-disciplinary collaborations, and 3) initiate an annual gathering for rare disease and rare cancer researchers.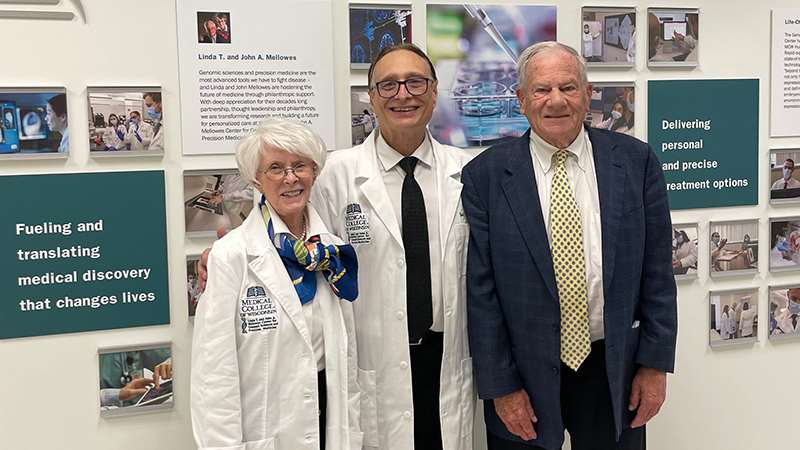 Keynote Speaker | Dr. Pablo Lapunzina
Wednesday, October 11 | 12 – 1:15 p.m.
Director of CIBERER (Centro de Investigación Biomédica En Red Enfermedades Raras)
Highlighting the immense potential for new methods combined with data mining genomic knowledge to link biological alteration(s) to rare disease, leading to development of new treatments and new diagnostic procedures for these conditions. 
Bolger Auditorium & Zoom
Five Key Focus Areas
Wednesday, October 11
Panel Session 1: Precision Medicine for Rare Diseases and Rare Cancers
1:30 – 3:30 p.m.
Panel Session 2: Mitochondrial System Dysfunctions
3:45 – 5:15 p.m.
Thursday, October 12
Panel Session 2 (Continued): Mitochondrial System Dysfunctions
8:15 – 9 a.m.
Panel Session 3: Innovative Technology
9 – 10:30 a.m.
Panel Session 4: Immune System Dysfunctions
10:30 a.m. – 12:30 p.m.
Panel Session 5: System Biology
1:30 – 4:30 p.m.
Rare Storytellers Meets Milwaukee | Featuring Michael R. Lovell, PhD
Wednesday, October 11 | 6:30 – 8 p.m. CT
Hors d'oeuvres & Welcome Reception 5 – 6:30 p.m. CT
Dr. Michael R. Lovell, president of Marquette University, will share his personal story of diagnosis with a rare form of sarcoma that affects less than 2,000 people each year.
Bolger Auditorium & Zoom
The Mellowes Center is a proud partner of Harmony 4 Hope, a nonprofit synthesizing stories, songs, and science to educate, empower, and fuel Rare Disease research.
Event Location
Medical College of Wisconsin
Bolger Auditorium, Health Research Center
8701 Watertown Plank Rd.
Milwaukee, WI 53226
All sessions are hybrid.