About the Medical College of Wisconsin Division of Hematology and Oncology
Welcome to the Division of Hematology and Oncology at the Medical College of Wisconsin. Our exceptionally talented team of MD and PhD faculty, advanced practice providers, nurses, research and administrative staff are focused on patient centered clinical care and research in the pursuit of better therapies for cancer and blood disorders. The Division is part of the Department of Medicine and functions within the framework of Medical College of Wisconsin Cancer Center. Our expertise extends to all aspects of medical oncology including treatment of solid tumors, hematologic (blood) cancers, bone marrow transplantation and cellular therapies. We also strive to provide excellent care for non-cancerous blood diseases, including bleeding and clotting disorders.
Division faculty practice primarily at the Froedtert & the Medical College of Wisconsin Clinical Cancer Center and at the Clement J. Zablocki VA Medical Center. Faculty members also see patients at the following Froedtert & the Medical College of Wisconsin Cancer Network locations: Froedtert Menomonee Falls Hospital's Cancer Care Center in Menomonee Falls, Froedtert West Bend Hospital's Kraemer Cancer Center in West Bend, Froedtert Drexel Town Square in Oak Creek and Froedtert's Moorland Reserve Health Center in New Berlin. The primary clinical goal for the Clinical Cancer Center is to provide state-of-the-art, patient-centered, multidisciplinary care in a healing environment.
State-of-the-art care in oncology means that our faculty are sub-specialists who are well-known experts in their field with a narrow focus on just one or two cancer types. This disease focus also allows our cancer specialists to bring the most advanced treatments and clinical trials to their patients. Multidisciplinary care involves close collaboration with our colleagues in Radiation Oncology, Surgical Oncology, Urologic Oncology and Gynecological Oncology as well as other specialists at Froedtert & the Medical College of Wisconsin. Our internationally renowned Bone Marrow Transplant Program has maintained over many years survival outcomes at the very top of the national rankings and is involved in innovative immune cell therapy research. Similar programs for blood cancers (leukemia, lymphoma and myeloma) and common solid tumors (breast, colon, pancreas, head and neck, lung, genitourinary cancers) ensure that patients in southeastern Wisconsin have access to the best of the best in cancer care. The Division also has the important mission of educating the next generation of hematologists, oncologists and palliative care specialists in our fellowship programs. Research done in the Division spans all aspects of cancer care including cancer prevention, epidemiology, immunology, drug development and pharmacotherapy as well as all phases of clinical trials. As a Division, we are engaged in a variety of efforts to improve the awareness and knowledge about these illnesses and cancer survivorship in our region among the public, fellow physicians and other providers.
Our faculty and staff have grown more than threefold in the past six years and we have significantly expanded both our ambulatory and in-patient facilities. Even more exceptional has been our growth in the programs and services for patients, access to cutting edge research, and clinical trials for difficult diseases. We can offer our patients unique therapies not found elsewhere in this region and beyond. As a long-time member of the Medical College of Wisconsin's faculty, I am proud of our accomplishments and progress in cancer research and patient care. I am especially proud of the exceptional work being done by our Hematology and Oncology team of faculty and staff.
Please feel free to explore our website and learn more about our physicians, services, educational opportunities, and research. We hope that you will find the information you need and please feel free to reach out if you need more information or to schedule a clinic visit. The Cancer Center main line is (414) 805-0505 and you will be transferred to an intake coordinator based on the patient's disease.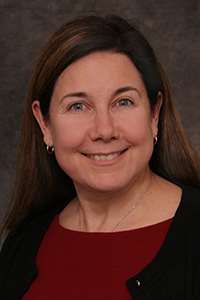 Laura Michaelis, MD
Division Chief
Affiliated Institutions & Facilities
Affiliated Departments & Institutions
Affiliated Facilities