MCW Neuroscience Research Center Giving
What Does Your Gift Mean to the Neuroscience Research Center?
The Medical College of Wisconsin's Neuroscience Research Center was founded in 2010 with the goal of enhancing neuroscience research at the Medical College of Wisconsin. The Center's overarching goal is to use a team approach to tackle neurological and psychiatric disorders.

Philanthropy plays an important role in advancing the work of the Neuroscience Center and the patients who receive its benefits. Your gift will support research that moves us one step closer to understanding complex and devastating brain disorders such as Alzheimer's and dementia, Parkinson's disease, ALS (Lou Gehrig's disease), multiple sclerosis, epilepsy, and schizophrenia, among others.
Imagine More Dinner 2023
The Imagine More Dinner is a nationally recognized philanthropic event which gives us the chance to share the hope that novel research and innovative treatment brings to those facing the challenges of diseases, disorders, and injury to the nervous system. All proceeds benefit the Neuroscience Research Center at the Medical College of Wisconsin.

With the celebration of the 10th Anniversary of the Imagine More Dinner in 2023, we recognize that the past decade has been a testament to the remarkable success and impact of our Imagine More Awards. Surpassing all expectations, the $175,000 granted through these awards has leveraged an outstanding additional funding of over $6 million towards neuroscience research at MCW for our recipients.

Empowering Stroke Recovery through Neuroscience Research
Decoding Resilience: How Neuroscience Research Can Positively Impact Victims of Trauma
From the 2023 Imagine More Dinner, members from MCW and the wider Milwaukee community united in recognizing remarkable achievements in neuroscience at MCW. These accomplishments were highlighted by
Dr. Shekar Kurpad, MD, PhD
in his captivating keynote address, which also provided an inspiring roadmap for the future of neurosciences at MCW. Co-chaired by Mary Ellen Stanek and David Lubar, this year's dinner raised a record $1 million in funding, with $350,000 contributed by a single donor dedicated to supporting Parkinson's Disease research efforts at MCW. The recipient of this year's esteemed
Neuro Hero award
: the
Avalon Action Alliance
. Their recent, extraordinary donation of $12.5M to the Wisconsin Neuroscience Institute has paved the way for the establishment of the BRAVE (Building Resilience through Action in Veterans and First Responders) program. Thank you tremendously to all our generous donors; together, we possess the power to envision limitless possibilities and imagine more.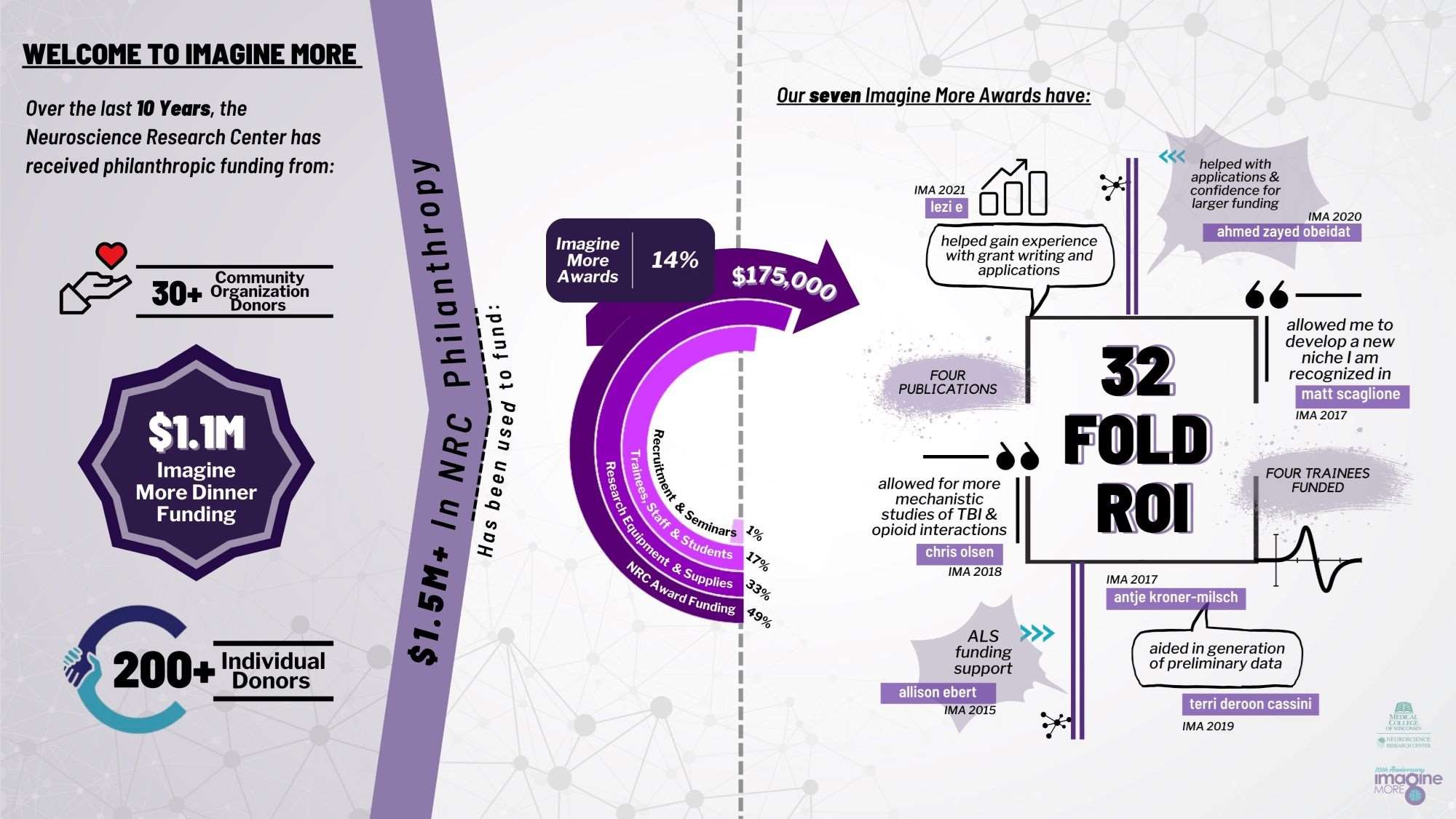 Contact Us
The Medical College of Wisconsin – Neuroscience Research Center is located within the Translational Biomedical Research Center (TBRC) of MCW.
Neuroscience Research Center
Medical College of Wisconsin
Neuroscience Research Center
8701 Watertown Plank Rd.
TBRC C1820
Milwaukee, WI 53226