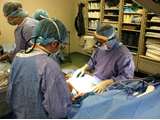 Microsurgery restores limb function by repairing tiny, delicate vessels, and nerves. It also enables the transfer of muscles and large segments of skin, fat, and bone from one part of the body to reconstruct another. Advances in microsurgery often mean that patients may avoid amputation.

Several of the department's staff are experts in microneurovascular reconstruction, including chronic and acute nerve, vessel, bone, and soft-tissue repair for both the upper and lower extremities. The department enjoys one of the highest success rates for free tissue transfer in the country. Its physicians work in conjunction with the department's joint reconstruction surgeons to manage early avascular necrosis of the hip using a revolutionary technique of living bone transfer to the diseased hip.

In addition, orthopaedic trauma and musculoskeletal oncology experts work in teams with the microsurgeons to perform reconstructions after accidents and tumor resections.

Clinical work is supported by the microsurgery and laser research and training laboratory.

Drs. Roger Daley and Shao-Min Shi specialize in Microsurgery.
Appointments
To make an appointment with us, please call:

Local: (414) 805-6655
Toll free: 1-800-DOCTORS