Fellowship in Emergency Ultrasonography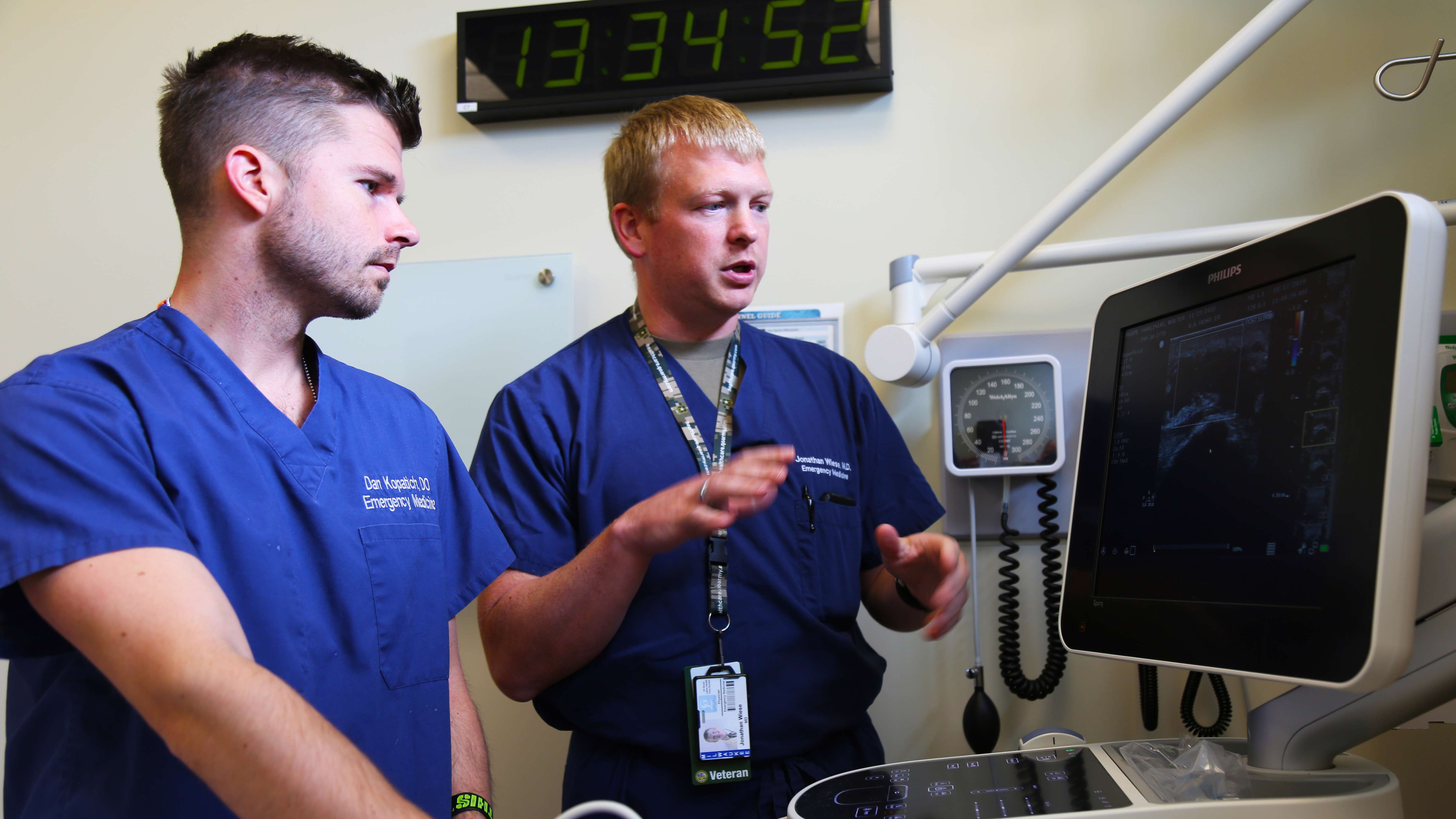 Our Mission
Provide outstanding clinical, administrative and educational experiences to support physicians in acquiring the necessary skills to function as a point -of-care ultrasound content expert and leaders
Support the development of POCUS knowledge and skills to improve patient care, critical administrative leadership skills, and the ability to contribute to the advancement and innovation of Point of Care Ultrasound
Program Information
Why choose MCW?
The Medical College of Wisconsin in the Froedtert healthcare system provides an unparalleled Emergency Medicine practice opportunity. You will have a variety of practice opportunities to learn and employ the new skills you will develop as a clinical ultrasonography fellow.
Our practice settings include Froedtert Hospital, a busy tertiary care hospital with a level one trauma center. Froedtert has a renowned cancer center and transplant center. Only a few miles from campus, the Clement J. Zablocki VA Medical Center offers a robust POCUS practice and simulation center within their emergency medicine led veteran's administration hospital emergency department. Additionally, you'll have the opportunity to provide emergency care, including POCUS at several community emergency departments including Froedtert Menomonee Falls and Froedtert West Bend. Ultrasound faculty and emergency medicine residents meet weekly to review ultrasound images obtained at all our sites. This protected time ensures we get together at least once a week as a team.
Children's Wisconsin, an award-winning pediatric hospital, is part of our campus and provide our program a dedicated pediatric emergency medicine trained faculty partner. You'll have the opportunity to practice pediatric point of care ultrasound skills in this setting.
You will also work with a cohort of talented, mission driven and supportive colleagues.
In addition to a robust experience in multiple practice settings employing and studying point of care ultrasound, the Milwaukee area is a fantastic place to live. There are numerous outstanding restaurants, cultural experiences and sports teams to experience. Whether you prefer a vibrant urban environment or activities close to nature, the Milwaukee area has it all.
Some of our unique points:
Global Health opportunity
Dedicated Pediatric opportunity
Integrated POCUS program: Ordering/Documentation/Billing
All ED Faculty credentialed
Academic and community site practice experience
POCUS machines: SonoSite X-Portes, Phillips Sparqs, and Philips Lumify handheld ultrasound machines
Four Ultrasound Fellowship trained faculty in adult POCUS and growing
One EM Pediatric POCUS trained faculty
Dedicated medical student rotation


Didactics and Supervision
Education will come in the form of informal and formal teaching, including students, resident, fellow and faculty teaching. Online, book and FOAM resources are valuable sources along with original research.
The following procedures will be mastered during the fellowship:
Knobology/physics
Ultrasound and Trauma/E-FAST
Focused Cardiac
Pulmonary/Thoracic
Critical care and hemodynamics/ Inferior Vena Cava
Hepatobiliary
Aorta
Renal/bladder
Bowel/appendix
Deep Venous Thrombosis
MSK (tendon, muscle, joints)
Ocular
Soft tissue
Ultrasound Guided CVC access and Peripheral Venous access
Ultrasound Guided Procedures (Pericardiocentesis, thoracentesis, paracentesis, lumbar puncture, airway)
Pediatrics (msk/hip, bowel/appendicitis/pyloric stenosis)
Nerve Blocks
Billing/Systems (workflow, equipment, maintenance)
Education on national societies (ACEP, AEUS, AIUM)
Eligibility
All applicants must be medical school graduates (MD or DO degree) and have completed an ACGME accredited primary residency program. Board-eligible physicians in any primary discipline of medicine are encouraged to apply. A Wisconsin medical license (full or in-training) and current DEA certification are also required.
How to apply
Interested applicants should submit a personal statement, CV, and three letters of reference (one from your residency program director) to:
Mary Beth Phelan, MD
c/o Fellowship Coordinator
Department of Emergency Medicine
Medical College of Wisconsin
8701 Watertown Plank Rd.
Milwaukee, WI 53226
We participate in the SCUF NRMP Match. All applicants must register both on EUSfellowship.com and the NRMP. Applications are accepted between June 1 and September 15 for the year preceding enrollment (e.g. applications for the fellowship program starting in July 2021 should be submitted between June 1 and September 15, 2020). We have a limited number of interview opportunities between July and October.
Applicants are strongly encouraged to apply early.
Contact Us
Questions? We would love to hear from you.
Janice Hinze, Fellowship Coordinator
Department of Emergency Medicine
Medical College of Wisconsin
Hub for Collaborative Medicine
8701 Watertown Plank Rd.
Milwaukee, WI 53226