MCW Otolaryngology Residency Program
Positions Available Per Year: 3
Years of Training: 5
Locations: Froedtert Hospital, Children's Hospital of Wisconsin, Clement J. Zablocki VA Medical Center, and Community Memorial Hospital

Program Director: David Poetker, MD
Associate Program Director: Thomas Robey, MD
Residency Coordinator: Diann Fiscus
dfiscus@mcw.edu
(414) 955-0827 | (414) 955-0074 (fax)

Meet our Residents
Residency Program Leadership
David Poetker, MD
Residency Program Director
Thomas Robey, MD
Associate Residency Program Director
About the Program
Training Overview
Training Overview
The Department of Otolaryngology and Communication Sciences at the Medical College of Wisconsin (MCW) provides residents with a superior, quality education in an academic setting.

The Department features a very sizeable and diverse group of specialty trained otolaryngologists, representing all facets of the specialty. Faculty are nationally and internationally recognized, and are amongst the leaders in the field of otolaryngology as well as their respective sub-specialties.

In addition, the Department houses a Division of Oral and Maxillofacial Surgery, as well as a robust Division of Research, receiving almost $4,000,000 of external funding annually.
Program AIMS
Program AIMS
The Otolaryngology Residency Program at MCW aims to:

• Develop residents into well-rounded clinicians who practice evidence-based medicine and exhibit high-quality surgical skills in all areas of otolaryngology.
• Prepare future leaders, researchers, and educators in otolaryngology.
• Provide and support a training experience that will allow graduates to choose their own specialty career path.
• Establish an environment committed to promoting a healthy work-life balance and life-long learning.
Resident Experience
Resident Experience
Otolaryngology residents train at four different hospitals, each offering a unique perspective on patient care.

The main teaching institution, Froedtert Hospital, is a 585-bed tertiary care facility serving all Southeastern Wisconsin. Located on the same campus, Children's Hospital of Wisconsin is the oldest and largest children's hospital in the state and is one of the busiest children's hospitals in the country. The Clement J. Zablocki VA Medical Center, located a few miles from the main campus, offers trainees the unique opportunity to care for our nation's veterans. Finally, located 15 miles from the main campus, Community Memorial Hospital provides residents the experience of working in a community-based hospital.

With the abundant opportunities available, otolaryngology residents receive a well-rounded education with excellent clinical and operative experience allowing graduates to choose their own specialty career paths.

Learn more about our residency program including rotation schedule details, duty hours, conferences, call specifics and more. 
General Program Outline
Five Year Training Program
PGY-1 Resident
The PGY-1 year is managed by the Department of Otolaryngology and Communication Sciences as mandated by the ACGME. Rotations include Trauma Surgery, Plastic Surgery, SICU, Pediatric Surgery, Anesthesia and General Surgery in addition to six months on the otolaryngology service. All rotations are completed in Medical College of Wisconsin affiliated hospitals.
The PGY-1 year is designed to allow the resident to accumulate background information leading to more specialized training. Trainees emerge from this year with excellent patient care skills.
PGY-2 Resident
The PGY-2 year consists of 12 months of otolaryngology with rotations at Froedtert Hospital, Children's Hospital, and VA Medical Center. The PGY-2 resident is exposed to a variety of clinical dilemmas and diseases and is guided by faculty and more senior level residents.
The resident perfects examination techniques in this year and learns to evaluate patients in the outpatient and inpatient settings.
The PGY-2 resident begins to display learning through participation in conferences and case presentations. Examples of early surgical experience include: myringotomy, tonsillectomy, adenoidectomy, tracheotomy, endoscopy, and skin and oral cavity excisions. The PGY-2 resident assists in more complex procedures. Direct supervision is required for all surgical procedures at all of the institutions.
PGY-3 Resident
The PGY-3 year includes 3 months of dedicated research along with 2 months of research and clinic duty. A research proposal must be developed and presented, under the mentorship of a faculty member, before beginning the PGY-3 year.

One month of electives (divided weekly with the VA clinic) are dedicated specifically for resident exposure to allergy, audiology, head and neck radiology, radiation oncology, speech pathology, and surgical pathology.

Five months of the PGY-3 year are spent on rotations at Froedtert Hospital and the VA, rotating specifically in rhinology, facial plastic surgery, otology, and general otolaryngology. And, one month is spent at Children's Hospital of Wisconsin.

The PGY-3 resident will continue to learn to diagnose a broad spectrum of adult and pediatric patients presenting to the clinic, emergency room, and as inpatient consultations.
PGY-4 Resident

The PGY-4 year consists of rotations at Froedtert Hospital (8 months) and Children's Hospital (4 months). While at Children's, the resident first tests his/her administrative skills, serving as Chief Resident.
The PGY-4 resident is expected to be able to discuss all but the most complex patients. Surgical experience includes a variety of more complex procedures, including major head and neck, sinus, and pediatric, although the resident continues to assist on the most complex cases.
PGY-5 Resident
The PGY-5 year consists of four months at the VA Medical Center and eight months at Froedtert Hospital; the PGY-5 serves as Chief Resident at both institutions.
The PGY-5 resident routinely performs complex head and neck, otology, sinus, general, and reconstructive procedures under faculty supervision.
They may also be involved in multi-disciplinary surgical procedures with plastic surgery, oculoplastic surgery, oral and maxillofacial surgery, and neurosurgery.
The PGY-5 resident is expected to be capable of discussing the most complicated patients, confidently handling emergencies, recognizing and handling complications, seeking help at appropriate decision points, and expertly teaching more junior level trainees and medical students.
In addition, increased administrative and teaching duties further prepare each PGY-5 resident to become an independent otolaryngologist-head and neck surgeon.
Clinical Experience and Education
The Department's policy concerning clinical experience and education is consistent with the policy set by the Medical College of Wisconsin Affiliated Hospitals, Inc. (MCWAH), under guidelines established by the Accreditation Council for Graduate Medical Education (ACGME) and the Otolaryngology Residency Review Committee (RRC).
The otolaryngology program schedules resident assignments to in compliance with all applicable ACGME requirements and faculty members know, honor, and assist in implementing limitations. Residents must observe this policy, accurately report duty hours, and participate in monitoring procedures. All involved are expected to identify and report potential violations and collaborate to devise appropriate corrective action.
Otolaryngology residents are not permitted to practice medicine and receive financial compensation (moonlight) outside of the residency training program.
Call
Call responsibilities vary depending on PGY level. Primary call is covered by the PGY-2-4 residents. Second call is covered by the PGY-5 residents at Froedtert Hospital and the VA Hospital. Second call is covered by staff at the Children's Hospital. There is currently no resident call coverage at Community Memorial Hospital.

PGY-1: During the six otolaryngology months, residents take daytime call for 1-2 weekends a month (7am to 7-m) and are backed up by a more senior resident. No overnight call.
PGY-2: 12 months of home call covering Froedtert, Children's, and the VA, averaging 4 calls/month and 1-2 weekends per month.
PGY-3: 12 months of home call covering Froedtert, Children's, and the VA, averaging 4 calls/month and 1-2 weekends per month.
PGY-4: 12 months of home call covering Froedtert, Children's, and the VA, with 3-4 calls/month and 1-2 weekends per month.
PGY-5: 12 months of "second call" for residents covering Froedtert and the VA. Shared between all PGY-5 residents.
Weekends call consists of Friday/Sunday or Saturday.
If you are not on call for the weekend, then you don't round. Typically, each resident gets 2 (sometimes 3) weekends off a month.
A holiday schedule is set at the beginning of the year including the July 4th, Labor Day, Thanksgiving, Christmas, New Year's and Memorial Day.
Research
A structured research curriculum and devoted standing oversight committee guide resident clinical and basic science research. Formal presentations are scheduled throughout the year promoting a step-wise process for the PGY-1 and PGY-2 residents through the development of a full research proposal. The Department is committed to a protected and fully funded research block during the PGY-3 year. Research opportunities allow residents to travel, present, and associate with influential leaders in otolaryngology.

Educational Conferences and Experience
Otolaryngology Grand Rounds (monthly)
Topics are presented by faculty or residents in a lecture format with discussion to follow. Guest speakers/visiting professors may also present during this accredited hour. All otolaryngology faculty and residents are required to attend. Attendance is taken, and written evaluations are completed in accordance with accreditation requirements.

Morbidity and Mortality Conference (monthly)
This is a case presentation/discussion format held jointly by the services at Froedtert Hospital, Children's Hospital, and the VA Medical Center. Chief residents present cases which are reviewed, discussed, and critiqued by faculty and residents.

Core Curriculum Lecture Series (weekly Sept-June)
This series spans a two-year cycle and includes basic science and clinical information within each subspecialty. The content and format of the curriculum (e.g. lectures, case presentations, journal club, etc.) will be at the discretion of the faculty member(s) assigned. Subsections include otology/skull base, general/basic science/radiology, head and neck oncology/pathology, laryngology/voice, sinus/rhinology/allergy, facial plastics/reconstructive surgery/facial trauma, and pediatric otolaryngology. A journal club is held quarterly in association with the subspecialty being presented in the Core Curriculum.

Otolaryngology Research Conference (monthly)
This conference is designed to instill core knowledge of basic research methodology and skills, provide a forum for presentation of research and feedback, and provide mentorship for developing researchers. Lectures are given by faculty members and residents present research proposals and summaries.

Head and Neck Tumor Board (weekly)
There are two multi-disciplinary head and neck conferences, one held at the VA Medical Center and one held at Froedtert Hospital. Tumor Board is a multidisciplinary conference held in conjunction with radiation oncology, hematology/oncology, speech pathology, nursing, and hospital dentistry. Each new cancer patient is presented. Radiologic studies are reviewed. Work-up and management for each patient are discussed and decisions regarding care are made.

Facial Trauma Conference (bi-monthly Sept-May)
This conference is held jointly with plastic surgery, oculoplastic surgery, and oral surgery. It is a lecture style conference.

Wednesday and Friday Morning Clinical Conferences (weekly)
A faculty member leads a discussion of a clinically relevant topic, based on articles or cases. Regular conferences cover topics in pediatric otolaryngology, laryngology, facial plastic surgery, otology, sinus and rhinology, and head and neck.

Education Working Group (every other month)
The Program Director invites faculty and residents to discuss various aspects of the residency. This informal conference has may cover such topics as schedule implementation, technical standards, rotation effectiveness, call responsibilities, research experience, new conference development, the residency review process, programmatic suggestions, operative experience, and curriculum innovation.

Yearly hands-on experiences introduce residents to techniques and/or expand and refine their surgical skills. Courses include:
Bronchoscopy Simulation
Ear Tube Simulation
Endoscopic Sinus Surgery
Rhinoplasty
Temporal Bone Dissection
Tracheostomy Simulation

Application Process
The otolaryngology residency at the Medical College of Wisconsin is 5 years in length, and 3 candidates are matched each year. The application and match processes are administered by the Association of American Medical College's Electronic Residency Application Service (ERAS) and the National Resident Matching Program (NRMP).

All applicants must apply through ERAS and completed applications must include:

ERAS Application
At least 3 letters of recommendation
Dean's Letter
Personal statement
Medical School Transcript
USMLE/COMLEX Scores

International medical graduates must follow all ECFMG guidelines and apply through ERAS, in addition to supplying all documents listed above.
Applications for the 2019 Match must be complete in ERAS by October 15, 2018.
Interview dates are set for January 18 and 19, 2019
Approximately 50 candidates are interviewed each year. An excellent way to learn about our program, and for us to get to know you, is to schedule an elective rotation with us. To find out more about away rotations at the Medical College of Wisconsin, visit the Medical College of Wisconsin Office of the Registrar or call (414) 955-8733.

Residency Contact:
Diann Fiscus
(414) 955-0827
dfiscus@mcw.edu

Alyssa Schwab
(414) 955-0833
alschwab@mcw.edu

Mailing Address:
Department of Otolaryngology
8701 Watertown Plank Road
Milwaukee, WI 53226
Benefits, Conditions & Terms of Employment
Residency Photos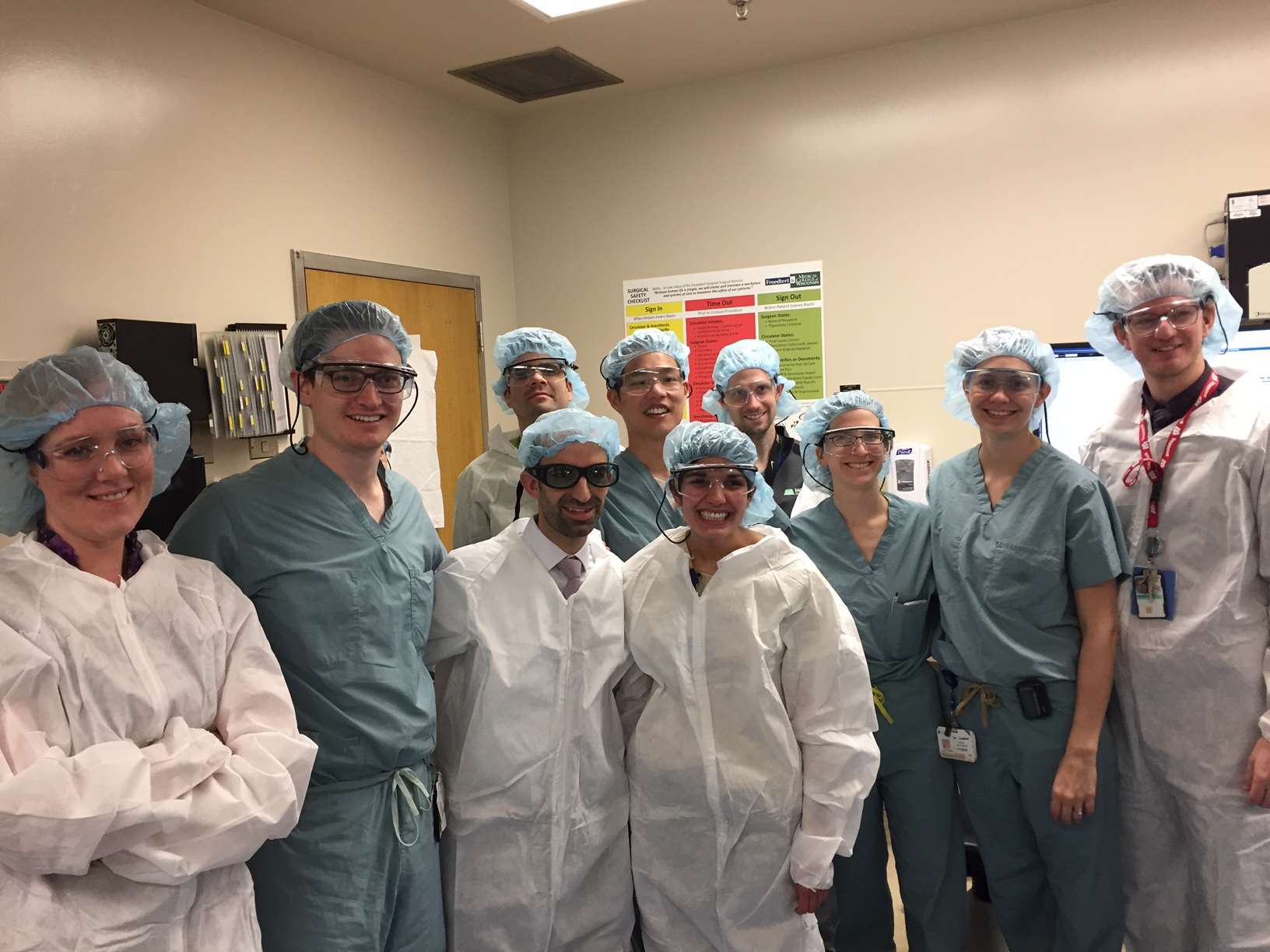 Where our Residents have Gone
Class of 2018
Kevin Casey, MD - private practice, Hinsdale, IL
David Linn, MD - private practice, Pewaukee, WI
Kendra Luebke, MD - private practice, Omaha, NE
Class of 2017
Jad Jabbour, MD - pediatric otolaryngology fellowship, Boston Children's Hospital/Harvard Medical School, Boston, MA - private practice, Charlotte, NC
Jessica Southwood, MD - rhinology fellowship, California Sinus Centers, Atherton, CA - academic practice, Medical College of Wisconsin, Milwaukee, WI
Justin Yan, MD - private practice, Arvada, CO
Class of 2016
Craig Hoekzema, MD - private practice, Norton Shores, MI
Mallory O'Niel, MD - pediatric otolaryngology fellowship, University of Minnesota, Minneapolis, MN - academic practice, Children's Hospital of Michigan, Detroit, MI
Ruchin Patel, MD - facial plastics fellowship, Washington University, St. Louis, MO - private practice, Indianapolis, IN

Class of 2015
Brent Nichols, MD - private practice, Fargo, ND
Corbin Sullivan, MD - private practice, Kalamazoo, MI
Timothy Stoddard, MD - private practice, Honolulu, HI

Class of 2014
Daniel Cannon, MD - private practice, The Dalles, OR
Elizabeth Kelly, MD - neurotology fellowship, University of Minnesota, Minneapolis, MN - private practice, Boys Town National Research Hospital, Omaha, NE
Luke Jakubowski, MD - pediatric otolaryngology fellowship, University of Utah, Salt Lake City, Utah - academic practice, University of Minnesota, Minneapolis, MN
Contact Us 
Otolaryngology and Communication Sciences