Research
Clinical and basic science research is ongoing in all of the scientific disciplines within the field of otolaryngology-head and neck surgery. Many of the research programs are sponsored through the National Institute of Health as well as through industry support.
Otolaryngology Research Lab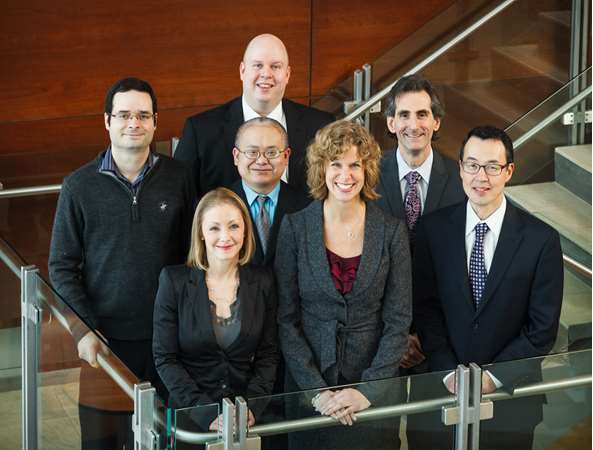 Division of Research Faculty
Read about various research projects and research interests in the Department of Otolaryngology and Communication Sciences. 
Biotechnology and Bioengineering Center
Guilherme Garcia, PhD
Department of Otolaryngology and Communications Sciences
Biotechnology and Bioengineering Center
Medical College of Wisconsin
(414) 955-4466 | (414) 955-6568 (fax) | ggarcia@mcw.edu
Research Interests
Our main interest is respiratory physiology and our ultimate goal is to improve the diagnosis and treatment of respiratory diseases. Generally speaking, we apply biophysical concepts to understand respiratory physiology and pathophysiology. At the macroscopic level, we apply computational fluid dynamics (CFD) to investigate the relationship between nasal function and biophysical variables (such as resistance to airflow, mucosa cooling due to heat transfer, and mucosa drying due to mucus evaporation). We are particularly interested in how surgery affects nasal function and whether we can use CFD-derived objective measures to improve surgical outcomes. At the cellular level, we develop biophysical models of epithelial electrophysiology to understand fluid transport by respiratory epithelia and, in particular, airway dehydration in patients with cystic fibrosis (CF). We strive to create biophysical models that are relevant to the clinical practice by developing strong collaborations with physicians and validating the models with experiments.
Project #1 – Virtual surgery based on the biophysics of nasal airflow
Nasal physiology is inherently a mix of medicine, biology, and physics. As the port of entry to the respiratory system, the nose is primarily responsible for heating, humidification, and filtration of inspired air. The nasal cavity has been designed to accomplish these tasks efficiently: (1) a complex three-dimensional anatomy maximizes particle deposition, (2) a mucus-coated respiratory epithelium humidifies air and removes entrapped particles via mucociliary clearance, and (3) a large surface area is available for heat transfer. The efficiency of the nasal passages is such that, irrespective of environmental conditions, inspired air is nearly at body temperature, 100% relative humidity, and clean of environmental pollutants by the time it reaches the lungs. This interplay between nasal form and function is complex, but it can be understood under the light of fluid mechanics and respiratory biology.
In the Garcia lab, we are applying computational fluid dynamics (CFD) to improve our understanding of nasal physiology and pathophysiology. Using CFD technology, anatomically-correct three-dimensional models are created to reproduce the nasal anatomy of individual patients. Nasal physiology (including flow, heating, humidification, and filtration of inspired air) is simulated in a computer. By obtaining each patient's nasal anatomy before and after surgery through computed tomography (CT) or magnetic resonance imaging (MRI) scans, the impact of specific surgical techniques on nasal physiology can be investigated.
The long-term goal of the Garcia lab is to develop better tools for diagnosis of nasal diseases and for surgical planning. For example, nasal obstruction is a common complaint in ENT clinics. However, no objective method is currently available that is universally-accepted for diagnosis of nasal obstruction. Currently, Dr. Garcia is partnering with John Rhee, MD (Medical College of Wisconsin) and Julia Kimbell, PhD (University of North Carolina at Chapel Hill) in a clinical study that pursues a better understanding of the relationship between objective measures of nasal airflow (nasal resistance, mucosa cooling, etc.) and subjective measures of nasal patency. Other interests of the Garcia lab include the nasal cycle, sinus physiology, mucociliary clearance, and olfaction.
---
Project #2 – Airway surface liquid (ASL) volume regulation
The respiratory tract is covered by a thin layer (~30μm) of fluid that plays a central role in the removal of inhaled pathogens. The process of mucus secretion and transport is called mucociliary clearance and its efficacy is strongly dependent on proper hydration of the airway surface liquid (ASL). When the ASL is dehydrated, mucus becomes more viscous and removal of inhaled pathogens is compromised, which facilitates infection. Essentially, this is the pathophysiology of cystic fibrosis (CF), a genetic disease associated with chronic lung infections due to dehydration of the airways.
In the Garcia lab, we are developing a biophysical model that describes the regulation of ASL hydration by ion channels, purinergic signaling, and electrochemical forces. It is our hope that this model will support the development of new therapies to restore ASL hydration by providing a platform for testing different therapeutic strategies. This project is being conducted in collaboration with Richard Boucher, MD (Cystic Fibrosis Center) and Timothy Elston PhD (Department of Pharmacology), both from the University of North Carolina at Chapel Hill.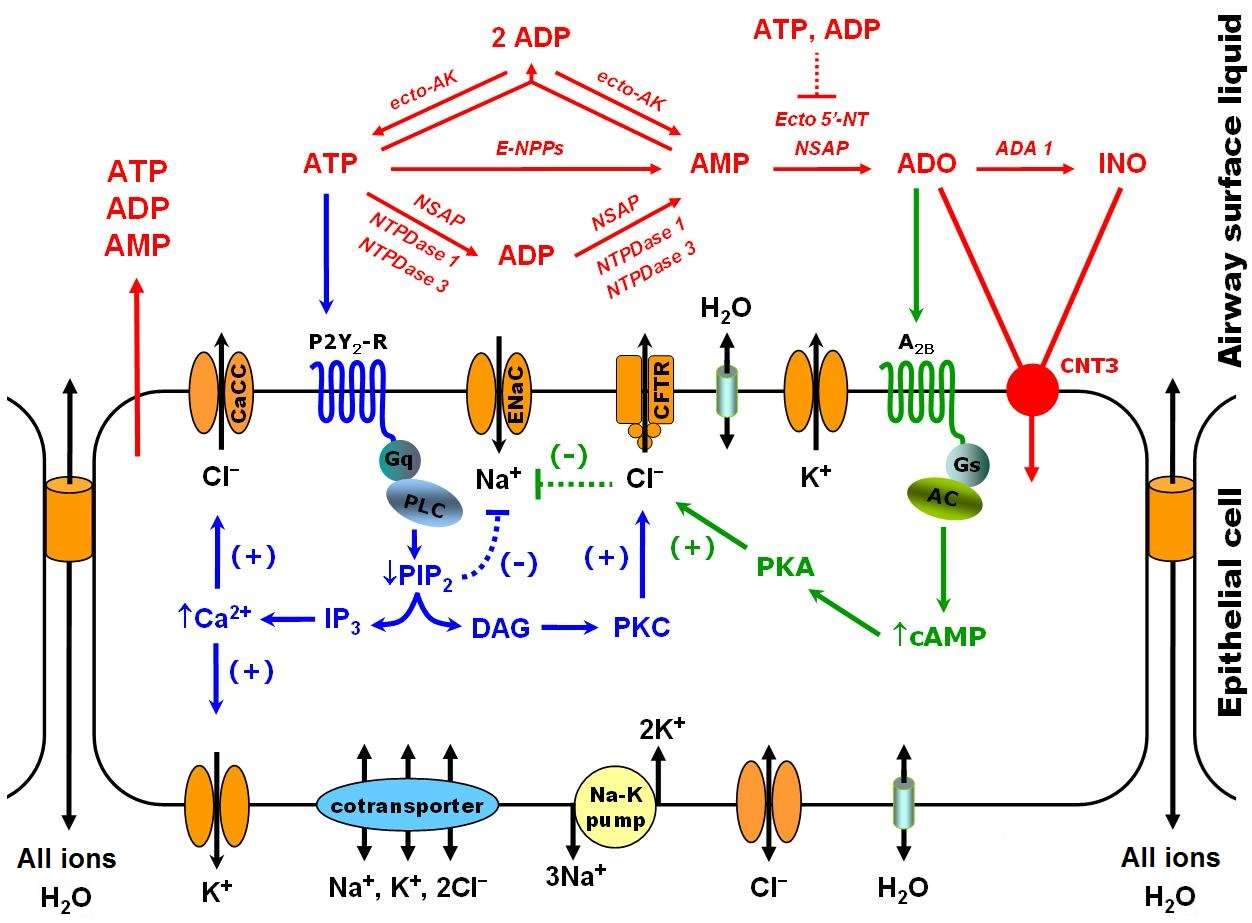 Outcomes Research
The Department of Otolaryngology & Communication Sciences is actively involved in ongoing efforts to collect prospective quality of life outcomes data on patients presenting with head and neck disorders. Validated and reliable patient oriented outcomes instruments are being utilized to evaluate the effect of these disorders on the patient's perception of their quality of life. The impact of disease severity and various comorbidities are analyzed in the context of the patients' primary disease process. Understanding these critical issues will lead to enhanced outcomes and improved quality of care. A few of the studies are listed below.

"Long Term Prospective Outcomes Analysis of Pediatric Vocal Fold Paralysis"
Nalin J. Patel, MD and Joseph E. Kerschner, MD

"Obstructive Sleep Apnea and Tonsillectomy in Patients with Sickle Cell Disease"
Valerie A. Flanary, MD

"Mucin Gene Expression in Middle ear Epithelia"
Joseph E. Kerschner, MD

"The Use of Polysomnography in Pediatric Otolaryngology"
Valerie A. Flanary, MD

"Treatment of Fungal Otitis Externa"
Valerie A. Flanary, MD
Clinical Trials Research
The Department of Otolaryngology & Communication Sciences is actively involved in clinical trials research. This patient-oriented research infrastructure includes inpatients and outpatients, laboratories that perform analyses and procedures, computerized database management, and support personnel (research nurses, biostatisticians, etc.). Investigational studies focus on the cause, prevention, progression, control and cure of head and neck diseases that afflict individuals of all ages and ethnic backgrounds. Financial support is provided by the National Institutes of Health and by other federal, state and local agencies, and the private sector. A few of the studies are listed below.

"Role of Autonomic Nervous System Dysfunction in Head and Neck Disorders"
Principal Investigator: Todd A. Loehrl

"Somnoplasty vs. Continuous Positive Airway Pressure (CPAP) as Therapy for Mild to Moderate Obstructive Sleep Apnea Syndrome (OSAS)"
Co-Principal Investigators: B. Tucker Woodson, MD and Timothy L. Smith, MD

"Prospective Randomized Trial of Proton Pump Inhibitor for Post Nasal Drip"
Co-Principal Investigators: Todd A. Loehrl, MD; Timothy L. Smith, MD, MPH; and Albert L. Merati, MD

"Picibanil Sclerotherapy: A Multi-Center Study"
Principal Investigator: Joseph E. Kerschner, MD

"Autonomic Dysfunction in Ménière's Disease"
Principal Investigator: David R. Friedland, MD, PhD and Robert J. Toohill, MD

"A Prospective Comparative Study of Otitis Media Risk Factor Knowledge Deficit in a Suburban and Urban Primary Care Environment"
Principal Investigator: Joseph E. Kerschner, MD

"Esophageal Motility and Airway Protective Function in Infants"
Co-Investigator: Joseph Kerschner, MD

"Pupillometry in Otolaryngologic Disorders"
Principal Investigator: David R. Friedland, MD, PhD

"A Prospective, Randomized, Comparative Study of Ofloxacin Otic Drops verses Cortisporin Otic Drops as Prophylaxis Against Post-Tympanostomy Tube Placement Otorrhea"
Co-Principal Investigators: Joseph E. Kerschner, MD; Stephen F. Conley, MD; Valerie A. Flanary, MD; and Tom M. Kidder, MD

This study will be evaluating the incidence, prognosis, and outcomes of patients with Vocal Fold Paralysis (VFP) at the Children's Wisconsin. This is a long-term prospective study that is following the airway, clinical voice, and swallowing outcomes of pediatric vocal fold paralysis. Additionally, the efficacy of treatment will be studied in a prospective manner, and the incidence of VFP in at risk populations will be studied in a prospective manner.

"Enuresis and Sleep Disordered Breathing"
Joseph E. Kerschner, MD and Valerie A. Flanary, MD

"Quality of Life in Head & Neck Cancer"
Bruce H. Campbell, MD

This study evaluates the quality of life in head and neck cancer survivors five years after diagnosis and will explore subjects and objective data in an effort to determine areas of future intervention.

"The Effect of Adenotonsillectomy on Quality of Life in Pediatric Patients"
Valerie A. Flanary, MD; Joseph E. Kerschner, MD; Stephen F. Conley, MD; & Timothy L. Smith, MD, MPH

The objective of this study is to evaluate the relative quality of life of patients presenting with upper airway obstruction secondary to adenotonsillar hypertrophy (UAO) and obstructive sleep apnea (OSA) and to determine the effect of adenotonsillectomy on quality of life.

"Quality of Life in Obstructive Sleep Apnea Patients"
B. Tucker Woodson, MD

This is a review of sleep and snoring quality of life measurements, as part of routine clinical care on 1,000 patients.

"Botulinum a Toxin for Laryngeal Dystonia: MCW's 11-Year Experience"
Thomas M. Kidder, MD

This study is a retrospective review of the clinic charts of patients evaluated for and diagnosed with laryngeal dystonia since the first use of Botox for this purpose here at the Medical College of Wisconsin. The review of this data will add to the body of knowledge about laryngeal dystonia. The Medical College is one of only three sites in Wisconsin where Botox is administered for the treatment of laryngeal dystonia disorder.

"Validation of the 10-item FACT Head and Neck Symptom Index (FHNSI) to Assess Symptom Experience in Advanced Head and Neck Caner Patient"
Bruce H. Campbell, MD

This study is assessing the reliability, validity, and sensitivity to change of the 10-item Head and Neck Symptom Index (FHNSI). This is a multi-institutional research effort which includes: Medical College of Wisconsin, Evanston Northwestern Healthcare, University of Chicago, and Northwestern Medical Faculty Foundation.
Translational Research
The Department has a variety of ongoing basic science research projects including gene discovery in acoustic neuroma, inner ear hair cell regeneration, molecular basis of vestibular efferent function, molecular genetics of hearing disorders, cell biology of otitis media, molecular characterization of laryngeal papillomas, and gene expression in the cochlear nuclei. The following are translational research projects currently being developed. Each includes a title, primary investigator, and a brief description.
"Middle Ear Epithelial Response to Cytokine"
Joseph Kerschner, MD
The most common diagnosis in pediatric patients who visit physicians for illness in the United States is otitis media. This study investigates a more thorough understanding of this disease process. Cultured middle ear cells exposed to inflammatory cytokines are used to investigate 1) changes induced in mucoglycoprotein production; 2) changes induced in mucin gene expression; and 3) post-receptor signal transduction pathways related to cytokine stimulation.
"miRNA Regulation of Cholesteatoma Growth"
David Friedland MD, PhD
This study focuses on the molecular mechanisms responsible for the growth and proliferation of cholesteatoma, a lesion of the temporal bone that can cause hearing loss, infection, dizziness and facial paralysis. MicroRNAs are small highly conserved RNAs that regulate protein formation and can control important pathways in tumor formation. We are studying ways to alter microRNA expression in an attempt to develop a non-surgical means of treating or controlling cholesteatoma formation.
The hypothesis is that microRNAs are important in the growth and proliferation properties of cholesteatoma and are potential targets for pharmacological intervention for this disorder.
"Strial Presbycusis and Cardiovascular Disease"
David Friedland MD, PhD
This study focuses on the relationship between low-frequency age-related hearing loss and cardiovascular disease. We have identified a specific audiogram pattern that has a very high association with cardiovascular disorders such as stroke and heart attack. We are further examining the temporal relationship between changes in the audiogram and the development of cardiovascular diseases.
The hypothesis is that a low-frequency loss on the audiogram can predict impending cardiovascular disease and be used as a screen for patients at risk.