About Us
The Eye Institute is home to the clinics, surgical centers and research laboratories of the Department of Ophthalmology & Visual Sciences.
Improving, Restoring and Preserving Sight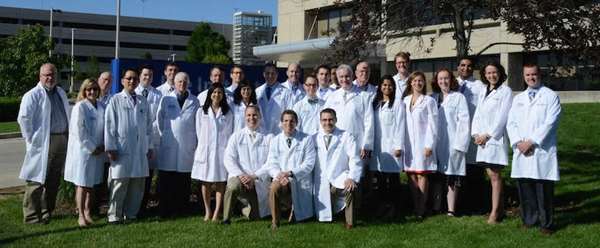 Since we opened our doors more than 40 years ago, the Medical College of Wisconsin Eye Institute has been home to the clinics, surgical centers and research laboratories of the Department of Ophthalmology & Visual Sciences. Here, our physicians and scientists are dedicated to treating patients, training the next generation of ophthalmologists and conducting basic science and clinical research aimed at improving outcomes for patients and their families.


Patient Care
As a regional source for state-of-the-art medical knowledge about eye disease and treatment, our doctors are recognized nationally and internationally for advances in eye care. Our ophthalmologists and optometrists provide a complete range of services, from the diagnosis and management of complex medical and surgical eye disease to routine eye care and cosmetic treatments. In addition to seeing patients at the Eye Institute, our doctors provide care at Children's Wisconsin, the Clement J. Zablocki VA Medical Center and various Froedtert & the Medical College of Wisconsin area health centers.
Vision Research
Our physicians and scientists profoundly impact the quality of life in individuals who are suffering, or may suffer, from vision loss by combining innovative research with clinical expertise all under one roof. Our collaborative efforts have resulted in improvements to the fundamental understanding, diagnosis and management of diseases that impair vision. The department also maintains ongoing collaborative research with additional vision scientists located in other MCW laboratories and receives substantial support from the National Eye Institute of the National Institutes of Health and Research to Prevent Blindness, Inc.


Education
Committed to educating the physicians and scientists of the future throughout their years of training, our faculty play active roles in MCW's medical and graduate school programs as well as postdoctoral and graduate medical education. Our three-year ophthalmology residency program and two-year fellowships in vitreoretinal diseases and surgery, orbital and oculoplastic surgery, or pediatric ophthalmology provide access to a diverse patient population in a variety of settings, including Froedtert Hospital and the VA. Additionally, the Department of Ophthalmology & Visual Sciences offers regular continuing medical training for physicians in the region through Grand Rounds, various lecture series and scientific symposiums.

If you'd like to learn more about the MCW Eye Institute or the MCW Department of Ophthalmology & Visual Sciences, please don't hesitate to contact us.
Contact Ophthalmology
For patient care inquires, call us at (414) 955-2020 or use MyChart. Email is for research and education inquiries only.
Eye Institute Location
925 N. 87th St.
Milwaukee, WI 53226
Appointments
(414) 955-2020
(414) 955-6166 (fax)
Continuing Medical Education
Mary Schafer
(414) 955-7840
Medical Education Coordinator
Director of Development - Ophthalmology
Gina Vrtochnick
(414) 955-5906
Refer to Us - Consultation requests
Patient Referral Form (PDF)
Fax to (414) 955-0136
Emergent Requests
Within 48 hours call
(414) 955-2020
Research
Vesper Williams
(414) 955-7862
Advanced Ocular Imaging Program
(414) 955-2647
Eye Institute Executive Director (Administrator)
Shannon Dreier