Pediatric Ophthalmology and Adult Strabismus Fellowship
The Medical College of Wisconsin (MCW) Pediatric Ophthalmology and Adult Strabismus Fellowship is a one-year AUPO-accredited clinical and surgical program that provides intensive and broad-based experience with the goal of training the fellow to be equipped to pursue a career in pediatric ophthalmology in an academic or private practice environment.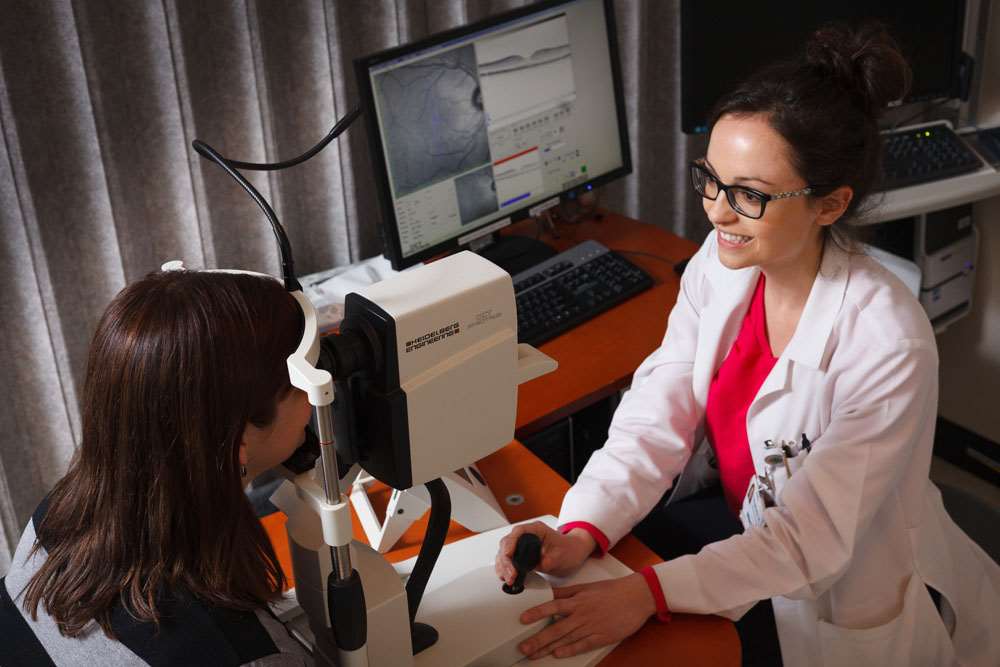 Pediatric Ophthalmology and Adult Strabismus Fellowship
Program Description
Through MCW's partnership with Children's Wisconsin, the pediatric eye program is located at one of the busiest pediatric hospitals in the country, a level 1 trauma center that houses 13 inpatient units, including a 70-bed level IV neonatal intensive care unit (NICU).
Under the guidance of four full-time pediatric ophthalmology faculty, three pediatric optometrists, and five full-time orthoptists, the fellow will be active in the care of the more than 13,000 patients we see annually, in addition to performing hundreds of inpatient consults and over 300 outpatient surgeries. The fellow will also assist in many inpatient surgeries including laser surgery and Avastin for ROP. Our diverse patient population will provide exposure to a vast variety of eye anomalies, genetic disorders, strabismic disorders, retinopathy of prematurity (ROP), eyelid and tear duct disorders, corneal anomalies and congenital cataracts. The pediatric ophthalmology team also works with four area hospitals to provide ROP care to their NICUs. And as part of the MCW Department of Ophthalmology & Visual Sciences, the fellow will regularly collaborate with colleagues at the MCW Eye Institute to provide retina, glaucoma, cornea, neuro-ophthalmology and oculoplastics care for children.
The didactic program includes regularly scheduled lectures that cover topics in strabismus as well as pediatric refractive errors, ROP, ocular trauma, cataracts, ocular tumors, corneal disease, retina disease and genetic eye disease. A journal club held bimonthly will include Pediatric Eye Disease Investigator Group (PEDIG) studies, strabismus techniques and diagnosis, case reports, new or innovative treatments of pediatric eye disease and genetics. The fellow will also be involved in resident pediatric ophthalmology didactic teaching.
During the course of the year, the fellow will be expected to participate in, present and/or publish at least one research project. There are several research opportunities available. Dr. Iris S. Kassem is a clinical scientist funded by the National Institutes of Health who is involved in basic science research. We perform imaging projects in collaboration with the department's Advanced Ocular Imaging Program. We are a certified center participating in PEDIG, and we also lead a public health initiative collaborating with community partners to improve vision health in Milwaukee's young schoolchildren.
Application Requirements
The candidate must have completed a residency in ophthalmology and be eligible to obtain a Wisconsin Medical License. Requirements for licensure in Wisconsin include proof of completion of at least 24 months of postgraduate ACGME-approved training in the United States. Find all the requirements on the Wisconsin Department of Safety and Professional Services website.
Application Process
Appointments of eligible applicants are coordinated through the Ophthalmology Fellowship match program. Applicants must register for the Ophthalmology Fellowship Match through the Ophthalmology Fellowship Matching Program, P.O. Box 7584, San Francisco, California 94120-7584. You can contact them by phone at (415) 561-8635 or visit the
SF Match website
.
We will review all applications within SF Match. You will be contacted directly by Laura Henrics, program coordinator, for a personal interview if selected.
Stipends - 2019-2020
PGY V -

$67,400
PGY VI -

$69,570
Contact Pediatric Ophthalmology Fellowship