Vitreoretinal Fellowship
A two year fellowship is offered in diseases of the retina and vitreous by the Vitreoretinal Section of the Department of Ophthalmology at the Medical College of Wisconsin, with one fellow applicant being accepted each year. The clinical fellowship provides an intensive and broadly based clinical experience with the goal of training the fellow to pursue a career in vitreoretinal disease in an academic or clinical practice environment.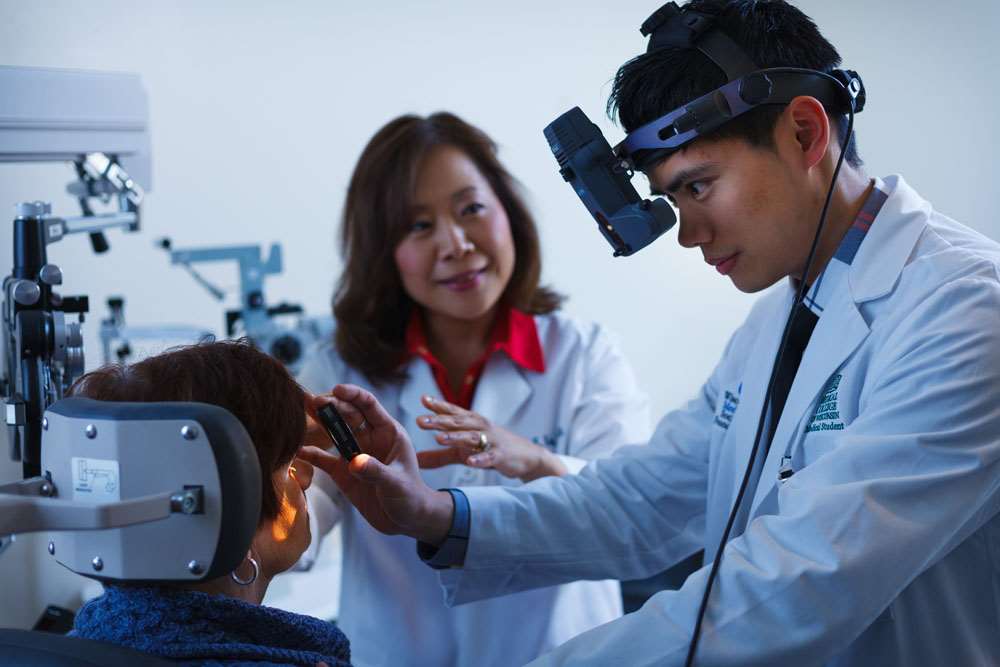 Vitreoretinal Fellowship
Program Description
The training program has been designed to underline the firm belief of the members of the Vitreoretinal Section that physicians trained in this subspecialty area should become well versed in all of the major diagnostic and therapeutic techniques of medical and surgical vitreoretinal disease. The diagnostic modalities of fundus biomicroscopy, indirect ophthalmoscopy, fluorescein angiography, indocyanine green angiography (ICG), optical coherence tomography (OCT), clinical diagnostic electrophysiology, visual psychophysics, and echography are used extensively. Therapeutic techniques of cryotherapy, scleral buckling, vitreoretinal surgery, argon/krypton/diode laser photocoagulation, and photodynamic therapy are emphasized. During the training period, the fellow works closely with each member of the Vitreoretinal Section.

A flexible schedule is maintained to allow as much independence as possible. The fellows decide the daily schedule with regard to participation in surgery versus assisting in the clinic at the Eye Institute. Mandatory time commitments include staffing of the resident Retina Clinic and vitreoretinal surgery at the Zablocki Veteran's Administration Hospital.

A resident works on the vitreoretinal service throughout the year on a rotating basis. The section is responsible for 20 lectures per year to the residents, as well as a weekly fluorescein conference. Clinical instruction is also given by fellows at the Veterans Administrative Hospital. Attending staff and fellows share responsibility for supervision and training of the residents.

The retina faculty at the Eye Institute also participate in a number of nationally funded and non-funded studies. There are numerous opportunities for fellows to become involved in both clinical and basic science research.

Application Process
For application to this fellowship program, contact Thomas B. Connor, Jr., MD, Eye Institute, 925 North 87th St., Milwaukee, WI 53226-4812 or call (414) 955-7840. Personal interviews are required.
Appointments of eligible applicants are coordinated through the Ophthalmology Fellowship match program. Applicants must register for the Ophthalmology Fellowship Match through the Ophthalmology Fellowship Matching Program, P.O. Box 7584, San Francisco, CA 94120-7584. You can contact them by phone at (415) 561-8635 or visit the
sfmatch website
.
Stipends 2019-2020
PGY V -

$67,400
PGY VI -

$69,570
The stipend is deposited directly in the individual's account once a month, on the last day of the month. MCW offers direct deposit at most banks, savings and loans, and credit unions in the greater Milwaukee area. The funds are available on payday. If the payday falls on a holiday or weekend, the funds are available the day before the holiday or weekend.
Contact Vitreoretinal Fellowship
Program Director
Thomas B. Connor, Jr., MD