Scientific Collaboration For Public Benefit 
The Eye Institute's mission to improve, restore and preserve sight is only possible through the dedication of our team of researchers and physicians, who collaborate with outside partners to better our understanding, diagnosis and management of diseases that impair vision. We are dedicated to providing our expertise and technologies to parties who share our vision.
We believe that in working together we can better achieve our mission and use our technology for the public's benefit.
Leaders in Translational Research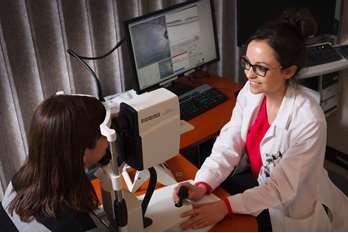 Dedicated clinical and translational research facilities include a fully equipped exam lane and eight procedure rooms for informed consent, three large adaptive optics imaging systems, hand-held optical coherence tomography (OCT), fundus imaging, electroretinography, microperimetry, visual evoked potential testing, visual field testing and color vision testing.

Our research team includes clinicians, ophthalmic technicians, clinic staff, research faculty, clinical research coordinators, ophthalmic photographers and students who strive to improve our understanding and treatment of visual disorders through research.

Our adoption of the Lean Methodology further promotes our focus on our customers and research goals while using our resources efficiently. Learn more about our current clinical trials and other research studies.

The Eye Institute has been a part of hundreds of clinical trials and other volunteer-driven research studies as part of our mission to improve, restore and preserve sight.
Such research includes studies aimed at evaluating new therapies and imaging devices as well as natural history and genetic studies addressing a wide array of eye conditions. A representative list of eye conditions is listed below:
Age-related macular degeneration
Cataract
Diabetic eye diseases
Glaucoma
Inherited retinal degenerations
Ocular melanoma
Oculofacial conditions affecting vision
Pediatric eye diseases
Uveitis
Vascular eye disease
Research Resources
Vision Research at the Eye Institute is organized according to our four Core Modules: Biochemistry/Molecular Biology, Morphology & Microscopic Imaging, Noninvasive Assessment of Animal Modules, and Engineering & Translational Imaging. Our Adaptive Optics Imaging Program (AOIP), Ocular Gene Therapy Laboratory (OGTL), transgenic mouse and rat facility and zebrafish vivarium are just a few of our featured technologies.
MCW's 11 faculty vision scientists together lead research programs that study all aspects of the visual system and the diseases and conditions that affect sight.
Leading Vision Science Research Programs
Neurodegenerative diseases of the retina
Neurodegenerative diseases of the retina
A lab dedicated to studying the fundamental organization and assembly of the photoreceptor as well as the molecular mechanisms that underlie neurodegenerative diseases of the retina, led by a highly acclaimed researcher.
AOIP
AOIP
The Advanced Ocular Imaging Program (AOIP), an internationally-known resource for advancing the field of ocular imaging and for translating adaptive optics technology into a clinically relevant imaging tool.
Retinoid Signaling
Retinoid Signaling
A lab focused on how retinoids (vitamin A derivatives) participate in signaling between different cells and tissues in the eye, which helps control the size and shape of the eye and affects its refractive state.
Eye Surgery Response Research
Eye Surgery Response Research
A lab led by a pediatric physician-scientist investigating why children have such an exaggerated response to eye surgery as compared to adults in order to discover therapies that will improve visual outcomes.
OGTL
OGTL
The Ocular Gene Therapy (OGT) Laboratory, which aims to develop broadly applicable gene-based therapeutics to prevent human blindness arising from neurodegenerative or vascular diseases affecting the retina.
Contact Us
Office of Technology Development 
8701 Watertown Plank Rd. Milwaukee, WI 53226 (414) 955-4362 
Vision Research at MCW
925 N. 87th St. Milwaukee, WI 53226