About Radiation Oncology at the Medical College of Wisconsin
Chair's Message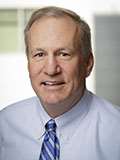 Christopher Schultz, MD, FACR, FASTRO
Bernard & Miriam Peck Family Professor of Radiation Oncology
The Department of Radiation Oncology of the Medical College of Wisconsin is nationally and internationally recognized as a premier department in cancer care. This success can be linked to the Department's engagement in the Medical College's mission, a vision that is aligned with this mission and a set of shared values that include professionalism, discovery, quality, safety, integrity, empathy, diversity, and service. Our engagement is reflected in our daily efforts to improve the health and well-being of our patients and our global community through direct patient care, education, research, and community outreach.
Patient Care
The Department strives to provide exceptional patient care by delivering state of the art radiotherapy services in a companionate, personalized, efficient, and value-based manner that is grounded by expertise and experience with the latest oncologic and radiotherapeutic principles and practices. The use of the latest technological advancements in image-guided and adaptive radiation therapy including MR simulation, MR Linac, MR guided brachytherapy, in room CT-on-rails, Radixact™ Tomotherapy™, Gamma Knife ICON™, and soon, intensity modulated proton beam therapy incorporating in room CT guidance to enable our faculty and staff to provide adult and pediatric patients with precise and personalized therapy that minimizes treatment side effects and improves quality of life.
Education
The Radiation Oncology Department is deeply committed to the education of future generations of radiation oncology professionals. The Radiation Oncology Medical Residency Program, Medical Physics Residency Program and Postdoctoral programs provide education and training in the principles and practice of radiation therapy and medical physics. Upon completion of training, our trainees are equipped with the skill set to acquire and maintain the knowledge base necessary to provide their patients with highest level of radio-therapeutic treatment over the course of their entire career. Medical students are given the opportunity for rotations in radiation oncology. These students are exposed to a wide array of clinical experiences that involve the multi-disciplinary management of malignancies that includes the use of state-of-the-art radiation therapy treatment modalities. The breadth of our educational offerings also includes training programs for radiation therapists through a partnership with the Radiation Therapy program at the University of Wisconsin – La Crosse.
Research
The pursuit and discovery of basic, translational, clinical, medical physics, and radiobiological knowledge that advances the field and practice of radiation oncology is fundamental to all missions. Our departmental research efforts remain focused on clinical and translational physics research related to our original work in image guided and online adaptive radiation therapy. A new departmental focus is the use of radiogenomics, delta-radiomics, and molecular phenotyping to develop normal tissue and tumor response biomarkers linked where possible to imaging biomarkers of tumor and normal tissue response, respectively. Our long-standing interest and expertise in mitigation of normal tissue radiation injury will continue to be relevant and complimentary to this new focus. The recent launch of the of the Radiation Oncology Committee to Advance Knowledge and Education through Clinical Trials or "ROCKET" clinical trial framework provides a pathway to move radiation oncology discovery into multidisciplinary clinical practice.
Community Outreach
It is our mission to develop and participate in development of high-quality cancer care programs that extend the multidisciplinary disease site cancer care model to community sites, where such programmatic extension is likely to raise the standard of care and provide access to clinical research. Clinical services are provided to the community with the latest advancements and technologies at five existing locations: Froedtert Hospital, Clement J. Zablocki VA Medical Center in Milwaukee, Froedtert Menomonee Falls Hospital, Froedtert West Bend Hospital and Drexel Town Square Health Center. Pediatric patients from Children's Wisconsin also receive radiation oncology care at Froedtert & the Medical College of Wisconsin.
In addition to our current local community engagement, we are committed to expanding our national and global impact through significant contributions to our professional societies that include: American Association of Medical Physics, American Board of Radiology, American Cancer Society, American Radium Society, American Society of Clinical Oncology, American Society of Radiation Oncology, Radiological Society of North America, Radiation Research Society as well as through our direct participation in the International Cancer Expert Corps.