Radiation Oncology Technology and Services
The Department strives to provide exceptional patient care by delivering state of the art radiotherapy services in a compassionate, personalized, efficient and value-based manner, that is grounded by expertise and experience with the latest oncologic and radiotherapeutic principles and practices.
Equipment in the Department of Radiation Oncology
The equipment listed here is available within the Froedtert & the Medical College of Wisconsin Radiation Oncology Program. All equipment is available for medical and physics residents, physics faculty, physician faculty and medical staff for use in the treatment of patients, creation of treatment plans, and the instruction of medical and physics students and residents.
Radiation Delivery Machines
1 Elekta Unity high-field MR-Linac
3 Artiste Linacs (2 with CT-on-Rail, all with 4D/gating, 1 Dual-energy CT)
1 ONCOR Linac
Imaging and Simulation Machines
Treatment Planning Systems (TPS)
2 Accuray Precision workstations
Motion Management Systems
MR-Linac
Synchrony on Radixact
7 Anzai gating systems
Dosimetry Equipment
3D scanning systems (one at each site)
A variety of ionization chambers, TLD and diode systems and readout instruments
A variety of anthropomorphic, solid water, 4D phantoms
Radiation Oncology Services by Radiation Therapy Modality
The use of the latest technological advancements in high-precision Image-Guided Adaptive Radiation Therapy - including High-field MR-Linac, Radixact™ tomotherapy with Synchrony motion tracking, in room CT-on-rails, Gamma Knife ICON™, 3T MR simulation, Dual-source dual-energy CT simulation, MR guided brachytherapy - enable our faculty and staff to provide patients with precise and personalized therapy that increases tumor control, minimizes treatment side effects and improves quality of life.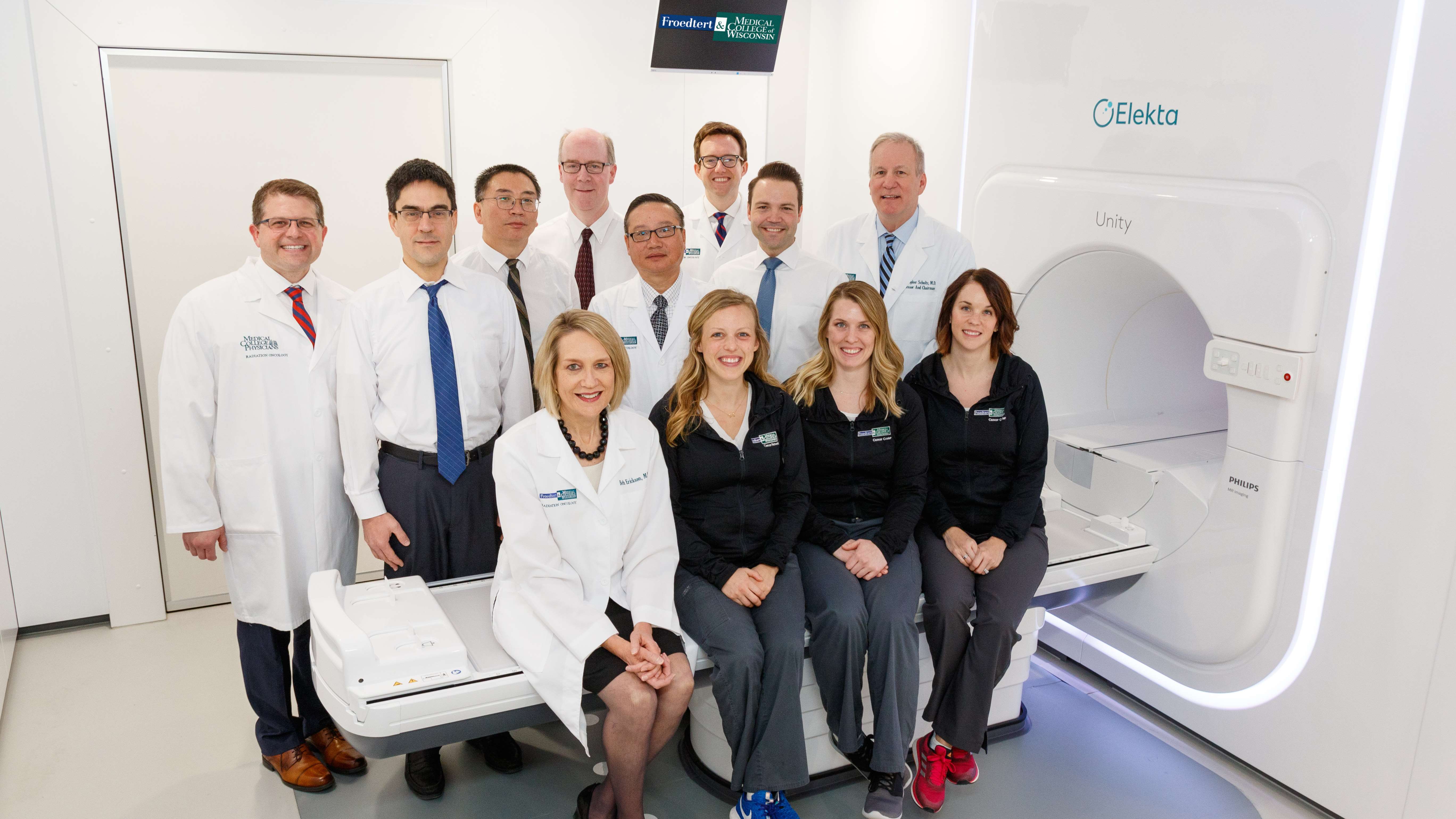 MRI-Guided Adaptive Radiation Therapy (ART)
Adaptive Radiation Therapy (ART) is a state-of-the-art approach that uses a feedback process to account for patient-specific anatomic and/or biological changes, thus, delivering highly individualized radiation therapy for cancer patients. Basic components of ART include: (1) detection of anatomic and biological changes, often facilitated by multi-modality images, (2) treatment plan optimization to account for the patient-specific spatial morphological and biological changes with consideration of radiation responses, and (3) technologies to precisely deliver the optimized plan to the patient. Interventions of ART may consist of both on-line and off-line approaches. Accumulated clinical data have demonstrated the need for ART in clinical settings, assisted by the wide application of intensity modulated RT (IMRT) and image-guided RT (IGRT). The technology and methodology for ART have advanced significantly in the last few years, particularly due to the recent clinical introduction of MR-Linac. MRI offers superior soft tissue contrast and a wide array of physiological information and has been considered the choice image modality for ART.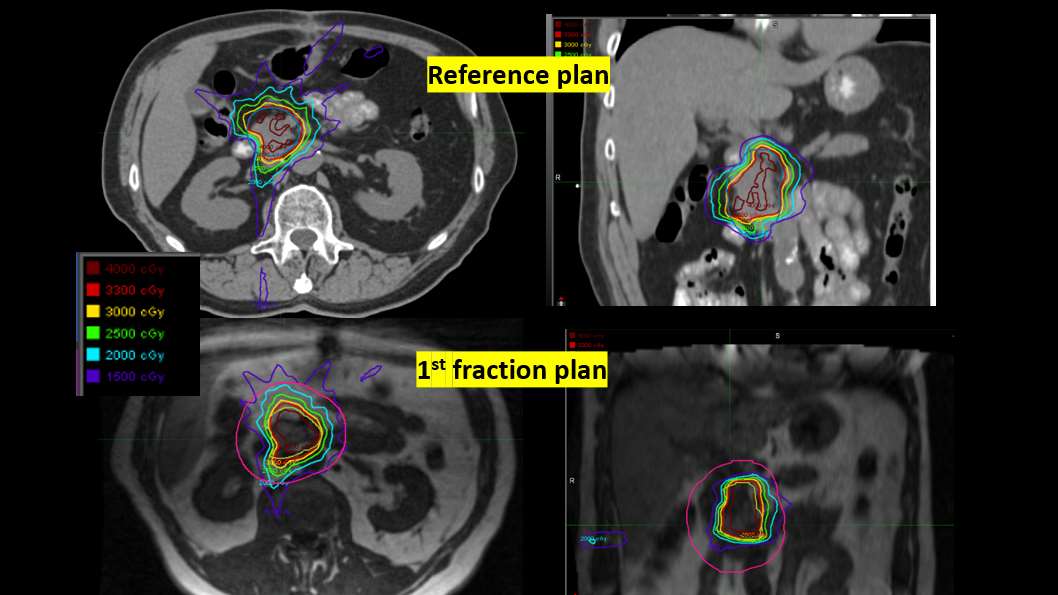 We are using Elekta Unity to deliver ART for patients with a variety of tumors, including pancreas, liver, prostate, head and neck, and brain. Our program is one of the seven institutions in the world participating in the development of this technology and is among the first using this technology in the clinic. We also use CT-guided ART technologies, e.g., Accuray Radixact tomotherapy, and Siemens CT-on-Rails.

(Left: Pancreatic cancer treated with MR-guided ART)
Real-Time Motion Tracking
Organ motion in the thorax and abdomen during respiration and peristalsis significantly affects precision of radiotherapy. It has been well documented that such motion can be more than 2 cm and the trajectory and pattern of the motion are complex. The organ motion greatly compromises advanced treatment technology including adaptive radiation therapy and intensity modulation radiation therapy.

In collaboration with Accuray Inc., we were the first clinic in the world to use Accuray's Synchrony technology for real time motion tracking during radiation therapy delivery. This motion management dramatically reduces the need for large target margins which have traditionally been used to compensate for the motion. As a result, the amount of healthy tissue exposed to radiation is reduced, minimizing the incidence of side effects.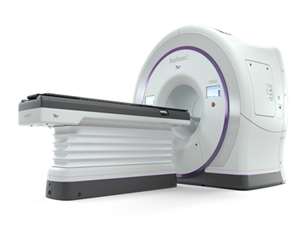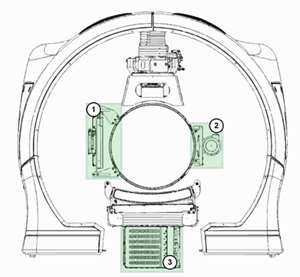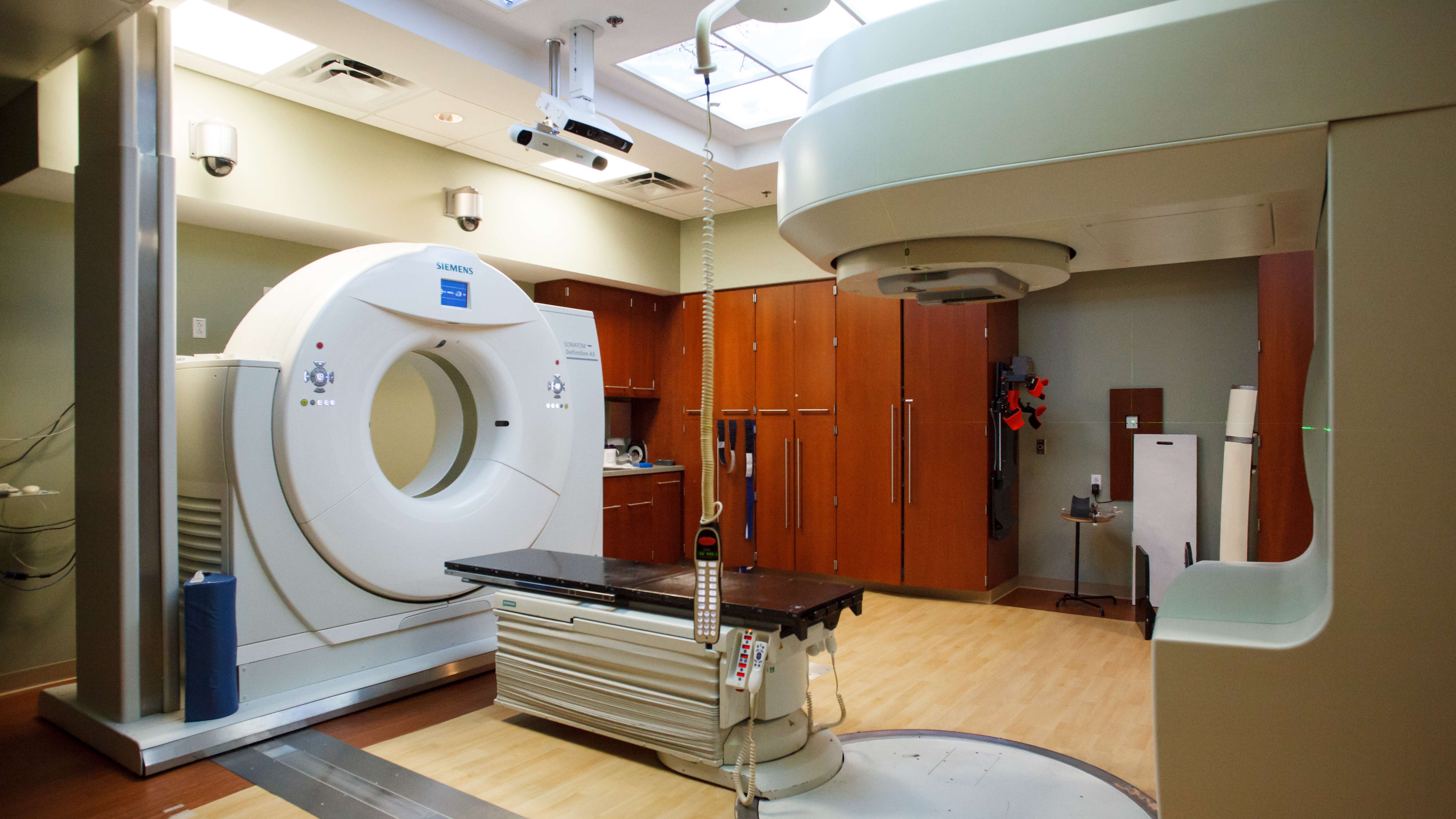 Image-Guided Radiation Therapy (IGRT)
Image-guided radiation therapy (IGRT) is an image-based technology that allows clinicians to locate a tumor target prior to a radiation therapy treatment. Multi-imaging modalities, including MRI, CT, MVCT and CBCT are used for IGRT in Froedtert & the Medical College of Wisconsin Radiation Oncology clinics. The IGRT technologies used in the department include Elekta Unity MR-Linac, Accuray Radixact tomotherapy, Siemens Artiste CT-on-Rails, Elekta Visa and Infinity. Each of these technologies offers distinct features to fit clinical needs. In addition, Optical (VisionRT) systems are also used for motion monitoring. The imaging systems used in the treatment room can localize tumor targets rapidly and accurately at the time of a radiation therapy treatment. This dramatically reduces the need for large target margins which have traditionally been used to compensate for errors in localization. As a result, the amount of healthy tissue exposed to radiation can be reduced, minimizing the incidence of side effects.
Stereotactic Body Radiotherapy (SBRT)
Stereotactic body radiotherapy (SBRT) is an emerging image-guided radiation technique that is used to treat small and well-defined targets within the body. SBRT normally delivers very high doses of radiation precisely to tumor sites within the body with the purpose of improving local control and limiting side effects. SBRT may be used for small lung cancers or metastases, small isolated liver tumors or bony tumors, and tumors in other sites that may not be appropriate for surgical resection or in patients who would not be candidates for surgery. SBRT is associated with few side effects because the treatment field is generally very small and treatment is precisely delivered.

At Froedtert & the Medical College of Wisconsin, the delivery of SBRT involves in 4DCT or MRI based treatment planning, online MRI or CT guidance using MR-Linac, Radixact tomotherapy, Versa HD linac with cone beam CT, or Artise linac with CT-on-Rails, real-time motion tracking, respiration gating, and Optical (VisionRT) motion monitoring.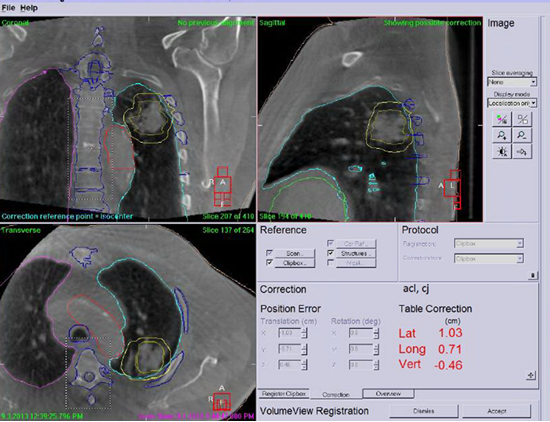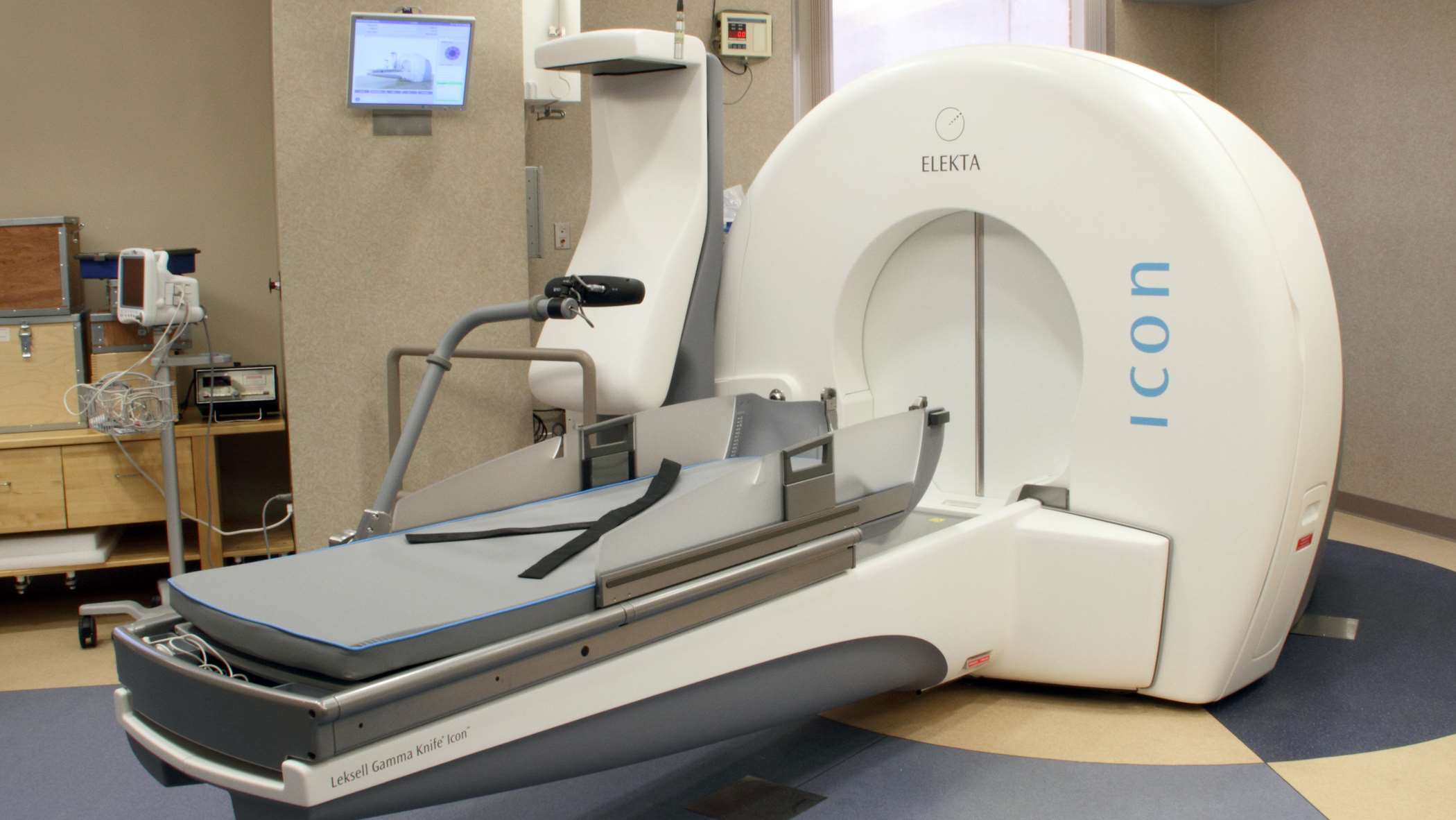 Stereotactic Radiosurgery (SRS) with Gamma Knife
Gamma Knife is a dedicate technology offering stereotactic radiosurgery which concentrates high doses of radiation on targeted masses of brain tissue to "eradicate" lesions. Sometimes referred to "as brain surgery without a knife" it offers treatment to patients with certain brain masses and arteriovenous malformations that have been considered inaccessible or unsuitable for traditional neurosurgery. Conventional radiation therapy is delivered in many treatments over a period of time in low daily doses that accumulate to relatively high total doses. In contrast, with Gamma Knife SRS, multiple beams of radiation merge on the intended mass from several directions simultaneously. Healthy tissue is therefore subject to minimal exposure, while the targeted mass receives a concentrated dose. The growth can be treated in one session. We are using Elekta's latest gamma knife technology, Perfexion Icon for SRS.
Other Modalities
Intensity Modulated Radiation Therapy (IMRT) and Volumetric Modulated Arc Therapy (VMAT)
IMRT/VMAT has changed the way radiation therapy is delivered. Using a multi-leaf (MLC) collimator, IMRT/VMAT focuses radiation directly on the tumor, delivering a higher, more effective radiation dose while decreasing toxicity to adjacent organs. This precise targeting is especially important in delivering IMRT/VMAT. At Froedtert & the Medical College of Wisconsin, we deliver image guided IMRT/VMAT in multiple forms including fix-gantry IMRT, rotational IMRT with Tomotherapy and VMAT. Multiple image modalities (CT, MRI) are used to guide IMRT planning in our department.


Seed Implants (Brachytherapy for Prostate Cancer)
Radioactive "seeds" are implanted in the prostate gland, where they fight cancerous tumors for several months. One of the advantages of using this technique for prostate cancer is that it limits the dose received by normal structures and patients are not required to return for daily radiation treatments.
High Dose Rate (HDR) Brachytherapy
Brachytherapy is defined as the placement of radioactive sources directly into or close to a tumor. High radiation doses are delivered to the cancer cells with rapid fall-off in dose to normal tissues. Brachytherapy is often combined with external beam radiation therapy (EBRT), serving as a 'boost dose' to the area of suspected or gross tumor residual. Brachytherapy alone or in conjunction with other treatment modalities has become an important part of radiation treatment. HDR brachytherapy is used in our department to treat gynecological, breast, and prostate cancers. At Froedtert & the Medical College of Wisconsin, CT and/or MRI are used to plan HDR brachytherapy.


Eye Plaque Brachytherapy
Eye plaques containing radioactive seeds are used in the treatment of choroidal melanomas.