Welcome to the General Surgery Residency Program
The surgical faculty at the Medical College of Wisconsin is proud of its residency training program and the accomplishments of its graduates. Our program has a number of strengths and resources which you should consider in your selection of a surgical residency program including:
A broad-based clinical program at multiple teaching sites
Research laboratories with established and funded investigators
A growing medical complex surrounded by a beautiful residential neighborhood
A philosophy of surgical education in which significant responsibility is delegated and experience is gained early in the training program.
Seven residents are chosen each year for categorical positions in the General Surgery Residency Program. The program is broad-based and prepares residents for one of three tracks:
Community practice as a general surgeon;
An academic career with a research focus;
Advanced fellowship training.
Given the increasing need for General Surgeons in more rural parts of Wisconsin, the State of Wisconsin has funded a Rural Track at MCW. This track is considered a unique program within ERAS and the NRMP Match. The training is similar to our traditional residency, however, Rural Track residents spend only 10 months at the Milwaukee area rotations. Then, for 2 months out of every year, they go to Wausau, Wisconsin for their rural rotation. This rotation is at Aspirus Medical Center, which is a 200+ bed hospital. There are no other surgical residents at the hospital and the Rural Track residents participate in General Surgery, Acute Care Surgery, Trauma Surgery, Endoscopy and Vascular Surgery. In addition, they have the opportunity to learn some Ob/Gyn, Urology, Ortho, and ENT, which can be important in a true rural setting.
In order to qualify for this track, applicants must meet the requirements of the traditional General Surgery Residency, and they need to have a significant "tie to Wisconsin." Qualifying ties to Wisconsin include, going to high school, undergrad, or medical school in Wisconsin. Other significant time spent or family connections in the state would also qualify.
Qualified applicants are welcome to apply to both the Rural Track and the Traditional Track at MCW.
Our innovative educational program encompasses protected core curriculum segments using the latest in instructional strategies and simulations, providing a strong scientific and procedural foundation across surgical diseases and conditions integrated with intensive hands-on pre-, intra- and post-operative experiences. Emphasis is placed on the acquisition and development of patient management, procedural, operative, and critical thinking skills.

Our five-year residency is framed by ACGME Core Competencies of patient care, medical knowledge, professionalism, practice-based learning and improvement, interpersonal communication skills, systems-based practice, and the achievement of operative expertise a surgeon needs in order to make a difference in the lives of their patients and families. The Medical College of Wisconsin's affiliated hospitals provide a breadth of patient diversity and surgical conditions that enriches each resident's learning and patient management experience within community-based, university-based, and Veteran Administration hospital systems.
Critical Care Scenario
Suture Lab
The expertise of each resident develops progressively throughout the program. A PGY 1 and PGY 2 resident begins training as a member of an interdisciplinary team that is committed to comprehensive patient care of commonly presenting surgical conditions. Progressing through the PGY 3 and PGY 4 years the resident assumes a principal role with the team managing patients on the clinical services, before culminating as a chief resident competent to lead teams and manage the pre-, post- and intra-operative care of complex patient conditions.
As a team member, each resident develops the vital communication skills necessary to work and/or lead others as members of the professional surgical community through patient care and scholarship. As the training years progress, a successively more prominent role is assumed by the resident in the education of medical students, junior residents, and other health care professionals. As members of the surgical profession, each and every resident demonstrates the highest standards of professionalism and communication skills, while increasing the advocacy skills necessary to effectively navigate the varied health care systems and settings for the patients being served. Throughout the education and training process, each resident is mentored to reflect on individual experiences in order to develop the ability to independently identify gaps and create individualized learning plans.
To understand our profession and contribute knowledge to it, each resident is guided through a research and/or other scholarly project. Preparation begins with the introduction of critical thinking and planning related to investigation of surgical problems during PGY1-2 curricular time along with identification of areas for further study. During the later years of the training, the residents implement the project with an identified mentor.

A dedicated laboratory experience is offered to those residents interested in performing research under the guidance of an established investigator. The program will be flexible for residents to best meet their individual needs, both in selection and timing of a laboratory experience.
Cadaver Lab with Drs. Malinowski, Traudt, Boehm, and Everett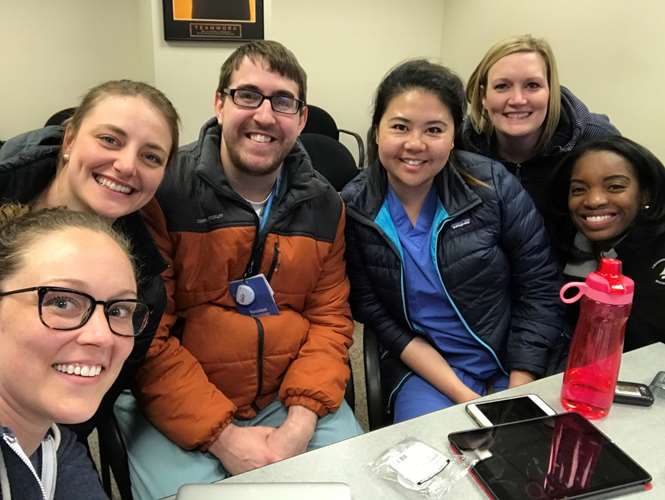 Drs. Boyle, Bence, Kohler, Hu, Mitchell, and Strong
Residents training in the General Surgery Training Program at the Medical College of Wisconsin are employed by the Medical College of Wisconsin Affiliated Hospitals. The Medical College of Wisconsin Affiliated Hospitals (MCWAH) is a consortium that was established in 1980 to facilitate the administration of Graduate Medical Education (GME) programs conducted jointly by the Medical College of Wisconsin in conjunction with 10 health care institutions in the greater Milwaukee area. MCWAH oversees housestaff benefits and institutional policies. Information about the benefits, conditions & terms of employment can be found on Graduate Medical Education's Benefits page.
In summary, our graduates join the surgical profession competent and confident that they are ready to provide the extraordinary care to their patients be it as actively practicing board certified surgeons or fellows in competitive subspecialty programs.

Other training is also available in Fellowship Programs.
2021 MCWAH Housestaff Excellence in Teaching Award Winners
Dr. Ken Simons, Designated Institutional Official and Executive Director, MCWAH, and Sr. Associate Dean for Graduate Medical Education and Accreditation, shared the winners of the 2021 MCWAH Teaching Awards:
Required rotation award - Dr. Elizabeth Traudt, MD, General Surgery, PGY5
Elective rotation award - Douglas Pierce, MD, Diagnostic Radiology
PGY3 Residents are nominated by the program directors and voted upon by the MCW senior medical students. Each recipient receives a plaque and $500 from MCWAH.
MCWAH would also like to recognize the following residents who received a high number of votes:
Jackie Blank, General Surgery, MD, General Surgery, PGY4
Katheryn Hope-Wilkinson, MD, General Surgery, PGY5
MCWAH is indeed fortunate to have resident teachers of this caliber at our affiliated institutions!
Contact Us
Matthew Goldblatt, MD
General Surgery Residency
Program Director
(414) 955-1833
Lisa Olson
Program Manager
(414) 955-1833
Mailing Address:

Medical College of Wisconsin
Department of Surgery
Division of Education
8701 Watertown Plank Rd.
Milwaukee, WI 53226