Philip B. Flynn
President and Chief Executive Officer
Associated Bank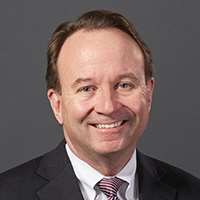 Phil Flynn joined Associated Bank in 2009 as president and chief executive officer.
Flynn has more than 40 years of financial services industry experience. After becoming CEO, Flynn instituted a customer-focused strategy that has positioned the company to deliver long-term, sustainable value to its shareholders. Associated is a diversified financial services company with well-balanced earnings from its core businesses. The company continues to grow through both organic activity and, more recently, a series of acquisitions.
Previously, Flynn held the position of vice chairman and chief operating officer of Union Bank in California. During his nearly 30-year career at Union Bank he held a broad range of other executive positions, including chief credit officer and head of commercial banking, specialized lending and wholesale banking activities.
Flynn serves on a variety of boards in addition to Associated, including the Green Bay Packers, Medical College of Wisconsin, Milwaukee Art Museum, St. Norbert College and Wisconsin Manufacturers & Commerce.