Community Engagement Spotlight Series
This monthly virtual series features community partners and the important work they are doing for and with the community; highlight their goals, motivations, and accomplishments, and the ways they have partnered with people and programs at MCW; and a chance to hear stories of resilience and inspiration from those who work on the ground – often silently – to make a positive impact on the health and lives of people in our community.
Meet Brian Bautista | January 25 from 4-5 p.m.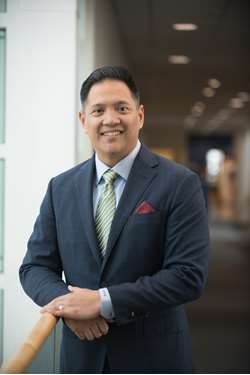 Meet Brian Bautista, executive vice president and chief operating officer for blood operations at Versiti, Inc. At Versiti, Bautista brings a diverse set of leadership and problem-solving experiences to the blood industry.
Versiti is a national leader in innovative blood health solutions with the mission to improve patient outcomes, advance the field of personalized medicine, and strengthen the health of communities everywhere.
Bautista has depth in leading teams and strategic thinking and approaches his 20-year career in health care with a focus on serving patients, providers and the individuals he leads. He currently serves as the chief operating officer for Blood Operations. During his time at Versiti, Brian has focused on building new capabilities for the operation with a focus on service, excellence, learning & development, and change management. Throughout his career, Bautista has demonstrated a track record of high achievement and delivering results by building high-performing teams and inspiring leaders.
We hope to see you on January 25!

2021-2022 Spotlights
Meet Friedens Food Pantries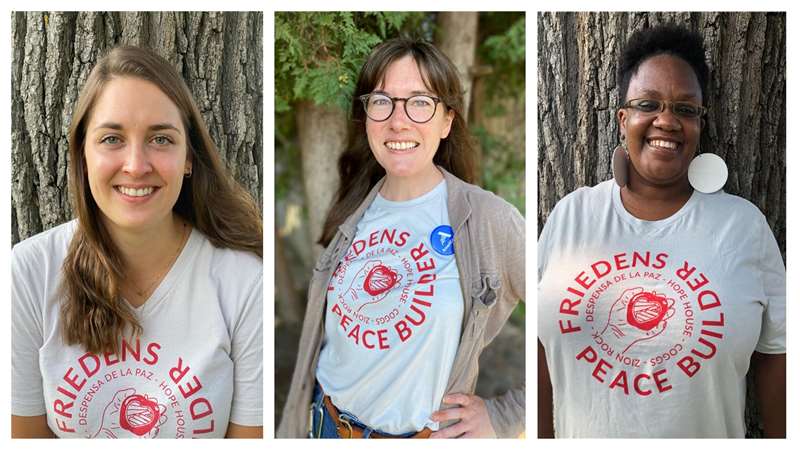 Friedens Food Pantries is a network of food pantries building communities through nourishment. Friedens' programs strive to leverage food to build relationships and address the holistic needs of community members. Without healthy food access, it is difficult to manage other life needs. Friedens echoes the need to address multiple SDOH (Social Determinants of Health) factors: education, employment and housing barriers, and the threat of violence which embraces their use of the community food center model, leveraging food to build equity and create community. Volunteers and community members arrive at Friedens to give and receive through an equity-building approach, which invites all guests to use their gifts and talents in service of others, regardless of food insecurity status.
Friedens Food Pantries envisions a more equitable world where systems provide all persons, regardless of age or disability, with resources to thrive.
We welcomed Sophia Torrijos, Executive Director; Valerie MacMillan, Program Manager; and Cheryl Ousley, Site Manager from Friedens Food Pantries.
Meet LaNelle Ramey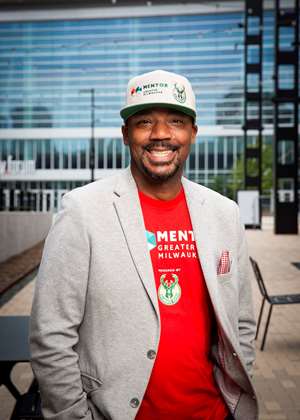 Meet LaNelle D. Ramey, the Executive Director for MENTOR Greater Milwaukee (MGM). Through MGM LaNelle works to increase mentoring relationships by building the capacity of existing mentoring organizations and matching caring adults with children in need through safe, effective mentoring programs throughout Greater Milwaukee.

MGM provides professional development, mentor recruitment, and technical assistance to Mentoring Organizations throughout the Greater Milwaukee community and surrounding areas.

Before joining MENTOR Greater Milwaukee, LaNelle joined Milwaukee Public Schools in August 2017 as one of the Founding Directors of the Department of Black and Latino Male Achievement for Milwaukee Public Schools. LaNelle worked within the district to ensure black and Latino male students are intentionally a part of the district's educational equity strategies for academic improvement and overall life outcomes.

LaNelle has been in the Youth Development profession for over 25 years working with various non-profit and community-based organizations that serve youth. LaNelle has worked with organizations such as the New Concept Self Development Center and Boys & Girls Clubs of Greater Milwaukee.
Meet Lea Denny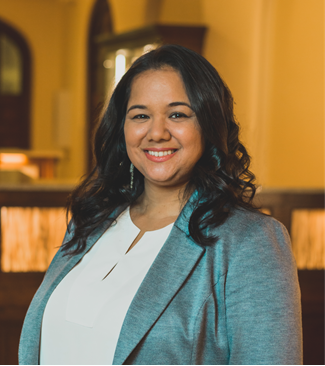 Mrs. Lea S. Denny is the founder, CEO, and Clinical Director of Healing Intergenerational Roots (HIR) Wellness, a wife, a mother of two, and a community member. She is of Hawaiian & Filipino descent, Hungarian-Jewish, and English ancestry, and her husband and children are Oneida and Ojibwe.
Lea designs, develops, and implements free mental health programming and services for Indigenous and underserved victims of violence. Through HIR Wellness, Lea has developed a shared leadership and decolonized approach to operations that empowers women and cultivates a team of healers in synergy. With this approach, her team can offer direct services, field training and development, internship mentoring, and community-based participatory research to measure and evaluate the trauma-informed, practice-based work that will sustain our communities' healing for the next seven generations.

Lea is dedicated to shifting the paradigm around what is mental health justice, and is steering global health justice on every level and redesigning what mental health service delivery means for all people.
Meet Tou Fong Lee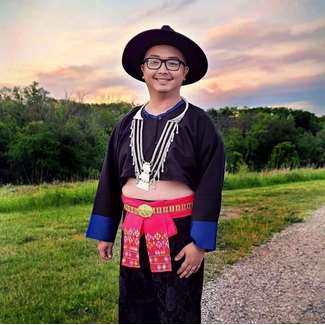 Meet Tou Fong Lee (he/them), the owner of Outkast Alterations, Wisconsin's first Hmong LGBTQIA+ business. He also serves as the community programs coordinator for Diverse and Resilient, a nonprofit organization in Milwaukee dedicated to serving LGBTQIA+ communities of color.

Our topic will be LGBTQIA+ youth health disparities and cultural competency. Tou works specifically with LGBTQIA+ allied youth in development, accessibility and creating safe spaces for youth to talk about healthy relationships and anti-violence. During the height of the pandemic, Tou partnered with MCW and the City of Milwaukee Health Department for the Creative Health Collective, providing accessibility and education to the Hmong community on COVID isolation and quarantine protocols. Tou is also currently an active shaman of six years for his Hmong community, practicing ancient healing and herbal medicine.
Meet Al Castro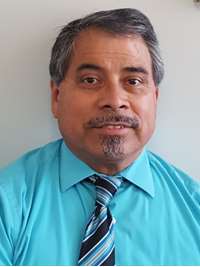 Al has over 45 years of experience in various human services programs, including child protective services, juvenile services, adult services, teen parenting services and non-profit community services. He currently serves in leadership roles in the Milwaukee Latino Health Coalition and the Wisconsin Department of Health Services Minority Health Advisory Committee. Al frequently assists MCW researchers in connecting to the community through planning, developing and implementing community/academic participatory research projects. In addition, Al often helps to mentor young MCW researchers in community-engaged work in the Latino community.
Meet Keeshia Jones
Keeshia Jones is a 3-year breast cancer survivor who believes in advocating for women's health issues and is committed to providing education, advocacy and support to empower women going through breast cancer diagnosis and treatment. She is the current President of Sisters Network® Inc. Southeast Wisconsin Affiliate Chapter which is a breast cancer support group for African American women in Kenosha, Racine and Milwaukee counties. The group is part of a national organization committed to increasing local and national attention to the devastating impact that breast cancer has in the African American community. She also volunteers as a mentor with After Breast Cancer Diagnosis (ABCD) and is an advocate with the American Cancer Society-Cancer Action Network.

Professionally, Mrs. Jones works at Gateway Technical College where she assists students with applying for financial aid and finding resources to pay for college. Mrs. Jones has dedicated over 25 years helping students navigate the financial aid process and she has a passion for assisting first generation students achieve their dream of attending college. She believes every student deserves the opportunity to pursue their higher educational goals without the stress of financial barriers. Previously, she worked in Financial Aid at Trinity International University and Marquette University before joining the Gateway family.

Mrs. Jones earned a B.A. in Business Administration and is currently completing a Master's Degree in Legal Studies with an emphasis in Human Resource Compliance. She has been devoted to community service and mentoring students; she currently serves on the Kenosha Public Library Foundation Board.
Meet Brett Fuller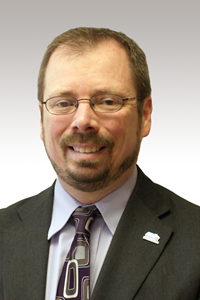 Meet Brett Fuller, Curriculum Specialist for Health and Physical Education for Milwaukee Public Schools (MPS), and learn how he strives to orient students to a lifetime of physical activity.
Brett Fuller has been the Curriculum Specialist for Health and Physical Education within Milwaukee Public Schools (MPS) since 2007. MPS is Wisconsin's largest district with 166 health and physical education specialists in 158 schools. He believes in improvement of health and physical education programs at the district, state and national levels. He has presented and been published locally, at the state level and nationally on topics ranging from bullying in physical education, sex education, equity, inclusion and diversity. Brett is a former President of Wisconsin Health and Physical Education, and the acting Past President of the Society of Health and Physical Educators (SHAPE America).
Meet Nurse Jenny Ovide and Pastor Dan Czaplewski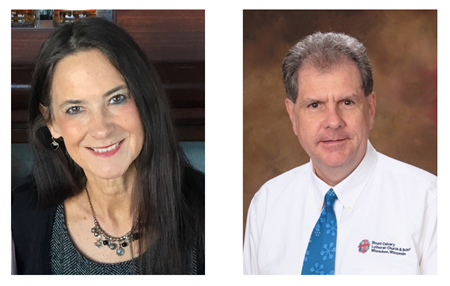 Jenny Ovide, or "Nurse Jenny," has spent 21 years of her career at All Saints Family Health Center as the Community Medical Clinical Coordinator on Milwaukee's north-side, combining creativity, health education, and community engagement. The clinic hosts a garden, greenhouse, workout track, and a collaborative farm with Mount Calvary Community Development Corporation (MCCDC) which is a nonprofit led by Reverend Dr. Daniel P. Czaplewski.
"Pastor Dan" is the pastor at Mount Calvary Lutheran Church in Milwaukee and works with Nurse Jenny in partnership with Ascension St. Joseph's Hospital and Ascension All Saints Family Health Center to direct their signature program: Farm to Hospital and Community. In this program, interns are employed to operate an urban farm that provides fresh, naturally grown vegetables to at-risk communities while developing the workforce. Family Medicine Residents and medical students work alongside in the garden, delivering food, assessing patients for food insecurity, and holding healthy cooking/tasting classes in the teaching kitchen.
Nurse Jenny and Pastor Dan find it a humble challenge to listen to the community's needs and help find ways to tackle the complicated and important issue of food insecurity and its effects on health.
Meet DeDe Williams - Milwaukee Area Health Education Center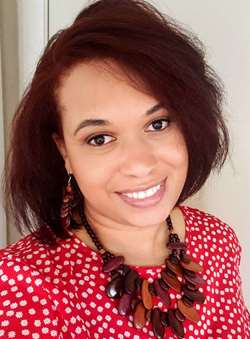 Azure'De Williams joined the Milwaukee Area Health Education Center (MAHEC) as the Executive Director in June 2017. She has the responsibility for recruiting and mobilizing a diverse pipeline of healthcare professionals; identifying, cultivating, and securing prospective sponsors and strategic alliances; partnering with advocacy groups to increase engagement within local health care clinics and systems; serve as liaison to governmental agencies focused on diversity and health disparities and managing the execution of MAHEC training programs.
Azure'De Williams received a Bachelor of Science degree in Behavioral Science & Law, Psychology, and a Criminal Justice Certificate from the University of Wisconsin – Madison in 1997. Next year, she celebrates 25 years working in the non-profit sector identifying two areas she felt most impacted quality of life - Health and Education. She uses her skills in program development, civic engagement, and program evaluation to support efforts in addressing health disparities and achievement gaps. Under her leadership at the American Heart Association, she received several awards including the Cass Wheeler Integration Team Award for her leadership initiatives and improving hospital care and outcomes for minority and underserved populations. Recently, Mrs. Williams received the 2021 MCW (Medical College of Wisconsin) President's Award for her exemplary community-engaged work with MCW and partners.
She is ardent about Community Service while allocating time to be an active member of Pilgrim Rest Missionary Baptist Church's Sunday School. Azure'De has four children - ages 19, 15, 12 and 8 who are often seen accompanying her on volunteer-related and community service projects. In her spare time, Azure'De enjoys filling up the pages of her passport.
Meet Kathy Gale
For the last 20 years, Kathy Gale has served as Executive Director for Eras Senior Network, a senior advocacy organization that serves both Waukesha and Milwaukee counties. Kathy is responsible for day-to-day management of the agency including 30 employees and six programs leveraging more than 2,000 community volunteers. Among her many duties, she works to develop partnerships to address system-level changes for older adults and family caregivers.
Kathy's partnership with MCW includes work through an Advancing a Healthier Wisconsin Endowment grant supporting research to implement a scalable system to improve coordination among organizations that interface with caregiving units.
Kathy is an Adjunct Instructor at Concordia University of Wisconsin and a third-year doctoral student in the College of Education, Literacy, and Leadership at Cardinal Stritch University researching the lived experience of volunteering during the COVID-19 pandemic.
"Kathy exudes intelligence, inclusiveness, commitment, humility, and warmth." – Leslie Ruffalo, PhD, MS, Associate Professor, Department of Family & Community Medicine, MCW-Milwaukee

Meet Cecilia Garcia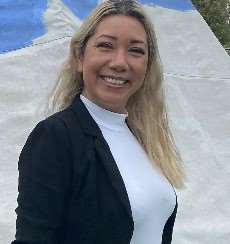 Cecilia García is of Mexican nationality and has lived in the city of Milwaukee for 17 years. She is a community health worker and has worked for the Latino community for more than 8 years, seeking basic resources and direct connection with organizations that can provide services to low-income families. Serving her community has always been her passion. When the pandemic started, Cecilia and her family overcame difficult challenges and uncertainty to provide help for many families within her community. The masks, food and diapers that Cecilia collected and distributed became essential for the safety and needs of these families. Cecilia also worked to distribute culturally tailored informational flyers about COVID-19 and facilitated access to healthcare.
"It is hard to describe the level of activity and velocity of the Community Health Workers in responding to the pandemic, working through phone lists, dropping supplies at individual homes, and offering hope and assurance to those in desperate need." – Zeno Franco, PhD, Associate Professor, Family and Community Medicine, MCW-Milwaukee
Meet Otis Winstead, Jr.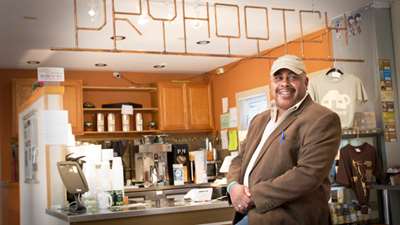 Otis Winstead, Jr. is the Executive Director of Great Lakes Dryhootch, a Veteran nonprofit organization based in Milwaukee. Otis is a Vietnam-era Veteran who has dedicated his life to serving the community. His heart can be found walking alongside other Veterans and providing peer support. Over the past several years, Otis has served in multiple leadership roles in the community, including serving as an essential partner with the Medical College of Wisconsin.

"Otis epitomizes the ideal of Community Engagement, continuously advocating for Veterans, for the African American community, and serving as an important thought partner for a number of our faculty." – Zeno Franco, PhD, Associate Professor, Family and Community Medicine, MCW-Milwaukee
Meet Wade Fernandez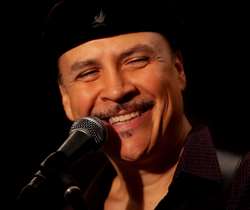 With Menominee Indian Reservation roots, Wade Fernandez (Walks With The Black Wolf) is a "deeply authentic" multi-award-winning international touring artist from the Menominee Nation. Both his music and his message are firmly grounded in his Menominee Reservation roots and love for the land, animals, and people. His passion to educate, share music and culture, and honor Grandmother Earth is reflected in his international presentations and work in schools and workshops, with the elderly, the mentally disabled, elders, and youth. Wade is committed to social justice, environmental justice, community health, and promoting the benefits of music and education.

During the recent pandemic Wade was instrumental in delivering COVID-19 messaging and care to underserved communities through film, music, and livestreaming while also delivering basic needs on the ground with the Creative Health Collective. This group of community health workers was supported through the AHW-funded STOP COVID-19 project which focused on community-generated, equitable response strategies to COVID-19, and was facilitated by Dr. Zeno Franco, MCW, and the City and County of Milwaukee.
Connect with Us
There's more than one way to connect with us - join our email list for program news and event updates, or keep up with us on our socials!