Community Engagement Spotlight Series
This monthly virtual series features community partners and the important work they are doing for and with the community; highlight their goals, motivations, and accomplishments, and the ways they have partnered with people and programs at MCW; and a chance to hear stories of resilience and inspiration from those who work on the ground – often silently – to make a positive impact on the health and lives of people in our community.
Meet LaNelle D. Ramey | October 12 from 4-5 p.m.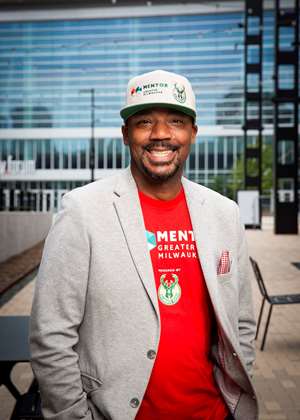 Meet LaNelle D. Ramey, the Executive Director for MENTOR Greater Milwaukee (MGM). Through MGM LaNelle works to increase mentoring relationships by building the capacity of existing mentoring organizations and matching caring adults with children in need through safe, effective mentoring programs throughout Greater Milwaukee.
MGM provides professional development, mentor recruitment, and technical assistance to Mentoring Organizations throughout the Greater Milwaukee community and surrounding areas.

Before joining MENTOR Greater Milwaukee, LaNelle joined Milwaukee Public Schools in August 2017 as one of the Founding Directors of the Department of Black and Latino Male Achievement for Milwaukee Public Schools. LaNelle worked within the district to ensure black and Latino male students are intentionally a part of the district's educational equity strategies for academic improvement and overall life outcomes.

LaNelle has been in the Youth Development profession for over 25 years working with various non-profit and community-based organizations that serve youth. LaNelle has worked with organizations such as the New Concept Self Development Center and Boys & Girls Clubs of Greater Milwaukee.
We invite you to join us Wednesday, October 12, from 4–5 p.m. when we welcome LaNelle Ramey!

Connect with Us
There's more than one way to connect with us - join our email list for program news and event updates, or keep up with us on our socials!