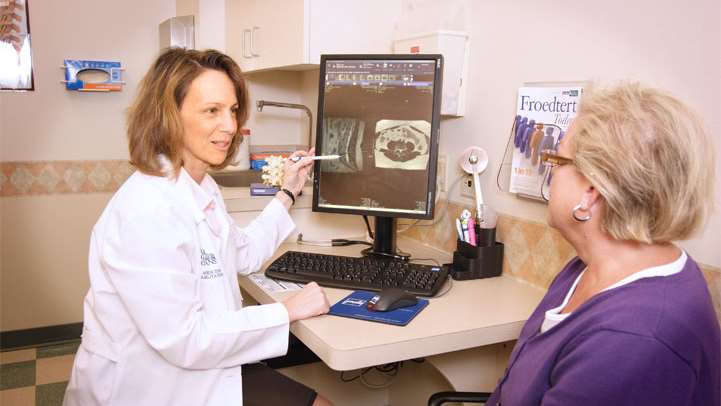 SpineCare Patient Information
Treatment at the SpineCare Clinic is tailored to meet your individual needs. The initial evaluation is done by a team of professionals including a physical medicine and rehabilitation expert (physiatrist), a chiropractor and a physical therapist. As part of our successful approach, we rely on clinical pathways – a specific timeline and sequence of transdisciplinary interventions – to help achieve the best possible outcomes.
SpineCare Overview
After your initial evaluation, you are placed in a program based on your individual needs. We are continually looking for ways to optimize both your access to care and your recovery. Our programs are designed to deliver treatment efficiently and effectively.
You'll find fast, flexible access to care, through a referral from your doctor or through your own direct access. The program consists of spine surgeons, non-operative spine specialists and chiropractors.
Our providers are uniquely cross-trained to recognize and treat multiple conditions, which means we can get you up and moving again more quickly than other providers.
We are dedicated to educating and empowering our patients. Read more about our team members, the types of spine disorders we care for and general advice to those suffering from pain.
SpineCare Programs
SpineCare offers a unique personalized approach, with the patient at the center of care. We see the patient as a critical member of that team, and we ask our patients to be actively involved in their own treatment and long-term success.
Rehabilitation Therapy Services
Physical therapy and occupational therapy work together to provide individual, cost effective, evidenced-based treatment.
The physical therapist evaluates and develops an individualized program, with a strong educational foundation, to give you the tools to manage your spine disorder on a long term basis. The physical therapist combines treatment to reduce pain and improve function, through the use of pain reduction techniques, instruction in proper posture, body mechanics and spine strengthening exercises. This will facilitate your quick, safe return to an active lifestyle.
The occupational therapist works closely with the physical therapist and will identify home or work activities that may increase your risk for spine injury. The occupational therapist will then instruct you in techniques to modify the identified high demand activities specific to your lifestyle to help you reduce pain and injury.
Electrodiagnostic Testing
This may be used to test nerve or muscle function to help determine a cause for extremity pain, numbness, tingling, or weakness.
Chiropractic Care
Manual therapy, including manipulation of the spine, other joints, and soft tissues may be recommended as part of an individualized treatment program. If so, you will have the option of treatment by a SpineCare Chiropractic doctor.
Spinal Injections
Spinal injections, which deliver medication to help reduce inflammation and pain, can help manage pain in appropriate patients. They are performed by fellowship-trained physiatrists and are completed in conjunction with a comprehensive rehabilitation program.
Surgical Intervention
If other treatment options have failed, surgery may be recommended. If that becomes the case, you will be referred to a SpineCare spinal surgeon. A plan for surgical treatment is developed based on your condition, evidence-based assessment of the surgical options, and realistic expectations based on years of experience.
Alternative Recommendations
In some cases, people with chronic pain or other conditions may benefit from other types of treatment, and appropriate recommendations would be made for those patients.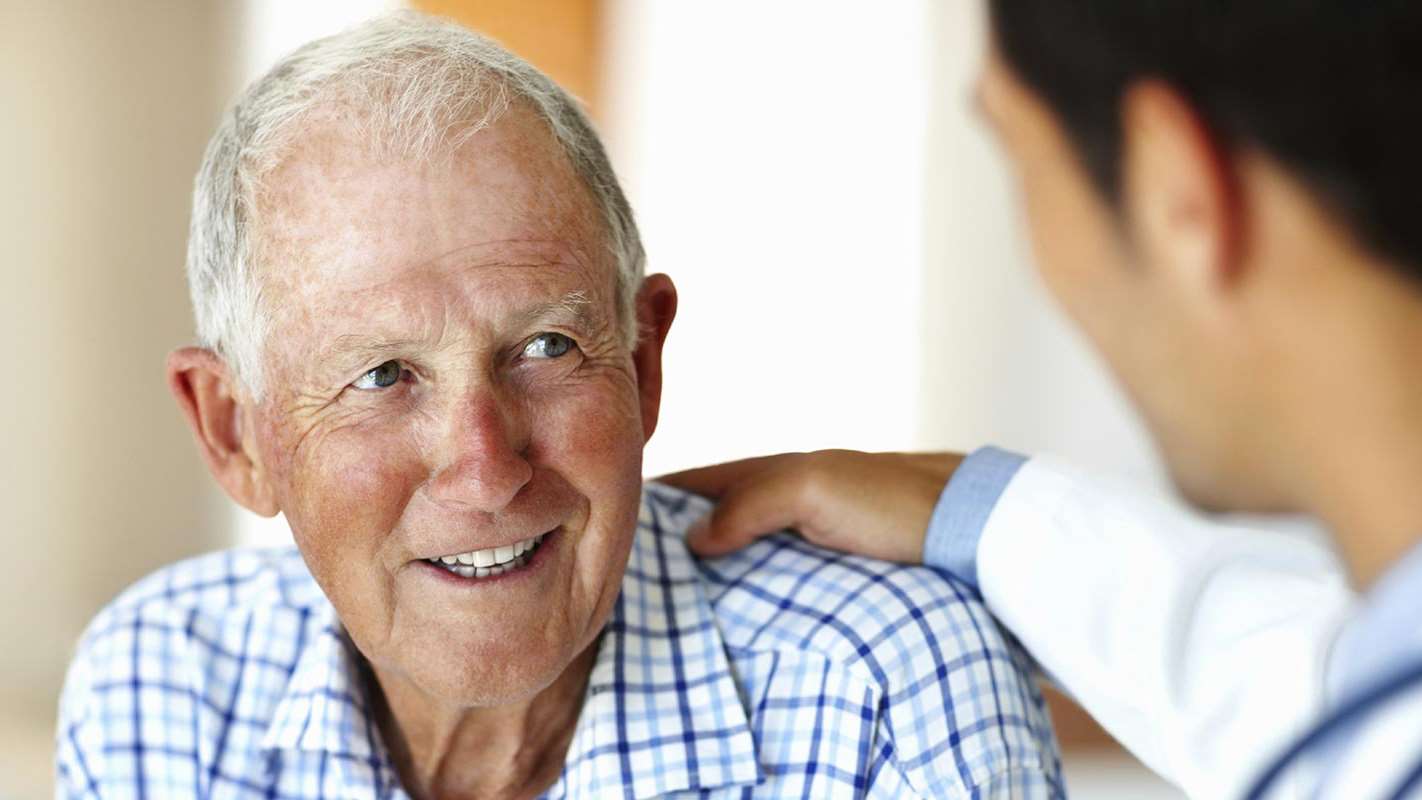 SpineCare Second Opinion Program
Spine-related problems can be complex, with many treatment options. That's why the diagnosis of a spine-related problem deserves a second opinion.
If you've been diagnosed with a spine condition, especially one for which surgery has been recommended, you may benefit greatly from a visit to the Froedtert & the Medical College of Wisconsin SpineCare Second Opinion Program.
Many physicians recommend that their patients seek a second opinion from our program. A second opinion from our expert team of SpineCare physicians can give you peace of mind to make the right decision. As part of an academic medical center, the SpineCare Program has the resources, technology, expertise and compassion to accurately evaluate your diagnosis and effectively treat your disorder.
The SpineCare Program attempts non-invasive treatment before recommending surgery, except under certain circumstances where surgery is the only option.
Why visit us for a second opinion?
Expertise
Expertise
The SpineCare Program's experienced team includes board-certified physical medicine and rehabilitation physicians (physiatrists), neurologists and board-certified, fellowship-trained spine surgeons, along with chiropractors, nurses and physical and occupational therapists. Team members collaborate to provide the highest quality care.
Convenience
Convenience
In most cases, it will take just one visit for us to offer our opinion about your diagnosis and treatment options. Tests or treatments will not be repeated unless absolutely necessary.
Evidence-based care
Evidence-based care
All patient treatments provided in the SpineCare Program are based on valid, relevant medical information.
Complete treatment options
Complete treatment options
The SpineCare Program offers the full spectrum of advanced treatment options.
Participation in decision-making
Participation in decision-making
We'll work with you to develop a treatment plan that fits your goals and life. Treatment will be tailored to your individual needs.
Peace of mind
Peace of mind
By seeking a second opinion, you could learn about treatment options you never considered. The choices you make now can affect your health and life long into the future.
Frequently Asked Questions
About the SpineCare Program
How do I know if the SpineCare Program is right for my situation?
The SpineCare representatives will help you determine whether SpineCare is right for you by asking you a series of questions. These questions will deal with your current symptoms and any treatment you might have received for your present condition. From there a determination will be made if further information is needed or if you would benefit from a referral for another type of treatment.
Why should I seek care for my spine disorder at an academic medical center?
One of the benefits of being part of a leading-edge academic medical center is that we know what works and we have the clinical evidence and research to prove it. Your individualized treatment program is based on this evidence. Froedtert & the Medical College of Wisconsin is recognized for exceptional physicians, research leadership, specialty expertise and state-of-the-art treatments and technology. Our physicians participate in significant national research and help discover new and better treatments.
What makes the SpineCare Program unique in treating neck and back pain?
Several factors make SpineCare different from any other clinic or practitioner you might have encountered in the past. Bringing together board-certified and fellowship-trained specialists from all the appropriate disciplines in one clinic is the most effective and efficient way to diagnose and treat neck and back pain. Some of SpineCare's experts include physiatrists, chiropractors, physical and occupational therapists, psychologists and nurse case managers.
Our transdisciplinary team (a team composed of different professions cooperating to improve patient care) collaborates to find the cause of your pain and to design an individual treatment plan, all with the patient's participation. Thus treatments are done simultaneously and supported with close communication between the various specialists that are working together on your treatment plan.
How do I know if the SpineCare Program is the right course of action for me?
To help you determine if your condition would be appropriate for the SpineCare program, we will ask you a series of questions that pertain to your current symptoms and any treatment you have already had for your condition. If necessary, we may request records for additional review by one of our physicians. We will then discuss our recommendation with you and the proposed SpineCare program that would best fit your condition and needs.
What do each of the specialists on the SpineCare team do to help improve my condition?
Physiatrist / Neurologist
The physiatrist/neurologist will work with you to manage your treatment plan which may include medical management, determining if additional testing is necessary to identify and treat your pain and to monitor your progress throughout the program. This is a non-surgical approach to treating your neck and back pain.
Chiropractor
The chiropractor will provide spinal manipulation, if appropriate, to restore joint mobility to restricted movement of the spine, thereby alleviating pain and muscle tightness, allowing you to participate more comfortably with your SpineCare program.
Physical Therapist
The physical therapist will provide treatment to help you learn how to manage your spine condition through education, instruction in specific exercises and postural retraining. The physical therapist will encourage you to embrace lifestyle changes which will promote the health of your spine long term.
Occupational Therapist
The occupational therapist/Certified Ergonomic Evaluation Specialist identifies risk factors associated with the physical requirements of your work and home tasks and will provide ergonomic recommendations to protect your spine when performing these tasks. An on-site ergonomic evaluation may be requested for a work related injury.
Pain Psychologist
The psychologist can help you to understand your own emotional and behavioral responses to your ongoing/chronic pain. Additional testing may be useful to help the psychologist to determine treatment options that would focus on coping/management with your chronic symptoms.
Surgeon
Our surgeons take a conservative approach to ensure that non-operative treatment, if indicated, has been exhausted prior to considering surgery. If surgery is considered, the use of imaging and/or other testing is used to confirm if a surgical procedure is the best solution for treating your pain.
What if my pain does not improve after treatment at SpineCare?
Over 97% of SpineCare patients get relief from the treatment offered. However, if your condition does not improve, our team will work with you to investigate benefits of alternative treatment, including the surgical options available. If surgery is indicated, your team will work to make your transition through surgery into rehabilitation as seamless as possible with the focus on getting you back to work and the activities you enjoy.
Does SpineCare treat people who are injured at work?
Yes. If you are injured at work and currently working, our goal is to keep you working safely. If you are unable to work due to an injury, our goal is to help you to return to work as quickly and safely as possible.
Practical answers to common questions related to back pain
What should I do when I have back pain?
Unless your pain is very severe, keep moving. You may continue daily activities such as showering and washing dishes, however, pace your activities. The presence of back pain doesn't necessarily mean you are harming yourself by moving. Brief periods of slow walking will generally reduce stiffness and soreness. Walking should probably be limited to 20 minutes or less initially. Apply ice for comfort, as needed. Check with your physician or therapist for further help.
Should I use ice or heat?
We recommend ice applications to cool body tissues, minimizing swelling and pain. Ice application is most effective if applied several times throughout the day for 10 to 15 minutes. Heat has the opposite effect, and tends to feel good initially but the therapeutic benefit appears limited.
Will exercise help my recovery?
We at SpineCare believe the most important aspect of your recovery will be exercise. An exercise program should be designed for your individual needs. Regular participation in your exercise program will speed your recovery and improve your health. There is no treatment that can take the place of exercise. Research suggests that regular exercise may prevent back injuries from recurring.
When should I seek medical attention for my neck or back pain?
Most back pain lasts for a limited time and goes away without special treatment. However, if you have weakness, pain going down your arm(s) or leg(s) and/or pain lasting for more than a few weeks, a doctor should be consulted.