Pediatrics Residency Training Program
Welcome from our Program Director
Michael C. Weisgerber, MD, MS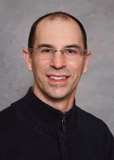 It is our pleasure to introduce you to the Medical College of Wisconsin and Children's Wisconsin Pediatric Residency Training Program website. We are very proud of our program, and we are glad to have the opportunity to share it with you. We believe that our program successfully combines all of the elements which make up the ideal pediatric residency training program. The educational curriculum is structured to provide experiences of breadth and depth in all areas of pediatrics to all residents, while allowing residents the time and support to pursue their individual interests, whether that is in primary care, community pediatrics, pediatric hospital medicine, global health, or academic subspecialty pediatrics. Learn more about our Pediatric Residency Training Program

Life in Milwaukee
Learn about where our residents live and spent their free time and some of their favorite things about our city.
Why Choose Our Program?
Why Choose Our Program?
Exceptional breadth and depth of clinical experiences
Comprehensive pediatric curriculum
Individualized attention to each resident's career and life needs
Outstanding residents who support and encourage one another
More reasons to choose our program...
"I love the people and the facilities - we have such a wonderful time taking care of patients here - day or night! I also feel so incredibly safe and supported (by both attendings and co-residents) on all of my hard days. Oh, and the views from the hospital are also beautiful - those skyline views are A+!"

– Laura Goeser, MCW pediatric resident, class of 2021
Curriculum
Curriculum
"The teaching is so phenomenal here; we are truly working with experts and learning from the best. The volume and diversity of patients that we care for allow for a meaningful experience that can be applied to careers in both subspecialty and primary care."
– Stason Vandegrift, MCW pediatric resident, class of 2022
Our Residents
Our Residents
"I love the variety of personalities in the program, and knew I would feel right at home here - I actually wrote that on top of my interview notes from that day. I also felt like I met a lot of awesome women in leadership positions in the program, which was something in particular I had been looking for. My program also has quite a few fellows who have come from this program, and many of them emphasized that they felt prepared to go anywhere by their training at this program."
– Swathi Prasad, MCW pediatric resident, class of 2021
Contact Us
Pediatrics Residency Program
Medical Education Office
Children's Corporate Center
999 N. 92nd St., Suite 730
Milwaukee, WI 53226
Visit our Instagram by clicking the link below!
(414) 266-6800
(414) 337-7068 (fax)