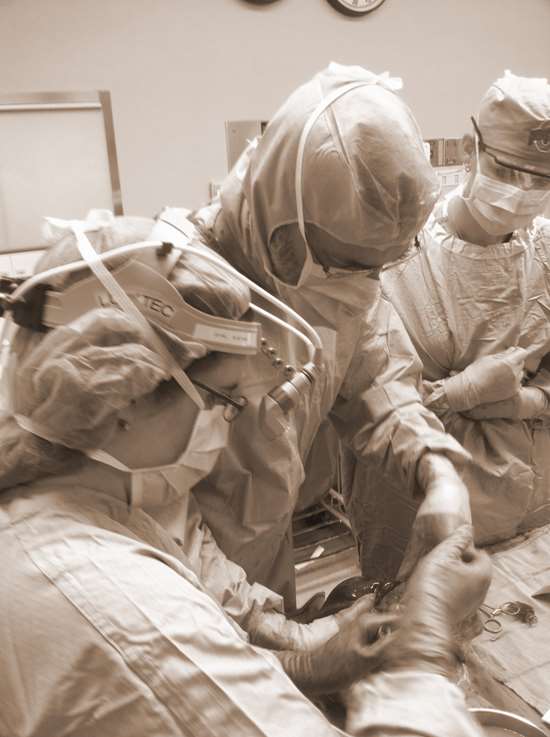 Seven residents are chosen each year for categorical positions in the General Surgery Residency Program. The program is a broad-based program and prepares residents for one of three tracks:
Community practice as a general surgeon;
An academic career with a research focus;
Advanced fellowship training.
During the first two years, the resident will manage patients and gain preliminary operative experience through rotations in general surgery, trauma surgery, transplant surgery, the surgical intensive care unit, cardiothoracic surgery, vascular surgery and pediatric surgery. While on these services, the resident attends the teaching and work conferences of these specialty services.

Third-year clinical residents gain experience in burn care, critical care and gastrointestinal endoscopy.

Further experiences are gained on general surgery, pediatric surgery and vascular surgery services. Senior responsibility begins in the fourth clinical year with rotations on thoracic surgery, transplant surgery and trauma surgery. Independence increases as the resident's operative judgment and surgical capabilities increase.

In the final year, the Chief Resident matures and perfects clinical judgment with expanded responsibility for patient management and a supervisory and educational role with junior residents and medical students. Operative experience is gained in complicated trauma, gastrointestinal, hepatic, pancreatobiliary, endocrine, laparoscopic surgery, vascular disorders and a variety of malignant conditions.

Successful completion of a year as Chief Resident qualifies the resident for examination by the American Board of Surgery.

Through the Medical College of Wisconsin Affiliated Hospitals (MCWAH), the College and affiliated institutions combine their extensive and varied resources to offer 72 separate accredited residencies and fellowships.
Protected Block Curriculum
Each resident participates in the Protected Block Curriculum based on their program year, during which time residents develop camaraderie through peer learning, support and mentoring. The curriculum is competency-based and presented and facilitated by faculty and staff using multiple educational tools including didactic lectures, peer-reviewed articles, skill sessions, hands-on workshops, and case-based discussions. For the PGY 1 and 2 years, residents are relieved of all clinical duties during the curriculum in order to prepare for and fully participate in curriculum activities. Over a five year period, the Protected Block Curriculum represents nearly 1,000 hours of concentrated learning.
Resident Research Project
All residents participate in a scholarly research project. The project is expected to result in an article of publication quality and be presented at grand rounds in the chief resident year. This educational initiative was put into place to insure that all residents participate in scholarly activity, improve patient care, satisfy scientific and intellectual curiosity, advance knowledge and enhance critical thinking. Each resident will finish a project prior to graduation with the goal of presenting and/or publishing their research internally and externally of the Medical College of Wisconsin.
Research
A laboratory experience is offered on an optional basis for those residents interested in performing research under the guidance of an established investigator. The program will be flexible for residents to best meet their individual needs, both in selection and timing of a laboratory experience. Residents interested in a career in academic surgery may enroll in a masters of science program with both clinical and basic science mentors.
Mock Oral Boards
PGY 3 through PGY 5 residents participate in Mock Oral Boards each June. This exercise presents itself as a representation of the American Board of Surgery certifying exam. Each resident has three, one-on-one sessions with 1-2 faculty members during which time they are asked patient-centered questions. Residents are graded on their ability to articulate correct responses, think on their feet and communicate in a professional manner, all in preparation for the certifying examination.
Resident Travel
Each PGY 3 through PGY 5 resident is provided through an endowment the opportunity to attend one major conference of choice for up to seven days. This conference must provide an educational learning environment that allows a resident to broaden their knowledge base in clinical or basic science.
Annual Family Events
We believe that your family is important and spending time with them is a necessary part of your life. We provide for several annual events which are department or resident driven. These include a resident welcome picnic each July, the Thanksgiving dinner in November and a resident holiday party in December.
Quality and Root Cause Analysis Project
In the final years of general surgery training, residents complete a quality and root cause analysis project. Residents identify an occurrence with one of the following as a project focus:
A patient morbidity
A patient mortality
A communication problem
A hospital process problem
While integrated with the morbidity and mortality conference, residents demonstrate the who, what, how and why of the occurrence and develop a written analysis of the project.
iPads
All residents receive an iPad to support medical education related learning and to achieve the educational objectives of our curriculum. In addition, residents use their iPads to complete assessments, review and document patient care activities and other data reporting as required by the Accreditation Counsel for Graduate Medical Education (ACGME). Residents are responsible for compliance with all hospital/clinic regulations regarding iPad or other handheld technology use. This includes complying with or adhering to HIPAA guidelines.
3rd Year Elective
During the third year of clinical training, residents have the option to select one of seven blocks as an elective rotation. This elective can focus on the individual resident's preferred interest or to help identify a career track.
Licensing Assistance
Licensing assistance is offered through the Division of Education Residency Office. During the PGY 1 year, residents are educated on the process and forms are completed to initiate licensing through the State of Wisconsin. It takes approximately 18 months to obtain licensure and the Residency Office ensures that all necessary components are fulfilled. By providing a licensing service to residents, they no longer have to self-initiate the process and this unique service is viewed as a program enhancement.
Mock Laparoscopic Surgery Exam (FLS)
During the PGY 2 year, residents participate in a Mock Laparoscopic Exam. This exercise presents itself as a representation of the American Board of Surgery Qualifying Exam. The goal is to prepare residents for the Fundamentals of Laparoscopic Surgery Exam (FLS) by assessing knowledge, judgment and manual skills in basic laparoscopic surgery.