High School Program
Student Enrichment Program for Underrepresented Professions (StEP-UP)
Program Components
Program Benefits
Select high school students who demonstrate an interest in science and medicine will:
Interact with MCW medical and graduate students, as well as practicing physicians.
Explore career opportunities in medicine, research, and other health professions.
Participate in professional and personal development sessions.
Participate in hands-on demonstrations of basic biomedical and clinical science principles to help prepare them for research in a lab setting.
Receive advising from program staff regarding high school and college courses.
Participate in advanced programming to complement current science curriculum.
Curriculum
Personal Development - Helps to give students the knowledge, skills and understanding they need to lead confident, healthy, independent lives and to become informed, active, and responsible citizens.
Professional Development - The curriculum aims to help students develop the goals, skills, and attributes necessary for success as a student, an applicant to a professional program, and a career professional.
Hands-on Activities - Help students develop problem solving and critical thinking skills, as well as gain exposure to materials, and equipment in a lab setting.
Preparation for the Next Step - Students will be given resources and instructions to help prepare them for college.
Parent/Guardian
We believe parent support and participation translates to active and engaged students. Parental sessions will:
Provide workshops and training materials for parents on how to improve their child's study skills or learning in various academic subjects.
Engage families in opportunities to work with their children in setting their academic, college and career goals.
Provide interaction with community partners, MCW staff, faculty, and students to share resources for parents at orientation.
Program Dates
August 1, 2022: Applications Open
September 30, 2022: Application Deadline
November 5, 2022: Orientation
December 10, 2022: Session 1
January 21, 2023: Session 2
February 18, 2023: Session 3
March 18, 2023: Session 4
April 15, 2023: Session 5
Attendance is mandatory for each session.
High School Requirements and Application Procedure
Application
Application
Applications open for the 2022-2023 school year August 1, 2022.
Deadline to apply is September 30, 2022.
Eligibility
Eligibility
To be eligible, students must meet the following criteria:
Be a U.S. citizen or permanent resident
Be from a background that is underrepresented in medicine.
Be able to travel to the MCW-Milwaukee campus for each session.
Students must have a 2.8 GPA minimum to apply
Please note: Children of MCW faculty and staff are not eligible to apply for StEP-UP.
How to Apply
How to Apply
Submit completed application with personal statement.
Submit recommendation from science teacher or influential adult.
Submit copy of transcripts with application.
Be available for in-person interview.
Complete the application
Meet The StEP-UP Team
Adrienne German
High School Outreach Coordinator
STEP-UP Middle and High School Coordinator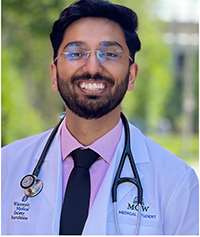 Ali Syed
2023-2023 High School Curriculum Chair