Cell & Developmental Biology (PhD) Program at the Medical College of Wisconsin
The Cell & Developmental Biology PhD program at MCW is defined by its research strengths in cellular and molecular mechanisms of organ development, stem cell biology and its impact on regenerative medicine and neuroscience. This program is home to MCW's Regenerative Medicine and Stem Cell Biology program, which focuses on the study of normal development and disease pathways of the liver, heart and nervous system. If you are interested in conducting cell & developmental biology research at MCW, we invite you to apply through either our
Interdisciplinary Program

in Biomedical Sciences

(IDP)
or
Neuroscience Doctoral Program (NDP)
.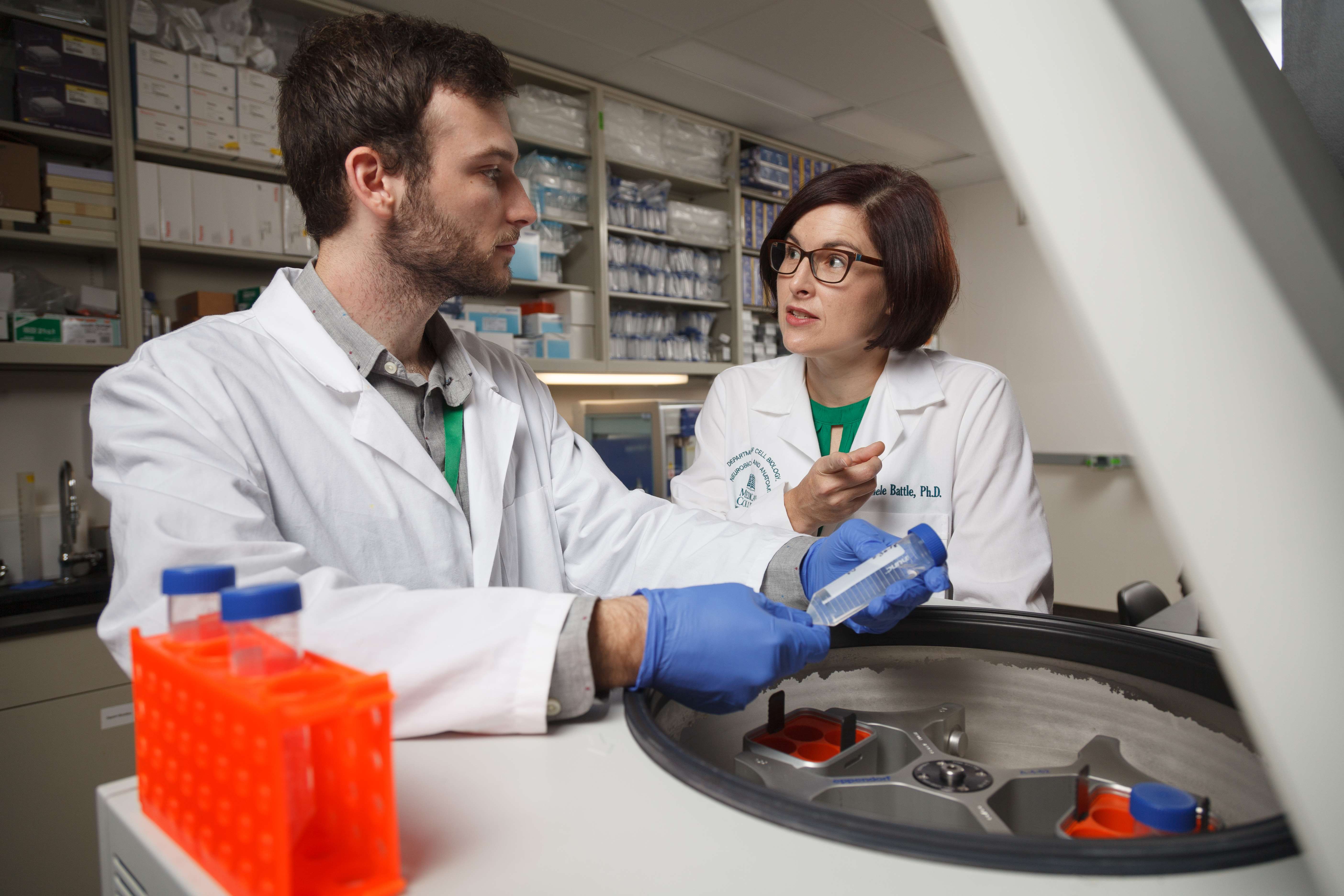 Message From the Director

Brian Link, PhD
Professor of Cell Biology, Neurobiology, & Anatomy
Director, Graduate Program in Cell & Developmental Biology
blink@mcw.edu
(414) 955-8072
The Graduate Program in Cell & Developmental Biology provides outstanding doctoral level training in research to understand the fundamental unit of life, the cell. Research groups in CDB study diverse aspects of cellular science including regulation of cellular differentiation, the molecular basis of regeneration, how neurons sense their environment, the intricacies of signal transduction, and the mechanisms of disease pathology. The Faculty of CDB are committed to excellence in research, education, and career development. We are very proud of our students, post-doctoral fellows, and staff who provide the foundation of a very strong scholarly culture. Please consider joining us – it is such an exciting time to be a cell biologist!
Cell and Developmental Biology
About the Program
About the Program
The Graduate Program in Cell and Developmental Biology (PDF) provides doctoral research training in cell and developmental biology and the neurosciences. Students are prepared through formal coursework, independent readings, seminars, journal clubs and faculty-supervised research for careers of scientific research in academia and industry.
Our current research strengths are in cellular and molecular mechanisms in developmental biology and neurobiology which employ genetic approaches offered by mice, zebrafish and stem cells. The developmental biology focus is on differentiation and specification in heart, liver, muscle and the nervous system. The neuroscience strengths include pain mechanisms, circadian rhythms, mitochondrial gene expression, color vision, sleep, muscle atrophy, and neuronal development and plasticity.
Our departmental and institutional facilities offer state-of-the art equipment for molecular-to-organism approaches to research problems and hands-on experience with modern cutting-edge technology, including automated protein and DNA sequencing. An imaging core and an electron microscopy service facility offer laser confocal microscopy and high resolution transmission imaging. The College supports medical imaging facilities equipped for scanning brain function (fMRI).
Current Students
Curriculum
Curriculum
The Cell and Developmental Biology PhD Program is the only graduate program offered by the Department of Cell Biology, Neurobiology and Anatomy at MCW. The purpose of this program is to provide state of the art research training leading to a Doctor of Philosophy degree in Cell and Developmental Biology. This is accomplished through a combination of coursework, seminars, journal clubs, and "hands-on" laboratory research in the laboratory of a faculty mentor. To maintain full-time status, graduate students are required to take a minimum of 6 credits in the summer, 9 credits in the fall and 9 credits in the spring semesters. Accrual of at least 60 graduate course credits is needed for the PhD degree. Students are required to meet with their thesis committee starting in the third year of training. The student will write a 1-2 page summary of the meeting, detailing what was presented and discussed and any bench-marks or time-lines that were established. As part of the training process, it is also required as a minimum that the student thesis research culminate in publication of at least 2 articles in peer-reviewed journals for which the student is first author.
Admissions
Admissions
Those interested in pursuing education and research within the Department of Cell Biology, Neurobiology & Anatomy should pursue admission through either the Interdisciplinary Program in Biomedical Sciences (IDP) and/or Neuroscience Doctoral Program (NDP) as well as the Medical Scientist Training Program (MD/PhD).
A Bachelor's degree (either completed or in the process of completing) is required for admission to any MCW graduate program. Applicants will ideally have a 3.0 or higher grade point average (GPA). Personal statements and letters of recommendation from professors, advisors, and research supervisors. who know you well are highly regarded in the admission process. Prior research experience is also strongly considered.
The MCW Graduate School operates on a rolling admissions basis. However, applications accepted by the priority application deadline of December 15th will receive first priority for admission the following Fall. Students are admitted once per year.
Tuition and Fees
Tuition and Fees
If you have questions regarding tuition or your account, please contact the Office of Student Accounts, at (414) 955-8172 or mcwtuition@mcw.edu. Please refer to the All Student Handbook (PDF) for tuition payment policies and information.
PhD Students
All full-time PhD degree-seeking students in good academic and professional standing receive the following financial support package:
Full tuition coverage
Yearly stipend ($33,612 for the '23-'24 academic year)
Complimentary health insurance
There is no additional process to secure this package aside from accepting an offer of admission. Further, this package is guaranteed from the time of enrollment through completion of degree requirements.
Current MCW Employees
Tuition Course Approval Form - Human Resources (PDF)
Late Fees
There is a $250 late payment fee for tuition not paid on time according to the Tuition Payments policy in the All Student Handbook (PDF).
Learn More
Faculty
Documents
Documents
Forms (Documents)
Preparing for Graduation
Depending on your degree and program within MCW's Graduate School, there will be several forms that you will need to complete in preparation for earning your degree. Here you will find information on the steps you need to complete before you will be awarded your PhD, Master degree, or graduate certificate from MCW.
Current graduate students in Cell & Developmental Biology Programs
PhD and Master's Degree Forms
Please refer to the Graduate School webpage for more information
View Here
Contact Us
Graduate School
Suite H2200
8701 Watertown Plank Rd.
Milwaukee, WI 53226