Current Students in the Medical College of Wisconsin Graduate School
At MCW, delivering an enriching and engaging graduate education experience is the mission of our faculty and staff. We are dedicated to helping you discover your full potential and give you the knowledge and resources to lead in your chosen area of biomedical or health sciences. Whether you want to focus on research that evaluates chronic diseases or translate knowledge gained in the laboratory to improve the health of different populations, we are here to help you prepare for your journey.
In the meantime, our objective is to surround you with the right tools, technology, facilities and people to make your MCW experience the best it can possibly be. That's why we've compiled the following links, forms and resources to help you find all of the information you need during your time here.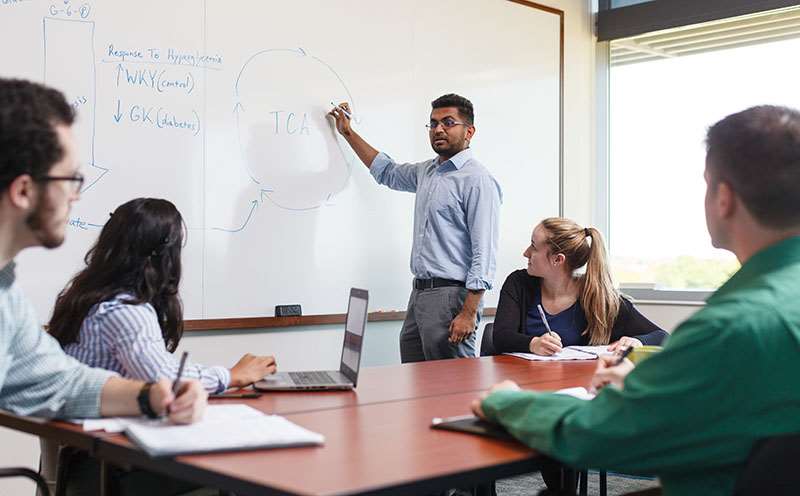 Academic Life
MCW Graduate Student Handbook
Academic Bulletin
Graduate Student Association
For Your Information
Graduate Student Dissertation Defenses
The graduate school's upcoming graduate student dissertation defenses.
Registration
Academic Calendar
Please visit the Office of the Registrar page for a complete list of calendars containing important dates and events.
Student Life
Being a student at MCW's Graduate School means that you are part of an elite group of professionals, focused on innovation, discovery and leadership in the fields of biomedical and health sciences.
Whether your MCW graduate education experience brings you to our Milwaukee Campus, or your are earning your degree online, you will be learning from and along side world-renowned faculty, including researchers and clinicians at some of the top hospitals and institutes in the country, such as Froedtert Hospital, Children's Wisconsin, Clement J. Zablocki VA Medical Center and the Versiti's Blood Research Institute.
Our innovative educational programs are customized for each student, designed to provide you with a personal and fulfilling learning experience, including the ability to contribute to world-class research, discovery and innovation. What will you discover at MCW?
General Student Information
Annual Campus Safety Report
Statement to Current Faculty, Staff and Students:
The Medical College of Wisconsin (MCW) prepares and publishes its Annual Campus Safety Report in compliance with the Higher Education Act of 1965, otherwise known as the Jeanne Clery Disclosure of Campus Security Policy and Campus Crime Statistics Act (Clery Act). This report outlines MCW's security policies and discloses campus crime statistics for the three most recent calendar years.
This report is available to all current and prospective faculty, staff and students and is located on the Public Safety website. A paper copy of this report may be obtained by contacting Medical College of Wisconsin, Public Safety, 8701 Watertown Plank Rd., Milwaukee, WI 53226 or by calling (414) 955-8295.
Contact Us
Graduate School
Suite H2200
8701 Watertown Plank Rd.
Milwaukee, WI 53226