Advocates in Medicine Pathway (AMP) Program
The Advocates in Medicine Pathway (AMP) program supports the professional development of individuals from Wisconsin interested in attending medical school at the Medical College of Wisconsin Central Wisconsin campus to promote a diverse future healthcare workforce built around resilience, relationships and system-based knowledge.
The program cohort runs from January through July. During the spring semester, students will attend the virtual 1-credit "Wicked Problems in Medicine" course* and virtual advising sessions in the evening. A clinical coordinator will work with the student to arrange a 1-week job shadow opportunity (community-based experiential learning) that fits their needs and interest. From June to July, the cohort will participate in the WI AHEC Community Health Internship Program (CHIP) as full-time paid interns.
*AMP advising sessions and the "Wicked Problems in Medicine" course will follow the UW-Stevens Point academic calendar.
Applications for the AMP Program are now open
Are you interested in becoming a doctor? Would you like support in getting into medical school? Advocates in Medicine Pathway (AMP) can help!
We provide the support and tools needed to develop a competitive medical school application for individuals from rural and economically or environmentally disadvantaged backgrounds who are interested in attending medical school.
Application deadline: November 1
Apply now!
Program Benefits
Benefits of the Advocates in Medicine Program include:
Receive guidance and experience in building a competitive medical application
1-week job shadow experience
Paid full-time summer community health internship with the WI AHEC Community Health Internship Program (CHIP)
Paid UW-Stevens Point at Wausau course, "Wicked Problems in Medicine" Scholarship available for participants whose main campus is the UWSP-Wausau
Program Qualifications
Students must be a sophomore or higher standing college student or already have obtained a Bachelor's degree
Have strong interest in attending medical school
Preference will be given to rural students from or with ties to North Central Wisconsin and who plan to apply to medical school in the next 1-2 years who have faced significant challenges or limitations on their journey to a career in medicine.
Frequently Asked Questions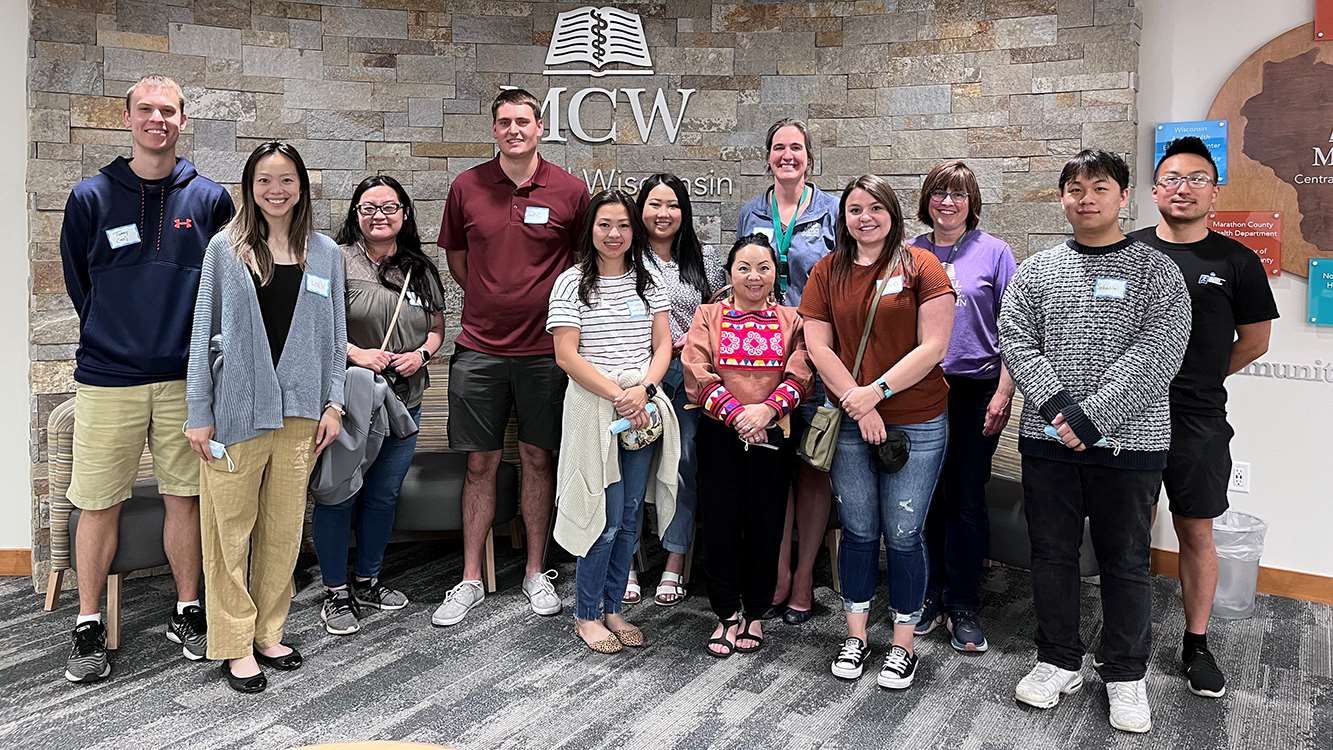 Who is eligible to participate in AMP?
AMP is geared towards college juniors and seniors as well as individuals who have graduated from a Bachelor's degree program and have a strong desire to attend medical school in the future but have not yet been admitted to medical school. Preference is given to individuals who come from rural and/or Hmong backgrounds and have connections to central Wisconsin.
Do I need to be a Wisconsin resident?
Currently, interested individuals do not need to be a WI residents. Preference is given to individuals who have ties to central Wisconsin and who have an interest in rural medicine. However, we may make an exception for out-of-state individuals that meet other criteria. Tuition, lodging, and etc. are at the expense of the student. Students will receive a stipend for participating in the 8-week WI AHEC (North Central region) Community Health Internship Program (CHIP) in June and July to help offset some of the expenses.
What are the components of the AMP Program?
Will the program components be in-person or virtual
The 1-credit "HPW 299: Wicked Problems in Medicine" course and the AMP advising sessions will be virtual on Wednesday evenings from 5 – 7 p.m. so participants will not need to report to the UWSP-Wausau campus during the spring semester. However, the 1-week clinical rotation and the WI AHEC (North Central region) Community Health Internship Program (CHIP) will be in-person so it is required for individuals to relocate for these components.
Does the AMP Program provide tuition assistance?
Unfortunately, AMP is not a tuition assistance program, and we are not able to provide funding for other courses. We are a pipeline program that provides professional development and medical-related experiences for students free of charge. This varies from year to year but may include MCAT test prep financial assistance or financial assistance to attend professional development activities such as conferences, including travel costs. In addition, students receive a placement in the WI AHEC (North Central region) Community Health Internship Program (CHIP), which is a paid summer internship.
In previous cycles, we were able to waive the tuition cost for the "HPW 299: Wicked Problems in Medicine" course thanks to a generous donation. At this time we are unsure whether funding will be available to waive the 1 credit course tuition for the incoming AMP cohort.
How will the summer internship be done (virtual or in-person)?
What types of internships will be available for CHIP?
Each individual will be placed at a community service agency. All projects are focused on various areas of community health. Multiple project options are available, and students will have the opportunity to provide input on which internship they would like to be assigned. Most of the sites available for AMP students are in the Wausau/Marathon County area.
What are the required attachments for the application?
In addition to the application, all applicants must attach:
A current unofficial transcript or official transcript as proof of admission
A current resume
Include a personal statement describing their background and career goals as well as how they feel the AMP Program will benefit them in reaching these goals
What is the application process?
Applications will be accepted from August 1 through November 1. The AMP team will review all applications and pre-select a group of students. Pre-selected individuals will need to schedule a 1-on-1 interview via Zoom. If selected for an interview, please dress professionally and prepare for an interview.
What does the direct interview process look like?
We will be piloting the new direct interview option. As successfully graduated participants are pulling their medical school application together, they will need to set up an appointment with the AMP program director, Dr. Amy Prunuske, aprunuske@mcw.edu. If you meet certain criteria, she can submit a letter of recommendation that will give you a direct interview for MCW-Central Wisconsin.
Contact Us
Virtual walk-in information sessions are held Thursdays, 9 a.m.-4 p.m. Contact Nicole Thill for information on how to access these sessions.
Nicole Thill, MPH, CHES
Executive Director
AHEC | North Central
518 S. 7th Ave., Room 086
Wausau, WI 54401