Society for Academic Emergency Medicine (SAEM) Great Plains Regional Meeting
September 7-8, 2022 | Medical College of Wisconsin, Milwaukee, WI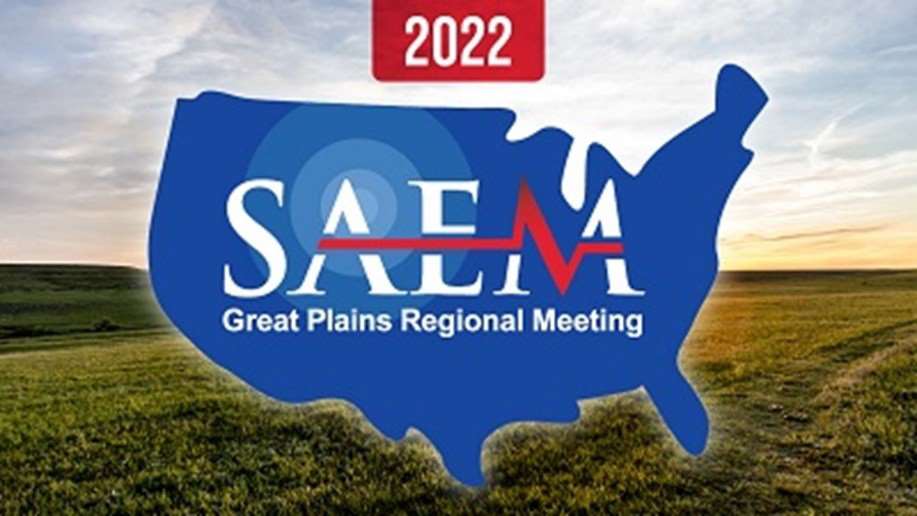 The Department of Emergency Medicine at the Medical College of Wisconsin invites you to attend the Great Plains Regional Meeting of the Society for Academic Emergency Medicine (SAEM). Join students, residents, and faculty from throughout the region on September 7-8, 2022, on the MCW campus in Milwaukee, WI. This in-person conference will feature original research, cutting edge medicine, advances in resuscitation using TEE & ECMO, innovative clinical and research skills sessions, a Pediatric Disaster panel, an IGNITE competition, and so much more.
General conference pricing:
Faculty: $150
Resident: $75
Student: $35
Other: $75
Conference Schedule
Wednesday, September 7
12:00 – 5:00 pm: Pre-Conference Workshops
Ultrasound Training Session
We will focus on core emergency medicine ultrasound applications and practice on live models with dedicated ultrasound faculty
Faculty/Practicing Physician: $100
Resident/APP: $50
Medical Student: $25
Separate registration upon registering for the meeting, limited enrollment.
Free Wilderness Medicine Competition
Teams of 3-4 medical students and/or residents will manage a series of medical simulations and answer questions based on scenarios encountered along a course at a nearby county park.
Wilderness competition general information and registration details
Great Plains Regional Meeting Social Event
6:00 – 10:00 pm: Rooftop Cocktails
Please join us for the SAEM Great Plains Regional Meeting Social Event!
There will be rooftop cocktails and hors d'oeuvres at the Kimpton Journeyman Hotel, 310 E. Chicago St., from 6:00 – 10:00 pm.
Thank you to our sponsors!
The 2022 SAEM Great Plains Regional Meeting is in part sponsored by:
The Society for Academic Emergency Medicine
The Medical College of Wisconsin Department of Emergency Medicine
Advancing a Healthier Wisconsin Endowment
Tom P. Aufderheide, MD, MS Endowed Lecture Series.
Thursday, September 8
7:00 – 8:00 am: Poster Presentations | Breakfast/Refreshments
7:00 am – 12:00 pm: Check-In/Registration
8:00 – 8:15 am: Welcome/Conference Kick-Off
Ian B. K. Martin, MD, MBA, FACEP, FAAEM
Professor with Tenure and System Chairman, Department of Emergency Medicine
Past President of SAEM
Medical College of Wisconsin
8:15 – 9:15 am: Featured Speakers
Tom P. Aufderheide, MD, MS, FACEP, Hon FACC, FAHA
Professor of Emergency Medicine
Director, Resuscitation Research Center
Department of Emergency Medicine
Medical College of Wisconsin
Demetris Yannopoulos, MD
Professor of Medicine, Division of Cardiology
The Robert Eddy Endowed Chair in Cardiovascular Resuscitation
Medical Director, Center for Resuscitation Medicine
University of Minnesota
9:15 – 10:00 am: Abstract Presentations
10:15 am – 12:15 pm: Concurrent Programming
Research Track
Education Track
Clinical Operations Track
Social EM
EMS
12:15 – 1:15 pm: Lunch with Presentation, Dr. Angela Mills
Angela M. Mills, MD, FACEP
SAEM President
J. E. Beaumont Professor and Chair, Department of Emergency Medicine
Columbia University Vagelos College of Physicians & Surgeons
Chief of Emergency Medicine Services, New York-Presbyterian Hospital
1:15 – 2:00 pm: Featured Speaker, Dr. Theodore Corbin
Ted Corbin, MD, MPP, FACEP
Professor and Chairperson, Department of Emergency Medicine
Rush University Medical Center
2:15 – 3:45 pm: Concurrent Programming
Wilderness Medicine
Toxicology
Critical Care – ECMO/TEE in the ED
Global Health
The Waukesha Parade: Review of a Pediatric Mass Casualty Incident
4:00 – 5:00 pm: IGNITE! Competition
IGNITE! Summary Proposal: Speakers are given 5 minutes and 20 slides that auto advance every 15 seconds, making for a fast and fun presentation.
5:00 – 7:00 pm: Awards & Cocktail Hour
Hotel Information
To make a reservation, please contact hotels directly; request the MCW Rate upon making reservations.
Abstracts and Proposals
Abstracts
Accepting Abstracts: Closed
Deadline: July 27, 2022
IGNITE! Proposals
Accepting IGNITE! Proposals: Closed
Deadline: July 27, 2022
Event Details
Event Location
Medical College of Wisconsin
8701 Watertown Plank Rd.
Milwaukee, WI 53226