Academic Fellowship in Primary Care Research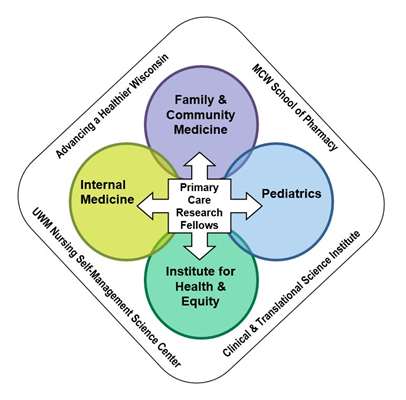 We aim to prepare future leaders in academic primary care, with a vision to improve access to high quality primary health care, reduce health disparities and improve the health of our citizens and communities.
Our 2-3 year, full-time postdoctoral fellowship prepares residency-trained primary care physicians, pharmacists, advanced practice nurses and social scientists from complementary health-related fields for successful and rewarding careers in academic medicine, with a focus on primary care and community engaged research. We integrate the three pillars of academic success: Research, Education, and Leadership; and blend them with necessary career management skills and on-going clinical and community-based experiences, in a resource-rich and supportive environment.
Funded by the U.S. Health Services and Resources Administration since 1998, this program includes opportunities for interprofessional learning and research to explore new models of team-based care delivery. Fellows work with expert faculty mentors with emphasis areas in patient-centered care, community-engagement, educational excellence, population health management, chronic disease self-management, behavioral health, and more.
We invite you to explore our site to learn more about our program, people, and partners, or contact pcfellowship@mcw.edu.
View the Academic Fellowship in Primary Care Research Brochure
Academic Fellowship Core Faculty
Program Director and Co-Directors
Linda N. Meurer, MD, MPH: Fellowship Program Director, Professor, Director of Research and Technology in Faculty Development; health disparities, meta-analysis, primary care workforce, faculty development, elder abuse and neglect, CBPR

John Meurer, MD, MBA: Program Co-Director IHS; Director and Professor, Institute for Health & Equity; health services research, chronic conditions

Jeffrey Jackson, MD, MPH: Program Co-Director; Professor, Medicine; Director, General Medicine Division, Clement J. Zablocki VA Medical Center
Steering Committee Members
Jeffrey A. Morzinski, MSW, PhD: Program Evaluation Director, Professor, Director - Professional Development Division, Director - Center for Health Communities & Research; Director - Faculty Development in Primary Care; use of professional development portfolios, mentoring

David A. Nelson, PhD, MS: CBPR Curriculum Director; Associate Professor, Family and Community Medicine; community partnerships, health literacy, childhood obesity, worksite wellness, physical activity, diabetes and policy change

Laura Cassidy, PhD: Professor, Director of Epidemiology, and the PhD Program in Public and Community Health, Institute for Health & equity; pediatric research for surgical services and trauma, study design, statistical analysis

Syed Ahmed, MD, MPH: Professor, Family and Community Medicine; Director, CTSI, Community Engagement Key Function; Senior Associate Dean for Community Engagement

Kathlyn Fletcher, MD: Program co-Director; Associate Professor, General Internal Medicine/ Veterans Administration; transitions of care, continuity of care, patient safety.

Jeffrey Whittle, MD: Associate Professor, Research Faculty - VAMC; Community-based research in cardiovascular disease

Rachel F Schiffman, PhD, RN: University of Wisconsin-Milwaukee, College of Nursing; Associate Dean for Research, Associate Vice Provost for Research, Director Self-Management Science Center; Family health and parent-child interaction in vulnerable families

Geroge E MacKinnon III, PhD, MS, RPh: Dean Pharmacy School of MCW; Injury prevention, patient safety, epidemiology

Zeno Franco, PhD: Assistant Professor DFCM, Center for Healthy Communities and Research (program graduate); healthcare and mental services for veterans, caregiver support for families with Alzheimer's and dementia, applying smart technologies to mental health

Richard L. Holloway: Professor and Associate Chair (DFCM), Associate Dean Emeritus; doctor-patient relationships, humanities in medicine and psychology
Dr. Kajua B. Lor, PharmD, BCACP: Chair, Associate Professor, Clinical Sciences Department; complementary health approaches, health disparities, health literacy, medication adherence
Additional Research Faculty
Onur Asan, PhD
Assistant Professor, General Internal Medicine (GIM); human factors engineering to enhance health care systems, patient-centered health IT, EHR impact on workflow, workload and patient safety

Kirsten Beyer, PhD (IHS, Epi Data Cntr)
Health geographer, public health, disease mapping, social epidemiology, women's environmental health, intimate partner and domestic violence.

Ruta Brazauskas, PhD (IHS- Biostats)
Biostatistics, survival analysis, competing risks

David Brousseau, MD, MS (PEDS)
healthcare utilization, sickle cell disease, primary care quality versus emergency department utilization

Edith A Burns, MD (Geriatrics)
Self-management of diabetes in the elderly

Ron Cisler, PhD, MS (Dean, College of Health Sciences, UWM)
Intersection of clinical and community health, engagement with diverse populations in promoting health and improving outcomes for patients, alcoholism, weight management

Alan David, MD (DFCM, Chair)
Models of primary care, Patient-centered Medical Home

Art Derse, MD, JD (IHS - Bioethics)
Bioethics and law

Edmund Duthie, MD (IM- Geriatrics)
Injurious falls, quality improvement, patient safety

Kathryn Flynn, PhD (GIM, PCOR)
Qualitative analysis, decision making, infertility

L. Kevin Hamberger, PhD, (DFCM, All Saints)
Domestic abuse and intimate partner violence, elder abuse and neglect

Thomas Heinreich, MD (Psychiatry/Family Medicine)
Primary care and behavioral health integration

Geoffrey C Lamb, MD (GIM)
Patient safety, Quality Improvement, Transitions in Care

Brent Logan, PhD (IHS, Biostats)
Biostatistics, collaborative teams

Cheryl Maurana, PhD (VP Academic Outreach, Director AHW Endowment)
Public health research, community-academic partnerships, multidisciplinary education, consensus building

Marlene Melzer Lange, MD (PEDS)
Pediatric/adolescent emergency medicine, inter-personal violence, domestic violence in pediatrics

Ann B. Nattinger, MD, MPH (GIM)
Health services research, care patterns and outcomes in early stage breast cancer

Joan M. Neuner, MD, MPH (GIM, PCOR)
Osteoporosis screening, clinical epidemiology, quality of care for women with fractures, fracture risk factors, and breast cancer survivors

Julie Panepinto, MD, MSPH (Peds, Hem/Onc)
Medical Effectiveness, patient-defined outcomes for chronic illness

James Sanders, MD (DFCM, CSM Residency)
CBPR, Community-based chronic disease management

Lynn Sheets, MD (PEDS), Child Protection Center
Child physical and sexual abuse, child neglect, domestic violence and childhood injuries

Pippa Simpson, PhD (Biostatistics, QHS)
Biostatistics, community health, Pharmacogenetics, cardiology, gastroenterology

Rodney Sparapani, PhD (Biostatistics, IHS)
Biostatistics, methodological research, treatment and outcomes for cancer, obesity, hypertension, diabetes, cardiovascular disease

Ryan Spellecy, PhD (Bioethics, IHS)
Research ethics, informed consent, ethics in psychiatry, community involvement in research

Melinda Stolley, PhD, MA (GIM)
Cancer prevention and control, community engaged research, health behavior change, obesity

Marie Wolff, PhD (DFCM, CHCR)
Sociology, qualitative methods

Staci Young, PhD (DFCM, CHCR)
Health disparities, community health literacy
Contact Us
Have a question? Contact us directly or complete the form below and we will reply.
Carletta Rhodes, MBA, Education Program Coordinator II
(414) 955-8291 | crhodes@mcw.edu
Academic Fellowship in Primary Care Research
Department of Family and Community Medicine
Medical College of Wisconsin
8701 Watertown Plank Rd.
Milwaukee, WI 53226