Integrated Combined Pediatrics and Anesthesiology Residency Training Program
The Medical College of Wisconsin and Affiliated Hospitals (MCWAH), Children's Wisconsin and Froedtert Hospital (FH), developed the first combined Pediatric-Anesthesiology Residency Training Program in the Midwest. The MCW Combined Pediatrics and Anesthesiology Residency Training Program was approved by the American Board of Pediatrics and the American Board of Anesthesiology in 2013 and is listed in the NRMP Directory as Pediatrics-Anesthesia. This integrated residency-training platform will allow for dual board certification in both Pediatrics and in Anesthesiology after five years of graduate medical training; one year less than nonintegrated training curriculums, with the programmatic goal to develop leaders in the fields of Pediatrics, Anesthesiology, and their respective subspecialties.
The integrated program's overall training objective is the trainee's career development as experts in the care of children with complex medical and surgical conditions who are hospitalized and/or require perioperative/periprocedural management. The integrated training option is ideal for students wishing to complete training with a fellowship in pediatric critical care medicine and/or pediatric anesthesiology, 2013 marked the first year of recruitment to the combined training program. Michael Weisgerber, MD (Professor of Pediatrics) will serve as Program Director and Cynthia Lein, MD (Chair of Anesthesiology and Program Director for the Anesthesiology Residency Program), John P. Scott, MD (Assistant Professor of Anesthesiology and Pediatrics), and Charlie Bergstrom, MD (Associate Professor of Pediatrics-Critical Care) will serve as Associate Program Directors. This program will recruit one resident annually. The development of this MCW combined Pediatric and Anesthesiology training program is one of a select group of clinical and academic medical centers within the United States and the first training program in the Midwest.
Additional Information
About Program
Applying to the Pediatrics-Anesthesiology Residency Program
Pediatrics-Anesthesiology Residency Program application requirements:
A complete ERAS Application Form
Curriculum Vitae
Personal Statement
Photograph
MSPE from your medical school
A minimum of three Letters of Recommendation
Transcript
USMLE or COMLEX National Board Examination results
If you have been in another residency training program, please include a letter from your previous program director. Applications will be accepted through ERAS beginning September 15 for the upcoming Match.
Hospital Rotations
Medical College of Wisconsin Pediatrics-Anesthesiology residents have the benefit of working in a very diverse environment. Residents spend the majority of their inpatient time rotating through one of the three main teaching hospitals:

Each hospital provides a unique experience which enhances the overall educational aspects of each clinical rotation.

Children's Wisconsin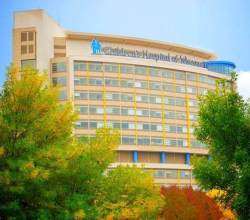 Located on the Milwaukee Regional Medical Center Grounds, Children's Wisconsin is one of the leading centers for pediatric health care in the United States. The hospital provides inpatient care, including transport of critically ill or injured children and intensive care services, and more than 70 specialty outpatient clinics that care for the full range of pediatric health care needs.
306 beds, 72 ICU beds, 69 bed NICU
Level 1 trauma center
More than 23,000 admissions a year
More than 21,000 surgical procedures were performed at Children's and our Surgicenter
Parents magazine ranked Children's Wisconsin #4 in the nation. In addition, six specialty programs were ranked in the top 10, including preemie and newborn care #1, emergency care #3, orthopedic care #6, heart care #7, pulmonary care #8 and cancer care #9

Froedtert Hospital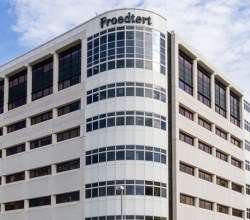 Located on the Milwaukee Regional Medical Center Grounds, Froedtert Hospital is the only Level 1 Adult Trauma Center in Eastern Wisconsin.
More than 2,500 physicians who practice at Froedtert Hospital are Medical College of Wisconsin faculty members
US News & World Report's annual Best Hospitals list ranks Froedtert Hospital #1 in metropolitan Milwaukee and #2 in Wisconsin, and among the nation's top 50 hospitals in 12 specialties. The recognition places these programs among the top three percent in the country.
Level 1 trauma center; 772 staffed inpatient beds including 96 intensive care unit beds
38,260 admissions in 2013
More than 21,000 births annually
More than 100,000 ER visits annually
More than 950,000 outpatient clinic visits annually

Clement J. Zablocki VA Medical Center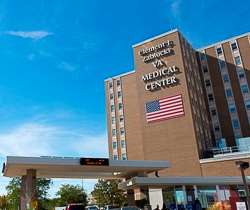 The Zablocki VA Medical Center is located on 125 acres on the western edge of Milwaukee, six miles southeast of the Milwaukee Regional Medical Center Grounds. The Medical Center delivers primary, secondary, and tertiary medical care in 168 acute care beds and provides over 440,000 outpatient visits annually through an extensive primary care network.
Regional tertiary care center for VA system
Nursing home care unit of 113 beds offers geriatric programming
356 domiciliary beds for substance abuse rehabilitation, psychiatric rehabilitation and post-traumatic stress disorder care
Newly remodeled/updated primary care clinics and wards
National VA electronic medical record/online order system
Schedule
The program offers superb training in both disciplines and is fully integrated. The first year is entirely pediatrics and takes full advantage of the outstanding training opportunities at Children's Wisconsin, the first year curriculum is identical that of pediatric categorical interns and includes the pediatric continuity clinic experience. The integrated curriculum also includes monthly Anesthesia education days.
The second year is devoted to anesthesiology and resident begins the first year in anesthesiology fully integrated into the Anesthesiology Residency Program. The Anesthesia curriculum maintains integration with the Pediatric residency with a monthly pediatric continuity clinic experience.
After the second year, the resident will split time between the two disciplines in 6 or 7 four-week blocks. Throughout the remaining three years integration is maintained: when residents are participating in the pediatrics curriculum, they will have anesthesiology educational days once a month (Grand Rounds, Case Conferences, Morbidity and Mortality Conferences, Year Group Breakout Sessions, etc.) and while participating in the anesthesiology curriculum they will have a monthly pediatric continuity clinic.
Pediatrics-Anesthesiology Residency Program Schedule
(PDF)
Pediatrics-Anesthesiology Residency Program Contact Information
Contact Us
Pediatrics Residency Program
Medical Education Office
Children's Corporate Center
999 N. 92nd St., Suite 730
Milwaukee, WI 53226
(414) 266-6800
(414) 337-7068 (fax)