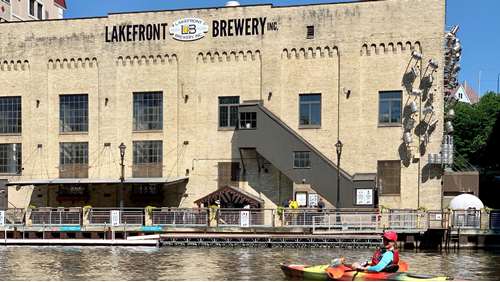 Milwaukee is the 5th largest Midwestern city in the U.S., located in southeastern Wisconsin that over half a million people call home. Nestled on the shores of Lake Michigan, Milwaukee is known for our industry and innovation through manufacturing, commitment to our history, culture, and diversity, and environmental initiatives along our many lakes and rivers.
Nationally recognized as one of the most ethnically and culturally diverse cities in the U.S., Milwaukee bolsters the ideal location for families with a variety of excellent school districts, communal space, and child-friendly spots. Located 90 minutes north of Chicago, IL and east of Madison, WI this city allows for the possibility of spousal or family commute as well. Our family-friendly and great cost of living area provides an excellent opportunity to immerse yourself in all things Milwaukee.
Reasons to live in Milwaukee
Milwaukee is a one-of-a-kind city with a vibrant and diverse culture, this charming, yet metropolitan must-see is just 90 minutes north of Chicago and nestled on the coast of Lake Michigan. Whether you're catching a show at Summerfest, the world's largest music festival, immersing yourself in the old world charm of the Historic Third Ward or taking in the sights and sounds of one of the many cafés, beer gardens or restaurants that line the city's riverbank and shoreline, Milwaukee never disappoints. Find out why MCW residents and fellows take pride in calling Milwaukee home.
Activities
There is always plenty to do in Milwaukee throughout the year, including rooting for our various professional sports teams, tasting a variety of brewed beverages, sun-bathing along Bradford Beach, exploring the Milwaukee Art Museum and Discovery World, attending performances at the Marcus Center, Pabst Theater, and Fiserv Forum, or even ice-skating at Red Arrow Park. The possibilities and adventure opportunities are endless in our charming city.
Events and Community
Milwaukee is a city that loves to have fun and celebrate throughout our four seasons of weather. In the summer, go check out the world's largest music fest, Summerfest, enjoy a cream puff and variety of fried food at the Wisconsin State Fair, or take a stroll through the various farmer's markets and local art shows. In the winter, be sure to catch the Milwaukee Holiday Festival and the Country Christmas lights, or even enjoy the winter hiking, skiing, and snowmobiling trails in Northern Wisconsin.
Housing
Milwaukee is recognized for its great cost of living, family-friendly parks, and top tier school districts. There are a variety of options when it comes to purchasing a home or renting an apartment. Please take a look at Milwaukee and some of the surrounding suburb housing options, activity guides, and entertainment in our area.
Towns & Villages
Home Sales
Apartment Rentals
Staff Favorites
Get to know our faculty by reading more about their favorite's things about living, working, and raising families in Milwaukee! Our faculty enjoys the interactive social scene imbedded in downtown Milwaukee and the surrounding areas.
Favorite Restaurants
Five o' clock steakhouse Great steak, supper club atmosphere close to home. (Dr. Casey Calkins)


The Wickman House in Ellison Bay, WI. It's not in MKE but worth the trip. Haute cuisine, Wisconsin sourced food, in an unassuming but beautiful country style setting. Ok, so Jose Salazar turned me on to Guadalajara Restaurant which is a complete dive but has legit Mexican fare. And get the margarita on the rocks with Don Julio Repasado. Its just unapologetic good food with a cool mix of customers. (Dr. John Densmore)


Ian's Pizza – because who doesn't love a thin crust pizza and some wine on a Friday night. (Dr. Brian Craig)


Uncle Wolfie's – best brunch around, competes with/beats our fave sites in Seattle. Pitch's – Sunday "supper club", former mafia hangout, Olive knows the bar well (!) (Dr. Katy Flynn-O'Brien)


DanDan in the third ward- I love really spicy food. I find almost any pizza or steak restaurant to be fantastic. (Dr. David Gourlay)


We love Lake Park Bistro for the great food, cocktails and view of Lake Michigan. (Dr. Dave Lal)


Tre Rivali - It is around the corner from where I live and it's the hotel where many of our professional and personal guests stay. By the way, it has Milwaukee's best rooftop venue for the consumption of adult beverages. (Dr. Keith Oldham)


Chick-fil-A. Happy people providing good service and great fried chicken and milkshakes. (Dr. Jose Salazar Osuna)


Odd Duck – casual, eclectic eatery with seasonal craft cocktails and locally resourced, worldwide cuisine for both carnivorous (ask Jose Salazar) and vegetarian palates. (Dr. Tom Sato)


Story Hill BKC: Awesome food, great beverages, friendly staff with a versatile environment – works for Sunday brunch, date night or Holiday dinner. (Dr. Jack Schneider)


Without children - Story Hill BKC, a neighborhood restaurant with locally sourced food and a great atmosphere. With children - Chick-fil-A for dinner and Yo Mama's frozen yogurt for dessert. (Dr. Kyle Van Arendonk)


My favorite restaurant experience in Milwaukee are two romantic, counter seats at Ardent. The food is divine in every way. The presentation is exquisite and the taste magical. The 11 course meal (with wine pairing) is a phenomenal experience and doesn't leave one disgustingly full or embarrassingly drunk! The service is impeccable in both knowledge and attention. And it's priced Milwaukee-style (incredibly reasonable). My man-friend, Sean, and I try to find ample reasons to celebrate there. (Dr. Amy Wagner)


Barbiere's Italian Inn - Amazing garlic bread, great Italian food. (Sara Avery)


Harbor House. This restaurant is near and dear to me and is where we had our wedding reception. The dining room has some of the best views of the city and lake Michigan (in my opinion). Not to mention, the happy hour specials and brunch buffet are incredible! (Suzy Becker)


I love so many restaurants in Milwaukee that it's difficult to choose a favorite! Some are La Dama, Odd Duck, Braise, La Merenda, Dan Dan and Thum. (Diana Choren)


Parkside 23 in Brookfield, WI. Great home style meals and they have outside seating when our weather allows. (Terry Derks)


Tofte's Table, Waukesha – close to home, local owner, shared plates, great service and atmosphere. San Giorgio, Milwaukee – delicious! quaint dining experience, pizzas cooked in Stefano Ferrara wood-fired 900 degree oven – cooked in 70-90 seconds. (Lori Duesing)


Tofte's Table. We enjoy sitting at the bar for dinner – great drinks, consistently good food. (Danielle Leranth)


The Noble in the Walker's Point area of Milwaukee. It's a small, cozy space with an excellent cocktail menu. You can't make reservations, so it's a great place to have a good conversation over a drink before being seated. (Ruth Swedler)


Calderone Club is a favorite and we often dine here prior to Milwaukee Bucks and Marquette basketball games. There is a downtown location along with one in Fox Point, WI. I personally think it's the best pizza in town. I frequented Kopp's often growing up in the Milwaukee area and their custard continues to be my favorite treat. (Carly Windt)


Bibingers (amazing food farm to table, they are known for their Friday Fish Fry and Brandy Old Fashioned). (Kristin Braun)
Favorite Things to do Outside
Summer – spend time at lake, Summerfest, fishing in local lakes and remote areas in "driftless area" in western Wisconsin, pickle ball, golf. Winter - snowshoeing, ice fishing, travel outside of Wisconsin. (Dr. Casey Calkins)
Summer: Door County Century, Camp on Rock Island, Kettle Morraine mountain biking or hiking, Waterski on any lake, steal and ride my son's OneWheel. Winter: Skiing anywhere, but Granite Peak / Cascade / Sunburst / Little Swiss in that order. Fat tire biking along the Milwaukee River. Building snow shelters with my boys in the back yard. I have also camped in subzero conditions with them. (Dr. John Densmore)


Take walks to Lake Michigan and go to the parks & beer gardens around town (Klode, Cahill, Estabrook, Hubbard), spend time in "lake country" (west of Milwaukee, in the area around Delafield) with friends and family in the summer, skiing & snow-blowing my driveway in the winter. (Dr. Brian Craig)


Summer – Running on the Oakleaf trail & along the lake, dining outside. Winter – Running with yak trax! (Dr. Katy Flynn-O'Brien)


Summer – tennis, running, biking, hiking in nearby wooded areas. Brewer's games. Winter – skiing both in Wisconsin's small local ski hills and out West or Vermont. (Dr. David Gourlay)


Summer- bike and hike. Enjoy the many city parks in Milwaukee and state parks especially in Door County. We enjoy relaxing on the many nearby Wisconsin lakes and wake surfing on Nagawicka Lake in Delafield, Wisconsin. Catch a Brewers game. Visit the many city dog parks. In winter- cross country skiing at Lapham Peak in Delafield, Wisconsin. (Dr. Dave Lal)


Summer: My home is around the corner from the Summerfest site, so all of the activities there are of interest as well as simply walking or running on the lakefront. A bit further afield are the whitewater boating opportunities on the Wolf and Peshtigo Rivers. When our boys were young, I led annual trips on these for the local Boy Scout Troop. Winter: Winter is a state of mind so it actually doesn't generally impact my personal outdoor activities. It is fair to say that Summerfest does not take place in the winter however. (Dr. Keith Oldham)


In the summer I like walking with the whole family around the neighborhood. There are schools, restaurants, stores, parks, all close to our house. Winter is for skiing, my oldest daughters are in a local racing team and that keeps us busy for most of our weekends. (Dr. Jose Salazar Osuna)


Summer: road biking- the Milwaukee to Port Washington loop has inspiring Lake Michigan views; Bastille Days in downtown Cathedral Square; Lakefront Arts Festival. Winter: crispy morning walks along the lakefront after fresh snowfall; NCAA football. (Dr. Tom Sato)


Summer & Fall: hiking in Kettle Moraine, swimming and fishing in inland lakes, golfing, traveling within WI. Winter: Nordic & Alpine skiing, snowshoeing, traveling outside WI and skiing in Northern WI / Michigan UP. (Dr. Jack Schneider)


Boating in the summer in "lake country" – the area just west of Milwaukee that has many nice lakes. Snow skiing in the winter at one of the many ski hills within a short drive from Milwaukee. (Dr. Kyle Van Arendonk)


The Milwaukee parks are a hidden gem. Sean's and my personal favorite is South Shore Park. We will ride our bikes there from his house in Bay View, read the paper and relax at one of the private beach alcoves, and then enjoy a tasty beer at the beer garden with the best view of the city! I don't do winter outside in Milwaukee!!! I'm grateful that my car pre-heats and for travel to warmer destinations. (Dr. Amy Wagner)


Summer: Camping, hiking, boating/kayaking – there are many State Parks around Wisconsin with great campgrounds and hiking trails. Some of my favorite parks are Peninsula State Park and Ottawa Lake State Park. Winter: Visit holiday light displays (Candy Cane Lane); skiing. (Sara Avery)


Summer: Whether it's on a rooftop downtown (so many to choose from!), at a local beer garden, or one of my favorite rural pizza farms (Grassway Organics), I enjoy hanging out with friends and family enjoying good food, drinks and company (and if lucky some live music too)! Winter: Getting outside and enjoying the snow- sledding, skiing, shoveling and throwing snowballs for our dog. The snow in Wisconsin can be magical (especially the very first snowfall). (Suzy Becker)


In the summer I love to be outside doing anything - farmer's markets, gardening, have food & drinks with friends and family, camp, listen to music. In the winter I love to travel to warm places! (Diana Choren)


During the winter I'm on the National Ski Patrol and enjoy skiing while patrolling Wisconsin ski resorts. In the summer our family enjoys vacationing in northern WI, near the three lakes area and Eagle River. (Terry Derks)


Summer is spending nights around my outdoor fire pit/fireplace with family and friends. During the day, biking the bug line trail, around Pewaukee Lake. Fishing trips to Florida (Key West, Captiva) with my fishing friends. Beer gardens with family/friends. Skiing at Granite Peak located in Rib Mountain State Park in the Town of Rib Mountain, Marathon County, Wisconsin. Features ~70 runs, with a vertical drop of 700 feet. In my opinion, best kept secret. Cascade is also a choice hill, W10441 Cascade Mountain Rd., Portage. Features ~40 trails and is closer to Milwaukee. (Lori Duesing)


Bicycling – I make attempts for this as a year-round sport, but this fails by January in Wisconsin. My goal the last couple years has been to find a winter hobby – still pending. (Danielle Leranth)


Hiking year round – Lapham Peak, Lion's Den Gorge, tons of options. Kayaking on the river downtown or surrounding local lakes. Brewer's games in the summer. Travel to Door County all times of year. Renting a cozy cabin in Northern WI or the U.P. to enjoy the snow in winter. (Ruth Swedler)


The list of outdoor activities in summer in Milwaukee and Wisconsin are endless. I love swimming, boating and kayaking at various lakes in the area. There is always a local farmers market to explore, beer garden to hang out at or festival to attend (including Summerfest (downtown Milwaukee), Wisconsin State Fair (West Allis, WI), local church festivals, and multiple ethnic festivals (Summerfest grounds)). I also enjoy picking fresh strawberries every summer at Basse's in Germantown, WI. Winter: Sledding, Downhill Skiing, Cross Country Ski at Whitnall Park, Ice skating at Red Arrow Park. Any Season: Travel to Door County (3 hours north of Milwaukee) for wonderful food, nature, outdoor activities and shopping. (Carly Windt)


Summer… boating all the way!!! (Kristin Braun)
Favorite Things to do Inside
Fly tying, reading, fly rod building, movies. (Dr. Casey Calkins)


Listen to music, read, try to cook, play any & all board or card games, and watch baseball in the summer and hockey in the winter. (Dr. Brian Craig)


Ted Lasso (any time), The Crown (any time), Mandalorian (any time), old Star Wars movies, read and discuss Michio Kaku's Book The God Equation and reflect existentially about what it all means…. Refurbish old snowblowers, wrench on anything, yardwork. (Dr. John Densmore)


Summer – Inside? What is that? Winter – Hygge, coffee shops. (Dr. Katy Flynn-O'Brien)


Music, concerts but I like going to concerts outside too. Buck's basketball games. (Dr. David Gourlay)


Go to a Bucks game! (Dr. Dave Lal)


I spend most of my waking hours in the hospital. When outside the hospital, I have rowed for many years including for a period with the Milwaukee Rowing Club and now more quietly with a Concept 2 ergometer. Travel is both an indoor and an outdoor event. Despite the pandemic, we still enjoy this very much. (Dr. Keith Oldham)


Watching movies is a year-round inside activity. Watching Soccer and NFL (Go Browns!). (Dr. Jose Salazar Osuna)


Getting together with family and friends to share good stories, great food, and laughs; ping pong, foosball, games (Exploding Kittens, Poetry for Neanderthals, etc.); reading. (Dr. Tom Sato)


Milwaukee Art Museum. Movies at local theaters – Rosebud, Times, Downer. Reading. Hang out in local coffee shops on East side, lakefront, and Tosa. (Dr. Jack Schneider)


Milwaukee Bucks games and Milwaukee Brewers (retractable roof means weather is not an issue) games. (Dr. Kyle Van Arendonk)


It goes without saying, Bikram Yoga!!! Eating brunch (Uncle Wolfie's, SweetDiner, Engine Company 3 current favorites- hence all the yoga). Also, we love the antique stores in the 3rd Ward and Walkers Point and eating at restaurants there. (Dr. Amy Wagner)


Reading, Netflix, camper shows, movies, Outlet malls (Johnson's Creek). (Sara Avery)


Making soup! All year round on most Sunday afternoons, I make a pot of soup and a different salad which make great leftovers for lunches all week long. We even occasionally swap bowls between the APPs- always a nice treat. (Suzy Becker)


I love reading, cooking and trying out new restaurants. (Diana Choren)


Bake cookies or pies, read, binge on Netflix, work on home projects. (Lori Duesing)


I am an avid reader and spend most of my time indoors reading. As a family we also enjoy card games. (Danielle Leranth)


Coffee shops – Anodyne and Stone Creek are my favorite locally roasted coffees. Craft breweries. Bucks games. Milwaukee Public Market. (Ruth Swedler)


Summer: Go outside! Winter: Milwaukee County Winter Farmer's Market, Catch up on television and movies with a warm cup of apple cider, attend basketball games at Fiserv Forum, Lakefront Brewery Tour. (Carly Windt)


I really enjoy cooking and in the Winter on a Friday, if we don't have anything going on we do movie night. (Kristin Braun)
Must do Activity While Living in Milwaukee
Summerfest (Dr. Casey Calkins)


For the golf inclined, play a round at Erin Hills or Whistling Straits. (Dr. Brian Craig)


Sunrise at the lakefront, walk out on the breakwater by the yacht club. (Dr. John Densmore)


Ride the SS Badger Ferry and have boozy slushes while playing bingo. (Dr. Katy Flynn-O'Brien)


Tailgating at the Brewers, concert at Summerfest, visit a Beer Garden, see a football game at Lambeau. Visit Door County in the Fall. Visit upstate Wisconsin for the many lakes and forests. (Dr. David Gourlay)


Go to Summerfest and make a weekend trip to Door County. (Dr. Dave Lal)


Explore the lakefront including the Schlitz Audubon Center and Lake Park. (Dr. Keith Oldham)


The State Fair. (Dr. Jose Salazar Osuna)


Kayak to Lakefront Brewery and take the tour; Summerfest; get custard at Kopp's or Leon's; tailgate a Brewer's game; jump around at Camp Randall Stadium. (Dr. Tom Sato)


Tailgate for a Brewers game. (Dr. Jack Schneider)


Consume the Wisconsin staples of beer, bratwurst, cheese curds, and custard. Kayak on the Milwaukee River downtown – start by the Milwaukee Public Market and head north for a pit stop at Lakefront Brewery, a large German-style beer hall along the river. (Dr. Kyle Van Arendonk)


Ummm, of course, practice yoga at Bikram Yoga Heights! (Preferably when there is a Sound Journey at the end during savasana- that's a magical experience. Namaste.) (Dr. Amy Wagner)


Wisconsin State Fair, Summerfest. (Sara Avery)


Storm the Bastille. Bastille days is my favorite Milwaukee festival. It is held in Cathedral Square Park in mid-July. The festival kicks off with a 5k run/walk thru the streets of Milwaukee at night. It is a very fun (and almost totally flat) run. People line the streets to cheer the runners on. (Suzy Becker)


Check out the festivals/list to music outside. (Diana Choren)


Go to Door County and take in the experiences of Peninsula State Park, Fish Creek, Ephriam and the small towns. (Terry Derks)


Enjoy the sand around Lake Michigan, especially the northern parks like Harrington Beach. Hike or run Lapham Peak in Delafield. Downtown, Third and Fifth wards have so many unique restaurants, bars and shops to experience – limitless! Don't miss any of Wisconsin's ice cream – cheese curds – pizza. (Lori Duesing)


There are several great breweries in the area. Not all offer tours, but I always find the tours quite interesting. (Danielle Leranth)


Tailgate at a Brewer's game. (Ruth Swedler)


Tailgate at Miller Park on a beautiful summer day or evening. (Carly Windt)


Must visit Oktoberfest at Bavarian Bierhaus (German food and Polka). (Kristin Braun)
Fun Activities to do with Kids in Milwaukee
Visit the Milwaukee County Zoo, play at the beaches of Lake Michigan (Bradford Beach in the city and multiple others along the North Shore). (Dr. Brian Craig)


OMG—rent a boat at the community sailing center and hit the lake, indoor go karting, bike the oak leaf trail and stop for brunch at Café Corazon, Domes (in winter with younger kids), Botanical Gardens, hike at Lions Den Gorge, 4th of July in Whitefish Bay. (Dr. John Densmore)


We will find out! (Dr. Katy Flynn-O'Brien)


Camping, biking, swimming in the lakes, apple pick, Brewer and Buck's games. (Dr. David Gourlay)


Visit the Betty Brinn Children's museum, First Stage Children's Theater and the Milwaukee art museum. Walk along the Lake Michigan shoreline. (Dr. Dave Lal)


Our children are no longer kids but the Milwaukee County Zoo was always a favorite for them as well as the "Learn to Ski and Snowboard" programs locally in the winter time. Our boys are passionate Bucks and Packers fans, so we have spent some quality time in those venues as well. (Dr. Keith Oldham)


Children's Museum, Zoo, playing at the multiple lakeside parks. (Dr. Jose Salazar Osuna)


Take them to the Safe House after seeing a First Stage performance. (Dr. Tom Sato)


Milwaukee Zoo. Beach day at Kohler-Andre or Huntington Beach State Parks. Discovery World. Betty Brinn Children's Museum. Milwaukee Public Museum. (Dr. Jack Schneider)


Biking along the Oak Leaf Trail that stretches throughout Milwaukee County. Lake Michigan beaches – especially Atwater Park, which has playgrounds on the beach and on the bluffs overlooking the beach. Hiking along Lake Michigan – Seven Bridges Trail and Lion's Den Gorge are our favorites nearby, and hiking on the sand dunes at Kohler-Andrae State Park is great if you have time to drive a little farther. (Dr. Kyle Van Arendonk)


The museums are all wonderful, and well-priced for memberships. My girls' and my favorites have been Milwaukee Public Museum, Discovery World, Betty Brinn Children's Museum, and the Milwaukee Art Museum. (Dr. Amy Wagner)


As a kid, I grew up exploring the southern kettle moraine area with my family. Now as a parent, we love putting the baby in a carrier and letting the dog run along the trails of the many great state and county parks that Wisconsin has to offer. (Suzy Becker)


Sporting events, Children's museum, sledding/skiing, camping, biking, hiking. (Diana Choren)


Take in the sights, sounds and smells of the Milwaukee County Zoo! (Terry Derks)


Spend a weekend in Door County – your kids can experience camping at State Peninsula Park, or stay in a cabin to condo. Kids would love the ferry ride across Lake Michigan to Mackinac Island - you rent bikes and bike around the island and across the bridge, or bring your own on the ferry! There are so many fairs and festivals in Wisconsin. (Lori Duesing)


Milwaukee County Zoo was a go to spot for us when our kids were younger. Now that they are older they enjoy the Milwaukee Public Market. (Danielle Leranth)


Downtown (Central) Milwaukee Public Library (includes a mini lighthouse in the children section that kids can climb up), Milwaukee Public Museum, Discovery World, Milwaukee County Parks, Apple Picking, Pumpkin Farms, Strawberry Picking. (Carly Windt)


Must visit Oktoberfest (German food and Polka), Wisconsin State Fair, Brewer's Game. (Kristin Braun)