Application Process and Requirements for the General Surgery Residency Program
Our program utilizes the Electronic Residency Application Service (ERAS). If interested in applying, please coordinate with the Dean's office at your medical school to submit your application materials via ERAS.

2020–2021 Academic Year – Interview Dates
November 5, 2020
November 19, 2020
December 9, 2020
January 6, 2021
We host a pre-interview event the evening prior to interview day.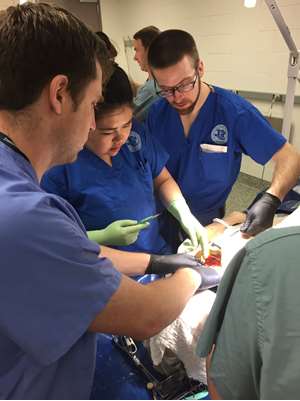 Application Requirements

A complete Common Application Form (CAF) on ERAS which includes the following:
Dean's Letter (submitted by medical schools on November 1)
Medical Student Transcript with current surgery grades
No less than three letters of recommendation
Personal statement
USMLE Step 1 scores (Our program has not established score minimums for USMLE Part 1 results)
USMLE Step 2 scores as available
Curriculum Vitae
Color photo
No more than two years post graduation from medical school
Graduates of medical schools outside of the United States and
Canada:
Visa sponsorship: J-1
USMLE Step 1 and Step 2 scores
No more than two years post graduation from medical school
We cannot offer an interview unless you meet all of our qualifications
Must have a current valid certificate from the Educational Commission for Foreign Medical Graduates (ECFMG) prior to the start of residency
Interviews are offered to the top students based on evaluations of medical school performance, board scores, recommendations, personal statement, research experience, extracurricular activities, academic credentials, personal qualities, preparedness, communication skills and educational accomplishments. Important intangibles that are fundamental to selection include leadership, work ethic, professionalism and enthusiasm. Over 800 applications are received annually, but interviews are extended to no more than 64 individuals. Interviews are by invitation only.

Residents are selected for appointment through the National Resident Matching Program (NRMP).

To obtain information about benefits and housestaff policies, visit our Graduate Medical Education website.