Secretary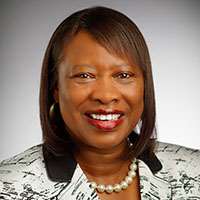 Jacqueline, an MPS graduate, is a 1984 graduate of the Milwaukee School of Engineering (MSOE) where she earned a degree in Electrical Engineering. While attending MSOE, Jacqueline co-founded the school's National Society of Black Engineers/NTA chapter. After graduating, Jacqueline began work as a Sales Engineer for Motorola. She retired in 2009 just shy of 25 years of employment.
Prior to her retirement, Jacqueline held direct and indirect sales management positions at Motorola. Her account base included companies in Milwaukee, Wisconsin, the Midwest and globally. This included manufacturers in diverse markets such as automotive, healthcare, military, contract manufacturing, telecom, factory automation, and avionics.
Jacqueline serves on several community and civic boards in Milwaukee. She currently serves as a 2016 Campaign Co-Chair of the United Way of Greater Milwaukee and Waukesha County. She is immediate past chair of the Marcus Center for the Performing Arts Board, past chair of the Milwaukee Repertory Theater, Milwaukee Urban League, Rotary Club of Milwaukee and MSOE Alumni Association boards. She is a member of the SaintA Board, the MSOE Corporate Board, the University of Wisconsin-Milwaukee Foundation Board, St. Ann's Center for Intergenerational Care, the United Way of Greater Milwaukee, Children's Hospital of Wisconsin Foundation Board, Federal Defender Services of Wisconsin, Black Arts MKE and the Greater Milwaukee Foundation Board.
Jackie is a 2006 inductee into the Milwaukee School of Engineering Wall of Fame, 2013 Milwaukee Urban League Unity Award Honoree, 2014 Milwaukee Business Journal Woman of Influence, the 2015 Fellowship Open Community Volunteer Honoree, 2016 March Excellence in Education Award and a member of the Milwaukee Chapter of the Links, Incorporated and Girl Friends Inc.
Jackie is married to Michael Barber, an MPS graduate, the president & CEO of Molecular Imaging and Computed Tomography at GE Healthcare. She has two children, Lauren, a fourth year medical student at Harvard Medical School and Justin, a recent graduate of the University of Minnesota-Twin Cities and currently pursuing his MBA at the Lubar School of Business.