Spine Surgery Fellowship
The Spine Surgery Fellowship Program in the Department of Neurosurgery at Froedtert & The Medical College is a one-year integrated clinical and research program for individuals who have completed residency and are contemplating careers in academic medicine. A second year emphasizing research is available.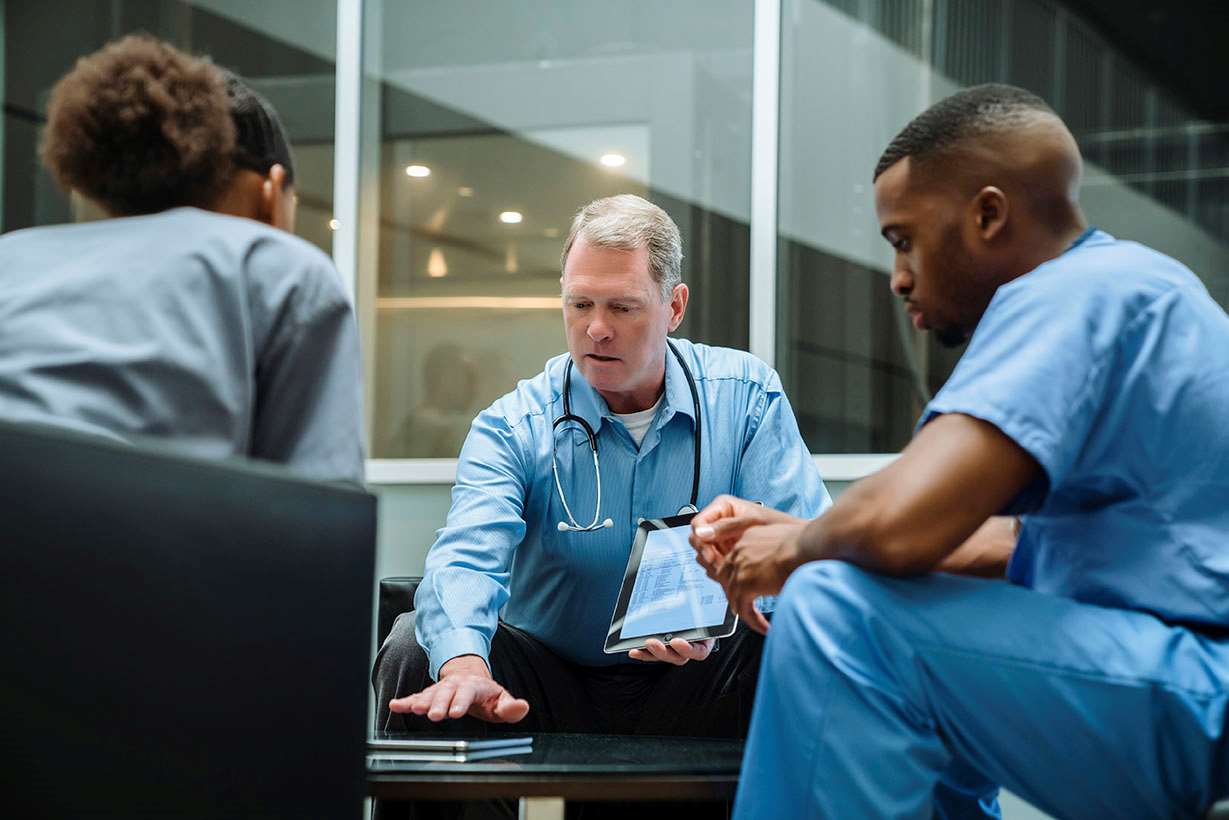 Program Details
Clinical Opportunities
A large and varied surgical experience includes spine trauma, tumors, and degenerative diseases, including all types of surgical fixation. The Neurosurgery Department is staffed by one of the most experienced surgical teams in the Midwest, offering surgical specialization in spine surgery. During the program, fellows assume increasing responsibility for operative performance, including teaching of residents in neurological surgery. In 2016, the Department of Neurosurgery fellows assisted in over 200 spine surgery cases.
Research Opportunities
Fellows participate in both basic and clinical research, and have the opportunity to design limited studies or participate in ongoing efforts. The latter currently include investigation regarding the effects of spinal fixation, models of spondylolisthesis, spine material properties, finite element analysis of the spine, pathophysiology of spinal and spinal cord injury and its modification.
Our facility includes one of the largest crash test facilities in the world. Retrospective clinical reviews of various problems can be performed, as well as limited prospective studies. Presenting research at a national forum as well as producing at least two articles for publication are necessary to enhance this educational opportunity. Salary and benefits are competitive.
Additional Information for International Medical Graduates (IMGS)
The residency program is open to international medical graduates. Fluent conversational and written English is required. Prior US experience in the form of clinical training or an advanced degree from a US institution is desirable but not required, and is considered in the context of the rest of the application. Observerships and externships are not relevant. Preference may be granted to applicants that are not more than 5 years from medical school. A clinical skills assessment may also be required.
The Medical College of Wisconsin may sponsor H-1B visas for residents. Additional Visa information.
Terms, Conditions & Benefits of Employment
The Medical College of Wisconsin Affiliated Hospitals offers its housestaff a comprehensive benefits package.
Application for Spine Surgery Fellowship
PLEASE NOTE: One of the mandatory requirements for consideration for this position is the acquisition of an unrestricted license to practice medicine in the United States, State of Wisconsin. Wisconsin Medical Examining Board requirements (PDF).

If you meet all of the requirements and are interested in applying, please submit the following documents:
CV
Three Letters of Recommendation
Please e-mail the completed application, current CV, and three letters of recommendation to spinefellows@mcw.edu. If you have any questions, please call (414) 955-0965.
Spine Fellows Alumni
07/2019 – 6/2020 | Huy Troung, MD
07/2017 – 06/2018 | Joey Grochmal, MD
07/2016 – 06/2017 | Hoon Choi, MD
07/2015 – 06/2016 | Hesham Soliman, MD
07/2013 – 06/2014 | Michael Mumert, MD
01/2013 – 12/2013 | Jason Przybylo, MD
07/2011 – 06/2012 | Chad Cole, MD
07/2010 – 06/2011 | Alice Cherqui, MD
07/2008 – 06/2009 | Harlan Bruner, MD
07/2008 – 06/2009 | Michael Martin, MD
07/2007 – 06/2008 | Jeff Golan, MD
07/2007 – 06/2008 | Olawale Sulaiman, MD, PhD
07/2005 – 06/2006 | Simon Salerno, MD
07/2005 – 06/2006 | Marjorie Wang, MD, MPH
07/2004 – 06/2005 | Brian Snell, MD
07/2004 – 06/2005 | Scott Soleau, MD
07/2003 – 06/2004 | Sumon Bhattacharjee, MD
01/2003 – 06/2004 | Jason Lifshutz, MD
07/2002 – 06/2004 | Zvi Lidar, MD
07/2002 – 06/2003 | Victor DaSilva, MD
07/2001 – 06/2002 | Joseph Cheng, MD
07/2001 – 06/2002 | Jason Garber, MD
07/2001 – 06/2002 | Paul Yanez, MD
01/2001 – 06/2001 | Shekar N. Kurpad, MD, PhD
07/2000 – 06/2001 | Muwaffak M. Abdulak, MD
07/2000 – 06/2001 | Avery M. Jackson III, MD
07/1999 – 06/2000 | Marilyn Gates, MD
07/1999 – 06/2000 | Michael Groff, MD
07/1998 – 06/1999 | Frank Coufal, MD
07/1998 – 06/1999 | Bryan Periera, MD
07/1997 – 06/1998 | Christopher Wolfla, MD
09/1996 – 07/1997 | Sivasupiramaniam Sriharan, MD
07/1996 – 06/1998 | Richard J. Fox, MD
07/1996 – 06/1997 | Thomas Chen, MD
07/1995 – 06/1996 | Gregory J. Przybylski, MD
07/1994 – 06/1996 | Jamie L. Baisden, MD
07/1994 – 06/1995 | Michael Gallagher, MD
07/1994 – 06/1995 | Leslie Sebring, MD
01/1994 – 06/1994 | William E. Krauss, MD
07/1993 – 06/1994 | Brian G. Cuddy, MD
01/1993 – 06/1993 | Robert Bernardi, MD
07/1992 – 06/1993 | Paul Arnold, MD
07/1992 – 12/1992 | Mark W. Fox, MD
01/1992 – 06/1992 | Vincent Morgese, MD
07/1991 – 06/1992 | James P. Hollowell, MD
07/1991 – 12/1991 Eric Woodard, MD
07/1990 – 06/1991 Richard Toselli, MD
07/1989 – 06/1990 Paul McCormick, MD
07/1988 – 06/1989 Charlie Stillerman, MD
07/1987 – 06/1988 Greg Bennett, MD
Outpatient & Inpatient Facilities