MCW Study Payments and the collection of SSN
Effective July 9, 2019 use of the Card does not require the collection of a participant's social security number until their annual cumulative study payments reach $200.
The new threshold limit of $200 will open the use of the Card to a broader audience, provide more flexibility to study teams, and still maintain compliance with federal tax reporting requirements. For additional information, email
research@mcw.edu
.
A safer, more secure method of payment for clinical research
MCW's Study Participant Payment Card System
The Study Payments System allows study coordinators to authorize payments directly to an MCW Study Participant Compensation Card, reducing the time and effort of processing traditional paper checks.
About Study Payments
Sponsored by the Office of Research and key clinical research stakeholders, the MCW Study Payment System allows study coordinators authorize direct payments to MCW-branded Participant Compensation Cards, reducing the time and effort of processing paper checks. Additionally, the system is free to use and s
tudies already entered in OnCore can easily feed study information and participant details into the Study Payment System.
Benefits:
A safer, more secure method of payment for clinical research participants.
An easy-to-use reloadable debit card that can be dispensed to a participant at the time of their study visit.
Funds are immediately available once a payment is loaded.
MCW Compensation Cards can be used at ATM's and anywhere Visa cards are accepted.
Ensures consistency and streamlines the travel reimbursement process.
Maximums for hotel, parking and mileage can be set ahead of time.
Ability to upload receipts and send reimbursement requests for department review.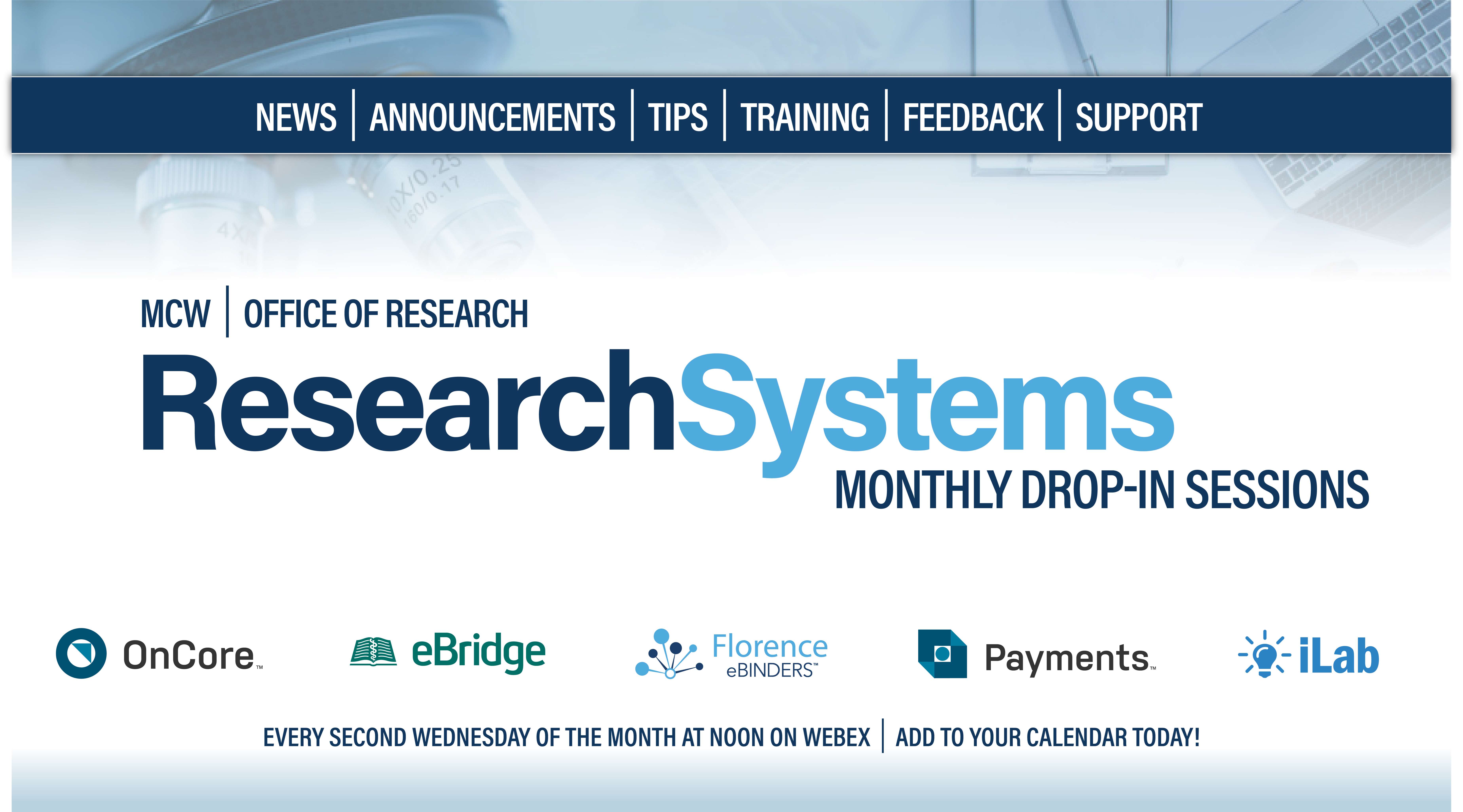 Research Systems Drop-in Sessions
The Office of Research invites you to join us for Research Systems Monthly Drop-in Sessions on WebEx.

Get the latest news and stay up-to-date! Every second Wednesday of the month from 12-1 p.m., find out what is new in Florence eBinders™, OnCore™, Study Payments™, iLab Solutions, and eBridge.

Bring your questions! Find out how MCW's Research Systems can make your work-life easier.

No RSVP needed – Add your calendar today!