MCW eBridge Research Management Application
eBridge is MCW's premier web-based research management application that is used to create, submit, track, report and archive research applications, funding applications, and researcher training.
Go to eBridge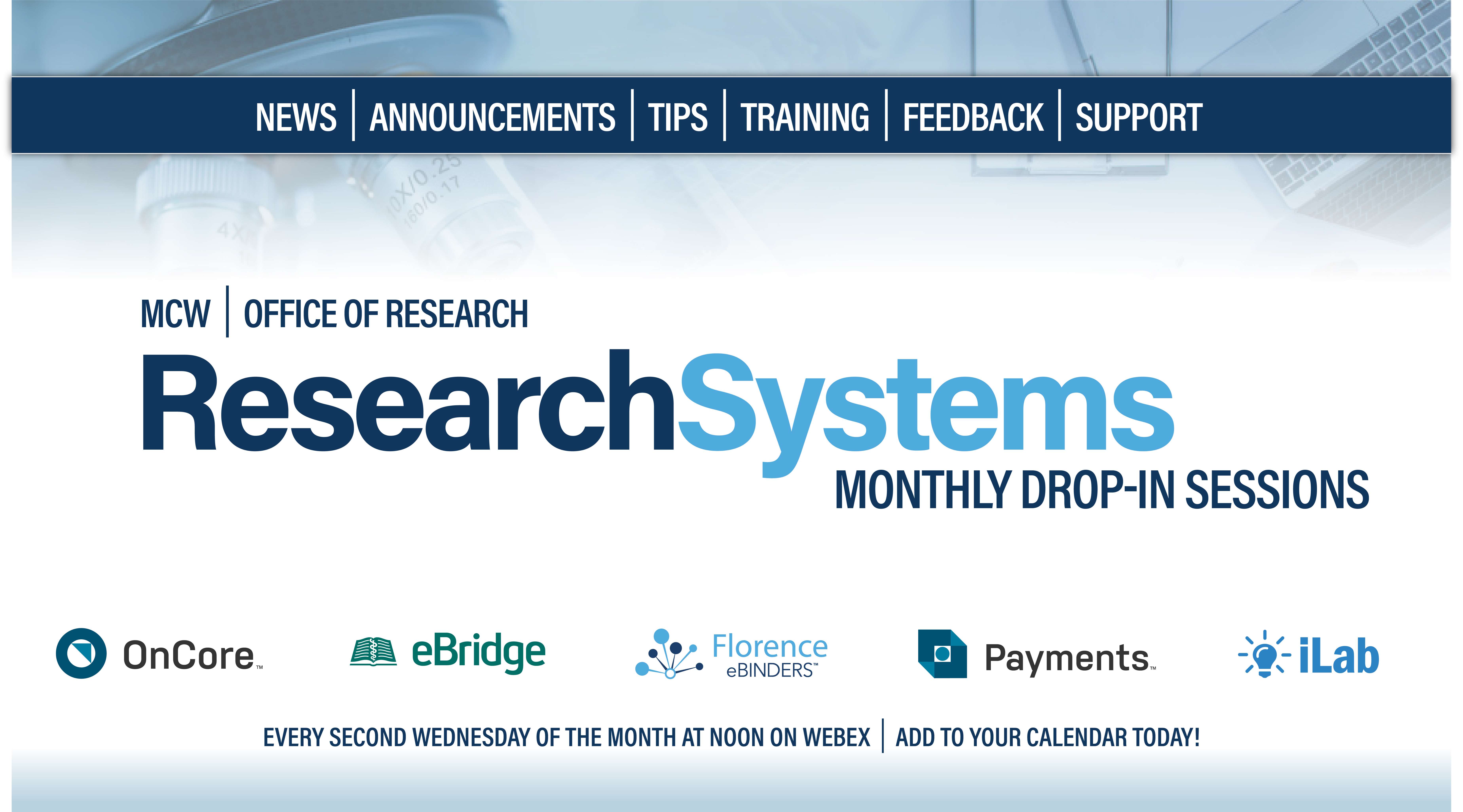 Research Systems Drop-in Sessions
The Office of Research invites you to join us for Research Systems Monthly Drop-in Sessions on Webex.

Get the latest news and stay up-to-date! Every second Wednesday of the month from 12-1 p.m., find out what is new in Florence eBinders™, OnCore™, Study Payments™, iLab Solutions, and eBridge.

Bring your questions! Find out how MCW's Research Systems can make your work-life easier.

No RSVP needed – Add your calendar today!

Get eBridge Support
For access to the eBridge system, click 'Register for eBridge " and complete the registration form. Once account your account is created, you will receive an email with your login information.
eBridge Modules
Animal Use Applications
Biosafety Applications
Funding Proposals
Human Research Applications
Researcher Profile
eBridge Upcoming Maintenance & Patches
Weekly Maintenance
Most Wednesdays - 8 p.m. to Midnight (CST)
Every Friday - 8 p.m. to Midnight (CST)
Upcoming Planned Production Patches
eBridge Compliance
Institutional, federal, state, and local regulatory requirements are implemented into eBridge by Research Systems in partnership with the (GCO) Grants and Contracts Office, the MCW/Froedtert Hospital IRB Office , the Institutional Animal Care and Use Committee (IACUC) Office, and the Institutional Biosafety Committee (IBC) Office at the Medical College of Wisconsin.
MCW has certified to the Food & Drug Administration that the institution is compliant with 21CFR Part 11, Electronic Records and Electronic Signatures.