Genetic Counseling MS Program
The Genetic Counseling Master of Science Program at the Medical College of Wisconsin will prepare the next generation of genetic counselors to be diverse leaders at the forefront in the delivery of precision health.
Program Mission
The mission of the Medical College of Wisconsin Genetic Counseling Graduate Program is to cultivate exceptional genetic counseling leaders who reflect the visible and invisible diversity of the communities we serve.
The MSGC program aims to achieve this mission through the following objectives:
Create compassionate, academically minded genetic counselors with a curiosity for life-long learning.
Demonstrate responsibility to the communities we serve by prioritizing health equity, advocacy, and cultural humility.
Foster authenticity, integrity, and resilience through a culture of belonging.
Nurture skills to inspire our students to become future leaders in the profession
Statement of Diversity
The Medical College of Wisconsin defines diversity as a commitment to recognizing and appreciating the variety of individual differences in an environment that promotes and celebrates individual and collective achievement. The diversity of MCW continues to be an important source of innovative ideas and creative accomplishments. 
MCW prides itself on being an inclusive community where all individuals are valued and respected. Inclusion is about embracing, respecting, honoring, recognizing and ultimately leveraging the differences we innately possess to build a better community. An inclusive community is essential to our mission to be a national leader in the education and development of the next generation of physicians and scientists; to discover and translate new knowledge in the biomedical sciences; to provide cutting-edge, interdisciplinary and compassionate clinical care of the highest quality and to improve the health of the communities we serve.
To create a more vibrant and equitable community, MCW endeavors to achieve inclusiveness through the composition and actions of our board of trustees, leadership, faculty, staff, residents and student body. MCW's commitment to understanding differences and fostering respect and inclusiveness affects all aspects of the college, including what and how we teach and learn, and how we behave.
MSGC Program Actions
Institutional statements are important, also relevant are the program actions. Here are some examples of ways the MSGC program is accountable to the MCW Statement of Diversity:
Training: Faculty, staff, supervisors, instructors and advisors complete annual training, attend workshops and receive resources focused on inclusive teaching and allyship.
Awareness: Through partnerships and educational programming in underserved communities, we are increasing awareness of genetic counseling.
Representation: We are working towards enhancing the diversity of genetic counseling students, staff, and faculty through pathway programs, mentorship, intentional relational engagement and supporting a culture of inclusivity.
Evaluation: Program and curriculum are reviewed with external advisement for delivery of diversity, equity, inclusion, and justice practices, with a focus on continued process improvement.
Ask us more about our commitment to build and maintain an inclusive climate in our MSGC Program.
Genetic Counseling MS Program
About the Program
About the Program
The MSGC program offers a Master of Science degree in Genetic Counseling, through the Medical College of Wisconsin Graduate School. The program is a full-time, day program with one cohort of 10 students beginning each fall term. The duration is 21 months in length, consisting of four fall/spring terms with one intervening summer term session. The program curriculum consists of 56 term credits, including coursework, clinical practicums, and a research thesis. Students who successfully complete the program will be eligible for the American Board of Genetic Counseling (ABGC) certification examination.
The Genetic Counseling Master of Science Program at the Medical College of Wisconsin will prepare the next generation of genetic counselors to be diverse leaders at the forefront in the delivery of precision health.
Program Mission
The mission of the Medical College of Wisconsin Genetic Counseling Graduate Program is to cultivate exceptional genetic counseling leaders who reflect the visible and invisible diversity of the communities we serve.
The MSGC program aims to achieve this mission through the following objectives:
Create compassionate, academically minded genetic counselors with a curiosity for life-long learning.
Demonstrate responsibility to the communities we serve by prioritizing health equity, advocacy, and cultural humility.
Foster authenticity, integrity, and resilience through a culture of belonging.
Nurture skills to inspire our students to become future leaders in the profession
Admissions
Admissions
ADMISSIONS PHILOSOPHY

The Master of Science Genetic Counseling (MSGC) program values the unique backgrounds, experiences and identities of all people, in alignment with our program mission to "cultivate exceptional genetic counseling leaders who reflect the visible and invisible diversity of the communities we serve." With this lens, we wish to admit students to our program from a variety of perspectives with strengths in various areas. We seek applicants with strong academics and critical thinking capabilities, readiness for rigorous graduate study, effective communication abilities, intentional community and cultural engagement, psychosocial skills, and diverse leadership styles. In support of this goal, we strive for a holistic review in our admissions process. The American Association of Medical Colleges defines holistic review as:

"mission-aligned admissions or selection processes that take into consideration applicants' lived and academic experiences, attributes, and academic metrics as well as the value an applicant would contribute to learning, practice, and teaching. Holistic Review allows admissions committees to consider the 'whole' applicant, rather than disproportionately focusing on any one factor."

The online application for our program includes optional broadly worded questions about background and identity. If the applicant chooses to self-disclose this information, these attributes and experience will be used as part of the holistic review.

We recognize the responsibility we have to utilize this information in an equitable and just approach to the holistic admissions process. Individuals involved in the admissions process are selected by the program due to their diverse backgrounds and experiences, additionally they receive implicit bias training as requirement for participation. The program also has multiple evaluation practices with a focus on continual improvement of the admissions process.
ADMISSIONS PROCESS

Applications for the MSGC Program must be submitted to the MCW Graduate School by January 15 11:59 p.m. CST. The MSGC application portal will open September 1.
The admission process includes several steps:
Step 1. Initial Review of Applications
Ensures all program requirements and pre-requisites are met
Step 2. Admissions Committee Application Review
All components of the application are reviewed independently and assessed through a competency-based rubric
Identifies which applicants will be invited for a program interview
Interview decisions are communicated to applicants in February
Step 3. Program Interview
All interviews are conducted virtually in March
Interviews include:
Group information session with program Q&A
Individual applicant interviews
Program representatives involved in the interviews include: admissions committee members, program leadership, program director, and genetic counselors involved with the program as either instructors, practicum supervisors and/or research advisors.
Interviews utilize a competency-based rubric to evaluate the applicant during the interview experience
Step 4. Program Ranking of Applicants
The admissions committee reviews all interview and application scores, considering individual applicants with a holistic review approach.
Interviewed applicants are ranked through a discussion and consensus decision making process by the admissions committee.
Final rankings are approved by majority vote from the admissions committee and submitted to the National Matching Service in accordance with the match agreement and rules of participation
MCW will participate in the National Genetic Counseling Admissions Match program administered by National Matching Services, Inc. on behalf of the Association of Genetic Counseling Program Directors (AGCPD). The Accreditation Council for Genetic Counseling (ACGC) has granted Accredited New Program accreditation status to the Medical College of Wisconsin Master of Science in Genetic Counseling (MSGC) program effective October 20, 2020. A program achieving Accredited New Program accreditation may admit students, who, upon successfully completing their degree, will be deemed to have graduated from an ACGC-accredited program. The GC Admissions Match has been established to enhance the process of placing applicants into positions in masters-level genetic counseling programs that are accredited by the Accreditation Council for Genetic Counseling (ACGC). The Match uses a process that takes into account both applicants' and programs' preferences. Please visit the NMS website to register for the match, review detailed information about the matching process and to view a demonstration of how the matching algorithm works.
The program welcomes communication from prospective students and applicants; emails should be sent to msgc@mcw.edu. However, post-interview communications from the program are intentionally limited with applicants who have received an interview for the purpose of reducing undue influence and avoiding manipulative practices. Per National Matching Service rules, neither the program nor applicant may solicit ranking information from each other. The MSGC program does not share ranking intentions with applicants.
To aid in applicant decision making, the program offers an optional site visit for prospective students to see the MCW campus and experience the culture at our institution. Site visit details will be communicated at the time of interviews and are coordinated by program administration and current students. The site visit is offered in early April, after the interview process is complete. Program leadership, admissions committee members and interviewers are not involved in the site visit. The site visit is not considered part of the interview process and is not used to influence program ranking of applicants. The purpose of the site visit is to provide applicants who have completed their interviews with our program an opportunity to experience MCW. All expenses for participating in a site visit are the responsibility of the applicant; the program does not provide any reimbursement for this activity.
Applicants who have not matched with a program may request feedback from the MSGC program regarding their application and interview. Requests for feedback should be emailed to msgc@mcw.edu before May 15th. The MSGC Program will provide requested feedback for the current application cycle to the applicant via email by July 1st.
ADMISSIONS CRITERIA

Bachelor's degree
Applicants must have a bachelor's degree. Although a specific major is not required, most applicants have a degree in a biological or social science (e.g., biology, genetics, biochemistry, sociology, social work).

GPA
A minimum undergraduate grade-point average (GPA) of 3.00 or a master's degree with a minimum cumulative GPA of 3.00 is required. If a student has an undergraduate GPA less than 3.0, coursework completed after graduation demonstrating a higher GPA will be considered.
Prerequisites listed below must be completed with a grade of C or better, prior to the program start date. Applications will still be considered with coursework pending. College credit for high school Advanced Placement courses do not satisfy the requirement.

Prerequisite course work includes one term (12 weeks minimum) of each of the following:
Genetics
Statistics
Biochemistry
Social Science
An applicant must complete courses in biochemistry, statistics, genetics and a social science (such as psychology, sociology, women's studies, philosophy, ethnic studies, etc.). We encourage students to take as many courses as possible relevant to genetic counseling to strengthen their application. All required courses should be taken prior to applying as it is difficult to evaluate courses "in progress" at the time of application.
Transcripts
Transcripts will be required. Unofficial transcripts for courses in progress will be accepted for the initial application review, however all official transcripts must be received prior to the program interview date. Arrange for your official transcript to be sent to the MCW Graduate School from your current or any previously attended college/university.
Official transcripts must be in an original, sealed envelope or sent electronically from a certified service provider. Electronic transcripts may be accepted from institutions that subscribe to the following services:
Letters of Recommendation
Three letters of recommendation are required from instructors of relevant courses, research advisors, supervisors of advocacy experience, genetic counselors, mentors, or other individuals from your professional experiences who can assess your potential for a career in genetic counseling.
Recommendation letters should be submitted electronically through the graduate school online application system.
Recommendation letters should not be from applicant's family members, friends, or personal healthcare providers.
Resume
A personal CV or resume is required. Be sure to include shadowing or exposure to genetic counseling and any advocacy experiences. Please upload your resume through the graduate school online application system.
Personal Statement
A personal statement is required. The personal statement should tell your story, detailing your experiences, thoughts, and values, and how they have influenced your decision to pursue the genetic counseling profession. Personal statements will be submitted through the graduate school online application system.
GRE
A GRE Test Score is NOT required for admittance to the program. GRE scores will not be reviewed by the admissions committee.
Genetic Counseling Shadowing/Internship Experience
Observation of genetic counselors in a clinical setting is strongly recommended to aid in applicant's understanding of what the career entails and if it aligns with their professional goals. Intern and shadowing experiences in Wisconsin are available through the Wisconsin Genetic Counselors Association website. Our MSGC Program offers a Genetic Counseling Career Research & Exploration Workshop (GC-CREW) for prospective students looking to gain in-depth exposure to the field of genetic counseling. Additional activities including advocacy, crisis counseling, and/or research exposure are also highly recommended.
There are numerous ways to gain a deeper understanding of the genetic counseling career beyond shadowing and internship experiences. Following thought leaders on social media, listening to genetics related podcasts, watching videos, documentaries and/or movies on genetics topics, reading journals, books and magazines are all great ways to develop a well-rounded perspective on the career. Check out the Genetic Counseling Toolkit from My Gene Counsel for resources. Please see our 'Prospective Students' page for more opportunities to engage in genetic counseling experiences.
Pursuant to 34 CFR 668.43, the Medical College of Wisconsin is obligated to notify you that the program you are interested in does meet the educational requirements for professional certification through the American Board of Genetic Counseling and does lead to professional licensure in states which genetic counselor licensure is available. An updated map of states issuing licenses for genetic counselors can be found here. If you have any questions, please contact us via email at msgc@mcw.edu
International Student Applicants
International Student Applicants
Anyone who is currently residing outside of the United States or are studying in the United States on any visa type are considered an international student applicant.

School Records / Transcripts
International Applicants must provide official/original copies of their transcripts in the native language of instruction as well as in English translation. Transcripts are also known as academic records or mark sheets. An official transcript must bear the original seal and/or stamps of the institution as well as signatures of institutional officials. If transcripts do not include proof of graduation (i.e. diploma and/or degree certification), official copies of these documents must be provided as well. All academic credentials are reviewed and verified at our discretion. It is incumbent upon the applicant to ensure that the documents submitted meet the requirements of being considered official.

English Language Proficiency Tests
The submission of an English language proficiency test score is generally required for international applicants who are not currently enrolled in, or have not previously graduated from, a U.S.-based (non-online) undergraduate or graduate degree program. As of the 2022 admissions cycle (staring July 1, 2021), we accept the following test types:
Duolingo (recommended score of 105 or higher)
IELTS (recommended score of 6.0 or higher)
TOEFL (recommended score of 100 or higher)
We will accept scores from any of these services as far back as two (2) years. An additional exception to the English language proficiency test may be approved for applicants who are currently enrolled in or previously studied at foreign institutions whose primary language of instruction was English. In these cases, applicants will need to submit an exemption request in writing via email sent to gradadmissions@mcw.edu after they have submitted their online application.

Visa Status
Verification and updates regarding visa status may be requested at the time of application submission through to and beyond any offer of admission. It is the applicant's responsibility to ensure the timely submission and delivery of documents related to the transition and maintenance of visa status.
Curriculum
Curriculum
Coursework will cover the following topics:
Research Methodologies
This course is designed to build a foundation to help students formulate and execute their research thesis topics. Students will learn about a variety of research methodologies, including quantitative and qualitative approaches. As part of this course, students will gain experience identifying and critically reviewing scientific literature and get exposure to the use of informatics tools. They will learn to evaluate research hypotheses and identify various aspects of the research process, including study design, data management and analysis. Throughout this course there will be an emphasis on conducting research responsibly, ethically, and with integrity. We will highlight various opportunities that genetic counselors have for research involvement. This introductory course aims to instill the value of research as it applies to the practice of genetic counseling, and its implications for the community.
GC Seminar
This course promotes lifelong education for the profession of genetic counselling through exposure to interdisciplinary events and engagement in community activities. Students will give effective presentations tailored to a variety of audiences. Students will identify community engagement opportunities to promote a deeper understanding of patient experience.
Molecules to Cells
This course is designed to provide students with necessary background knowledge in cell biology, molecular genetics, biochemistry, and embryology as it pertains to clinical genetics. There will be emphasis on the clinical relevance of these topics and how abnormalities in these cellular processes can lead to human disease. In addition, students will be introduced to different genetic and biochemical testing and screening options that are commonly used to diagnose genetic disorders.
Genetic Counseling 1: Skills and Practice
Students will be introduced to the history and evolution of the genetic counseling profession. Students will be oriented to fundamental genetic counseling skills including pedigree construction, pedigree analysis, case preparation, contracting, documentation and risk assessment. Students will begin to consider legal, ethical, social and cultural issues related to genetic counseling and be encouraged to explore their own values and biases. Development and adaptation of oral and written communication skills to various audiences will be applied through course assignments and case-based learning. Students will be introduced to professional issues such as credentialing, professional development and lifelong learning.
Human Development and Prenatal Genetics
Students will be introduced to the various aspects of prenatal genetics including normal and abnormal pregnancy and fetal development. Students will become familiar with genetic testing and screening options that are used to investigate risk for genetic conditions in pregnancy and appropriate clinical applications of these tests. Using maternal, familial, and fetal factors, population data, and genetic screening and testing results, students will formulate personalized risk assessments. Topics such as infertility, pregnancy loss, termination, and other pregnancy management options will be explored. Students will appreciate the psychosocial elements specific to prenatal genetic counseling and continue to develop skills in presenting information in a balanced manner.
Translational Genomics
The primary goal of this course is to teach students how to develop a research program to ask relevant genetic questions in the clinical setting utilizing the molecular genetics toolbox. To this end, students will be provided with background in molecular genetics strategies and study designs as well as an understanding of common genetics questions emanating from the clinic so that they will be better able to make connections between bench and bedside. In addition, they will be challenged to think creatively and through a translational focus during course-long case studies and group projects.
Cancer Genomics
This course will familiarize students with hereditary cancer syndromes and the underlying causes of cancer. The interdisciplinary care of cancer patients will also be explored through case-based study. Students will gain knowledge of various cancer risk assessment models and genetic testing options. Students will incorporate genetic test results with personal and family history information to create a personalized risk assessment for a variety of indications. Students will learn to appreciate different psycho-social considerations affecting families with cancer.
Genetic Counseling 2: Theory and Practice
This course prepares students to conduct a full genetic counseling session including case preparation, facilitation of session components and follow-up. Students will expand upon their interviewing skills develop case conceptualization ability and hone their patient education skills. Through standardized patients and in class role play, students will learn to recognize psychosocial aspects of the genetic counseling session and apply their counseling skills. Students will engage in course activities to further develop their communication abilities (oral and written), apply advanced risk assessment and examine professional boundaries. Students will have the opportunity to enhance personal skill development through the giving and receiving of feedback with peers and supervisors.
Research Thesis
Thesis credits are required for program completion. The culminating experience for students in the MCW MS Genetic Counseling Program is a formal thesis research project focused on the practice of genetic counseling in which she or he participated in the design, execution, data analysis, and write-up. Working on the research thesis allows students to develop skills that enhance intellectual development and critical, flexible thinking. Our research program is driven by the interests of the individual student and takes advantage of the wide variety of genomics initiatives across our MCW community and the state of Wisconsin. The timeline for the thesis project begins in the Fall of the first year in the Research Methodologies & Informatics Course when students identify a research question they are interested in studying, complete a comprehensive literature review on the subject, and identify a thesis advisor(s). Continuation of the research process happens within this Research Thesis Course throughout the rest of the Program. Students will secure a Thesis Committee comprised of their primary thesis advisor (Committee Chair) and two additional faculty members. The Committee will approve the project in advance, will provide guidance and supervision of the project, and will critique and, approve the final thesis. Students present their results in local and regional forums, including the Genetic Counseling Colloquium in the final semester of the Program near graduation, and are strongly encouraged to submit their findings as abstracts to regional or national conferences, and for publication.
Medical Genomics
This course aims to familiarize students with a medical genetics evaluation typical to what would be seen in the pediatric or adult genetics clinic. Students will appreciate the interprofessional collaboration required for the diagnosis and management of children and adults with complex disease. Students will be introduced to a plethora of genetic conditions spanning multiple disease categories. A differential diagnosis and genomic testing plan will be formulated using information gathered from thorough chart review, birth, family, and developmental histories, and the physical exam. Students will be able to determine the clinical significance of genetic testing results.
Bioethics in Precision Medicine
The development of a "new" paradigm of precision medicine built around emerging genetic/genomic knowledge and technologies raises a host of important ethical, legal, and social issues. This course will overview these issues as they manifest in a variety of biomedical and health policy contexts. The first part of the course explores the historical, philosophical, rhetorical, and ethical foundations of precision medicine. The second part focuses on a host of ethical issues that arise at the individual and family level of precision medicine, including obligations related to informed consent, non-directive genetic counseling, disclosure of genetic information, privacy and confidentiality, warning or rescuing those in danger, and preserving autonomy for children. The third part transitions to ethical issues that arise at the institutional, community, and societal level of precision medicine, including the social contract between precision medicine research and practice and its stakeholders, the governance and use of biobanks, data repositories, artificial intelligence, and big data in precision medicine, the proliferation of direct-to-consumer genetic testing and non-medical uses of genetic/genomic information, and the ethical implications of health disparities that might be facilitated by precision medicine. Finally, the fourth part of the course concludes with consideration of the competing futures for precision medicine and their ethical implications.
Genetic Counseling 3: Psychosocial Issues
This course builds on Genetic Counseling 2: Theory and Practice by further exploring psychological aspects of the genetic counseling process. Students will learn to apply counseling theories in the development of their clinical communication skills. Students will learn to integrate client factors including cultural, socioeconomic, emotional, behavioral, gender, and educational status into the genetic counseling session. Students will develop more advanced techniques to address the psychosocial impact of a genetic condition on the family, complex family dynamics and unique issues that may occur in genetic counseling. Continued professional development will be emphasized by exploration of personal strengths, limitations, values and biases as they relate to genetic counseling.
Genetic Counseling 4: Advanced Topics
This course will prepare students for life beyond the classroom with a focus on honing skills needed to become an independent successful genetic counselor. Students will develop an appreciation for the growth of the genetic counselling field and for life-long learning inherent in the profession. Discussion of current and emerging topics will put students in a position to become leaders in the field. As future practitioners in their communities, students will appreciate the scope and complex nature of health disparities and embrace cultural humility. In addition, students will also develop habits to build resilience necessary for personal growth and self-care.
Lab Practicum
The purpose of the laboratory practicum is to introduce students to the many different types of tests involved in clinical as well as research genetics, to start to develop the skills necessary to understand and communicate genetic testing strategies and results, and to encourage students to think about the roles genetic counselors can play in the testing process. This practicum will function as a "rotation" with students moving through different experiences in small groups. The practicum will expose students to different molecular, cytogenic, and biochemical tests and help them develop an understanding for how these tests are performed and when they are appropriate. Students will have the opportunity to see how an individual sample moves from the point of collection through the laboratory and ultimately into a research or clinical report for several specific testing modalities, helping them to think about how to explain the testing process to patients, providers, and other audiences. Students will also learn about how genetic testing has changed over time and how genetics professionals adapt to those changes. Finally, students will be encouraged to explore the different ways genetic counselors are involved in the testing process through interviews, field trips, and other experiences.
Clinical Practicum
Clinical practicums are required for graduation and program completion. The overall goal of clinical practicums is to prepare students to enter the workforce and be able to operate successfully in a variety of different roles and specialties. Throughout the MCW MSGC, students will participate in five total practicums which are each 8-weeks in length. Students will be required to be in clinic for at least 16 total days for each 8-week practicum. Each student will participate in a prenatal, cancer, pediatrics, and "other adult specialties" rotation. The fifth practicum may focus on a different specialty of the student's choosing or a repeat more advanced practice of one of their previous rotations. Through the practicums, students will apply their knowledge in a supervised clinical setting and will participate in a minimum of 50 cases where students demonstrate their continued growth in the practice-based competencies for genetic counselors.
Students will be evaluated extensively throughout their practicums by their supervisors as well as program leadership. They will be responsible for setting practicum rotation goals and expectations alongside their clinical supervisor. Students will be responsible for keeping a timely logbook of cases. Supervisors will monitor throughout the rotation to ensure that they are getting the necessary variety of cases regarding referral indications and ways in which the student actively participated in the case.
In addition to their participatory cases with a certified genetic counselor, students will also participate in supplemental fieldwork experiences throughout the duration of the program.
View the Genetic Counseling MS Program Curriculum Chart (PDF)
Degree Requirements
Degree Requirements
By the end of their curriculum, students must be able to demonstrate all the ACGC Practice Based Competencies. Students will demonstrate these competencies through satisfactory completion of their coursework, practicums and research thesis. Students will also need to pass a comprehensive exam at the end of their final semester (as part of their GC4: Advanced Topics course), which encompasses material from all aspects of the program. If a student does not pass this comprehensive exam, remediation will be available; if students demonstrate sufficient remediation, they will have considered to have passed.
Per the Graduate School Student Handbook, students are expected to maintain a "B" (3.0) average in course work. Students must have a 3.0 grade point average (GPA) to be in good academic standing and to be eligible to graduate. Students must complete all required program courses.
The Academic Standing & Professionalism Committee will determine if a student has satisfied the requirements for the MSGC degree program. Three months prior to graduation this committee will review all student records and preparedness for graduation and communicate outcomes to the student.
If students complete all requirements, including obtaining the required number of "participatory" cases for their log book, they will be conferred with the Master of Science in Genetic Counseling, and will be eligible to sit for the American Board of Genetic Counseling exam.
For more specifics regarding requirements of our program, please review our MSGC Handbook (PDF).
Tuition and Fees
Tuition and Fees
Anticipated program tuition and fees, subject to final approval:
$36,068 annual flat rate tuition

$200 student services fee
$200 technology fee
$150 student activity fee
$114 graduation fee
Prospective Students
Prospective Students
Genetic Counseling Resources
Interested in genetic counseling but not sure where to start? Genetic counseling is a dynamic and growing field with a competitive application process. There are over 50 genetic counseling programs in the U.S. and Canada (Accreditation Council for Genetic Counseling (ACGC) website). Many applicants have experience through shadowing genetic counselors, volunteer work, and patient advocacy through opportunities such as volunteering with a crisis hotline, working with individuals with special needs, or working as a genetic counseling assistant (GCA).
Below are some helpful resources to learn more about getting into the field of genetic counseling:
MCW MSGC Program Resources

If you're interested in learning about resources available at our Master of Science in Genetic Counseling (MSGC) program at Medical College of Wisconsin, check out these websites:
Genetic Counseling Career Research & Exploration Workshop (GC-CREW)
The objective of the internship is for undergraduates to learn more about the career of genetic counseling through this remote opportunity. This virtual internship experience will include the following responsibilities for interns: 
Develop personal goals for the internship, participating in a mid-point and final evaluation with supervisor.
Case preparation: Review patient mock chart, read medical literature on weekly topic, research relevant genetic conditions, identify provider and patient appropriate resources.
Construct and interpret family history pedigrees.
Observe standardized patient genetic counseling sessions, document and discuss reflections.
Participate in a mock genetic counseling role play.
Learn More about GC-CREW here.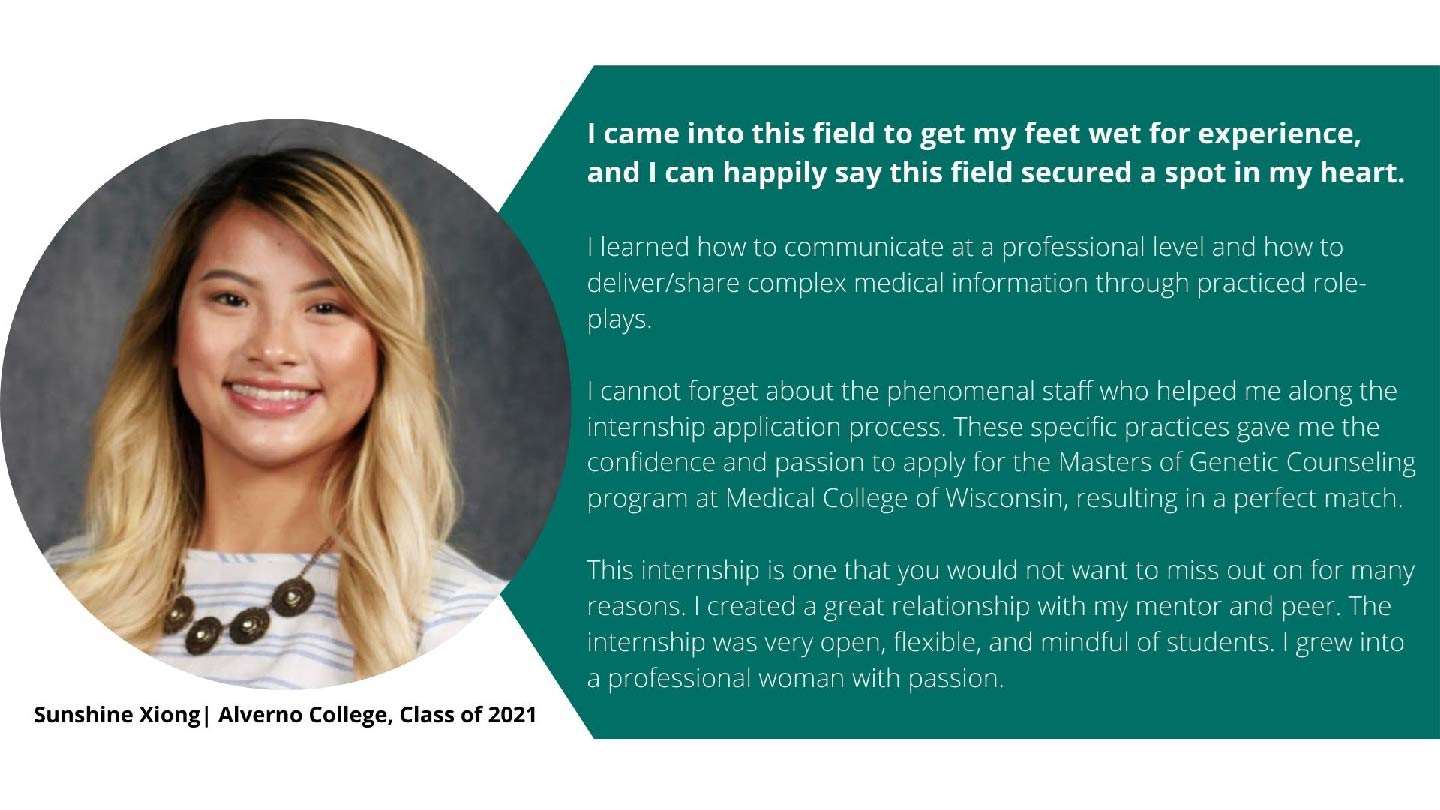 Current Students
Current Students
Learn more about the current students in the Genetic Counseling MS Program.
LEARN MORE
Faculty & Staff
Faculty & Staff
Visit the Genetic Counseling MS Program Faculty page to learn more about our faculty and staff members.
LEARN MORE
Program and Student Data
Program and Student Data
Not available until 2024.
Cumulative board examination pass rates.
Attrition rate for the past three years.
Job placement rate in a genetic counseling or related position for the past three years.
Accreditation Status
The Medical College of Wisconsin's Master of Science in Genetic Counseling (MSGC) program has achieved Accredited, New Program status approval by the Accreditation Council for Genetic Counseling (ACGC). A program achieving Accredited New Program accreditation may admit students, who, upon successfully completing their degree, will be deemed to have graduated from an ACGC-accredited program.
Accreditation Council for Genetic Counseling (ACGC)
7918 Jones Branch Dr., Suite 300
McLean, VA 22102 USA
(703) 506-7667
Meet our Program Director
Jennifer Geurts, MS, CGC
Assistant Professor, Institute for Health and Equity
Director, Master of Science in Genetic Counseling
msgc@mcw.edu
Other Ways to Donate
Donate by Mail

Make your check payable to the Medical College of Wisconsin. Download our giving form and mail to: Medical College of Wisconsin, Attn: Office of Institutional Advancement, P.O. Box 26509, Milwaukee, WI 53226-0509

Download Now

Questions?

If you have any questions about making a gift, contact the Office of Institutional Advancement at (414) 955-4700 or donations@mcw.edu.

Frequently Asked Questions
Contact Us
MCW Graduate School
Health Research Center, H2200
8701 Watertown Plank Rd.
Milwaukee, WI 53226