Pediatric Anesthesia Fellowship
Our ACGME-accredited fellowship program accepts up to eight fellows annually. The program is structured to meet the requirements for subspecialty certification in pediatric anesthesiology. The core of the training program involves the care of pediatric patients in the operating rooms, other anesthetizing locations and intensive care units, and includes out-of-OR anesthetics, pre-anesthesia evaluation, post-anesthesia care, pain management and advanced life support for neonates, infants and children.
Learn about our integrated Pediatric and Pain fellowship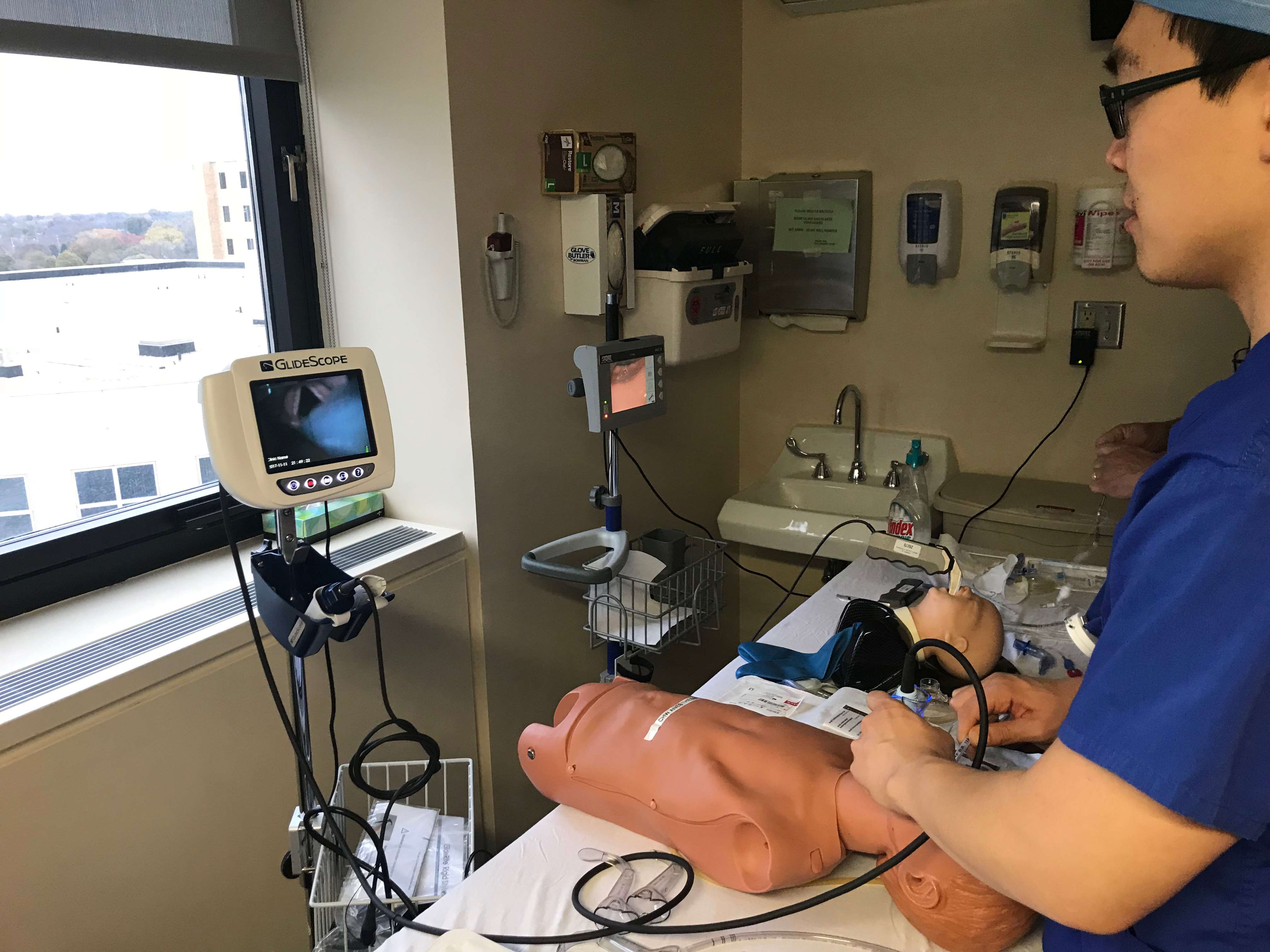 Children's Wisconsin and Other Facilities 
The 298-bed, freestanding
Children's Wisconsin
is affiliated with the training programs of the Medical College of Wisconsin. It is the largest pediatric hospital in the state of Wisconsin.
Children's Wisconsin has been ranked as a top tier pediatric center
by such entities as Parents magazine through its Best Children's Hospitals survey, US News and World Report's annual top choice hospitals rankings, and is annually the recipient of myriad other recognitions.
Children's Wisconsin serves a geographic area comprising parts of four other states. Children's Wisconsin and an affiliated surgicenter provide a full range of comprehensive inpatient and outpatient services. The Children's Wisconsin facilities include a day surgery area, preoperative clinic, two PACU areas with 16 beds, a hybrid cath lab, and 17 operative suites on two floors. Anesthesia services are routinely provided in several additional locations including interventional radiology, CT, MRI, ERCP, and radiation therapy. The
Jane B Pettit Pain and Palliative Care Center
, located in the Clinics Building on the Children's Wisconsin campus, accommodates over 1500 outpatient visits annually, as well as supporting the Acute Pain Service faculty.
The nearby
Surgicenter of Greater Milwaukee
includes a 6-room operative suite with associated day surgery and PACU areas.
In all, over 25,000 anesthetics and sedations are performed annually by the Division of Pediatric Anesthesiology, ranking our program among the nation's largest and busiest academic pediatric centers.
We currently have over 35 faculty members. Many have dual certifications in Anesthesiology and Pediatrics, or advanced certification in Critical Care or Pain Medicine.
Clinical Education and Rotations
Fellows have weekday clinical responsibilities as well as an on-call schedule. Most call is taken from home for index level cases, with about one overnight, midweek call per month. Weekend, morning call is designed to provide trainees with off-hours supervisory experience. The year is divided into 13 blocks, each lasting roughly 4 weeks.
Main OR (8 blocks)
Fellows are exposed to the full array of pediatric cases, including out-of-OR experiences. Fellows have priority for index and interesting or challenging cases. Throughout this time, fellows are scheduled for two weeks of perioperative medicine* that provide an opportunity to supervise, run the board, participate in remote anesthesia, staff the PACU and preop areas, or to focus on special techniques such as elective practice of advanced airway techniques. In addition, some vacation time * is typically taken from this block.
Cardiac Anesthesia (2 blocks)
Fellows rotate in two cardiac OR's, the cath lab, bedside PICU procedures, cardiac MRI, and occasionally into general OR's for CV patients having non-CV surgery. Fellows can expect to complete about 15 cardiopulmonary bypass cases each month.
Pain Service (1 block)
Fellows develop independent skills managing a comprehensive, acute, inpatient pain service. In addition, focused experience with regional blocks can be arranged. The outpatient clinic provides an introduction to chronic pain management, as well as exposure to adjuvant therapies including acupuncture, meditation, and relaxation techniques.
Cardio Vascular Intensive Care Unit (1 block)
Fellows rotate four weeks on the 3rd floor cardiac ICU, and function as integral team members in a role equivalent to the junior pediatric fellow. There is direct patient care and on-call responsibility. PICU faculty provide a didactic curriculum and daily bedside teaching.
Electives
Typically booked as one 2-week elective slot. The fellow may choose additional time in CV, pain service, or in neonatology critical care. Additionally, some fellows arrange for 'away rotations' or an international medicine experience with one of our many participating faculty. Research and other elective options are available with approval from the Program Director.
Didactics
Fellows Conference
Held every Monday from 7:00-8:15 am. Core topics, chapter reviews, PBLD's and case discussions, and oral boards preparation are included within this fellow level conference. Presented by departmental faculty, visiting speakers, and the fellows (chapter reviews).
QA Conference
Held at 6:30 am each Friday; faculty moderate on topics and cases from our practice; each fellow moderates at least once during the year.
Evening Seminar Series
Workshops, professor's rounds, journal clubs and some guest speaker seminars are held in the evenings at 5 p.m. about 13 times throughout the year; a light meal is provided. The emphasis is on discussion and professional development.
Anesthesiology Visiting Professor Series
5:00 p.m. and 6:30 a.m., Thursday and Friday, respectively; 4-5 per year. A robust series of invited speakers of national repute. Topics are timely, often controversial.
Cardiac Multidisciplinary Conferences
Held several times per month; these include a weekly cath conference, as well CV QI, journal club and reviews of core cardiac lesions.
Simulation
Eight simulator sessions are held from 3-6 p.m. throughout the year; the first session completes PALS training. Simulation training occurs at our Simulation Center, or with the mobile SimBaby™.
Board Preparation Series
A ten-session board preparation series takes place from late winter to early spring to assist fellows preparing to take their applied exams in the upcoming year.
Additional Opportunities
Daily there is a robust series of lecture topics. Fellows participate when they are able and PICU, pain service, and the elective month offer opportunities to attend pediatric grand rounds, noon case conferences, etc.
Research and Additional Training Opportunities
An optional 6 to 12 months training provides the interested candidate with additional clinical expertise in cardiac anesthesiology, pain management, or critical care. This training can be pursued within a 2nd ACGME fellowship, or informally in addition to a part-time clinical appointment.
Alternatively a candidate may pursue training in basic science or clinical research. Basic science research in anesthesiology and related areas of physiology and pharmacology is conducted at several sites and is under the direction of Cynthia A. Lien, MD.
Other 2nd year fellowship opportunities: The Program offers qualified fellows the option of complete, additional, non-ACGME training as a faculty-instructor, with dedicated protected time for focused career development. Opportunities exist to specialize in pediatric cardiac anesthesiology and quality/safety management. These opportunities are available to qualified fellows who apply either at the time of initial interview, or during their Children's fellowship year. Exceptional outside candidates will be considered as availability permits. For further information, please contact Kristen Labovsky, MD, Fellowship Program Director, Pediatric Anesthesiology (
klabovsky@mcw.edu
).
Join us
Learn more about the process of joining our team.
Application and Selection Process
Please submit applications for the Medical College of Wisconsin Pediatric Anesthesiology Fellowship using the Electronic Residency Application System (ERAS). Applications should include a letter from your Program Director and CCC reviews of all competency areas.

We strongly encourage applicants to submit additional pertinent information (ITE, AKT scores, accomplishments or awards that occur after ERAS application completion) directly to Rachel Smith at rasmith@mcw.edu.

The Pediatric Anesthesiology Fellowship of the Medical College of Wisconsin participates in the NRMP Anesthesiology Fellowship Match, and interested applicants should plan to register accordingly. Please note the following:
Please submit applications via ERAS. Residents applying after ERAS closure should contact Rachel Neary directly at rneary@mcw.edu to obtain an electronic copy of the common fellowships application.
Applications will start to be reviewed in mid February. At that time, we will contact all applicants to confirm whether we would like to schedule an interview.
Applications received after this time will be reviewed periodically throughout the application and interview season. We do reserve interview slots for later applicants.
Applicants are free to interview with any other programs of interest until rank lists are due, and will not be asked for an early decision. Please do not accept an interview date with us at Medical College of Wisconsin/Children's Wisconsin unless you intend to register for the NRMP match.
If you have interviewed with us and accept a position elsewhere outside the Match, please withdraw from the match and notify us of your decision.
Eligibility Requirements
The fellowship program has an official start date of August 1. However, a start date of July 1 or an off-cycle start date will be considered on a case-by-case basis.

Highly competitive international graduates who have completed the USMLE examination process will be considered.

Candidates for fellowship positions must be enrolled in the certification process or be certified by the American Board of Anesthesiology or the equivalent before fellowship training begins.

In addition, candidates will need:
Proof they have passed the USMLE step 3 examination
Interview Dates and Instructions
All interviews for the 2024-2025 academic year's fellows will be conducted virtually.
We will invite you to interview by email (directly and via ERAS).
We anticipate that our virtual interview days will run from 8am to noon CST. You can expect to meet several faculty members, including our Program Director, as well as our current fellows.
Benefits Conditions and Terms of Employment
Time off
We provide 15 days of vacation and 5 days of sick time or personal leave (the maximum permitted by the ABA).
Funds and Equipment
Pediatric Anesthesiology Fellows receive up to $1000 of departmental monies to support professional expenses during the one-year fellowship program. Presenting funds of up to an additional $1500 are also available.
The department provides a textbook, fleece, and custom precordial stethoscope.
Time allotment
Five meeting days are allotted for education; meetings must be approved by the Program Director. Non-clinical time varies by service and individually demonstrated need; one day is allotted for each OR month. Fellows in good academic standing are permitted one month of elective time to customize training.
Contact us
For more information please get in touch!
Kristen Labovsky, MD
Program Director
Rachel Smith
Education Program Coordinator
Pediatric Anesthesiology
Department of Anesthesiology
Medical College of Wisconsin
9200 W. Wisconsin Ave.
P.O. Box 26099
Milwaukee, WI 53226
Attn: Rachel Smith