Research
The MCW Department of Anesthesiology has been a leader in anesthesia-related research for 50 years.
Learn More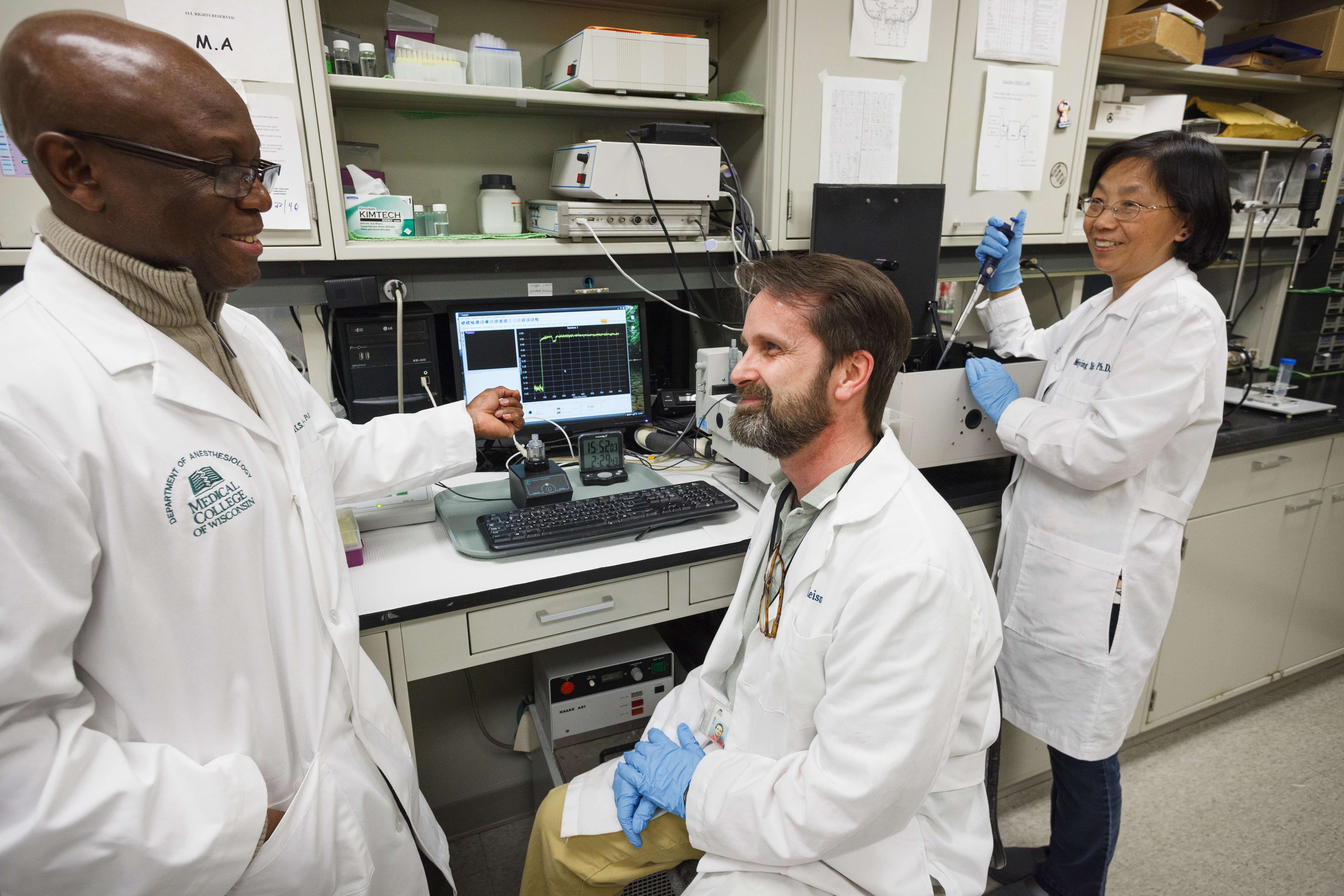 The MCW Department of Anesthesiology has been a leader in anesthesia-related research for 50 years. Early studies from our department laid the foundations of how anesthetics affected circulatory function, including effects on myocardial performance, regulation of the peripheral vasculature, autonomic control, and dysrhythmia mechanisms. Similarly, fundamental studies in our labs defined anesthetic effects on the control of ventilation and airway response to anesthetics. Our areas of investigation have extended to include age-related effects and potential toxicity of anesthetics. Importantly, our scientists have also identified protective effects of anesthetics on cardiac tissue threatened by ischemia. We continue to expand our range of research that now reaches into diverse areas of anesthesia practice, as detailed below. We employ a broad span of research strategies such as exploration of molecular processes of membrane channels and mitochondrial function, cellular events at the level of neurons and cardiac myocytes, genetic regulation of behavior in animal models, functional brain imaging, and biobehavioral analysis. Our departmental research group is composed of 15 principal investigator faculty and 29 research staff. We've achieved vigorous growth, with 4 new grants in the past year totaling $6,100,000 of new research funding, which now comprises 13 grants totaling $21,000,000 of committed funds from federal, state, and commercial sources.
Education by mentorship and creating opportunities is a key element of our research mission. We have NIH funding (T32) to support developing clinician scientists and postdoctoral research scientists as they prepare to become independently funded investigators and contribute research of relevance to anesthesiology and perioperative medicine. Also, we support resident research in the setting of a program of planned protected research time during residency, as specified by the American Board of Anesthesiology. We are committed to providing medical students meaningful research rotations, as well as summer research opportunities. Finally, we provide opportunities for high school and undergraduates students, including those from underrepresented backgrounds, to participate in our research programs.
Our diverse range of research includes the following focus areas:
Cardiac and Circulatory Function
Drs. Wai-Meng Kwok, Amadou Camara and David Stowe direct projects investigating mitochondrial function. These subcellular organelles are involved in numerous diseases and also play a key role in programmed cell death and necrosis. The projects address key questions on regulatory mechanisms underlying mitochondrial calcium dynamics, the impact of disease-triggered modifications of the mitochondrial voltage-dependent anion channel, VDAC1, in regulating mitochondrial function, and the functional role of the recently discovered mitochondrial calcium-activated potassium (SKCa) channel. Dr. Julie Freed investigates circulatory function at the microcirculatory level using a human model. Her research explores how sphingolipids promote and prevent endothelial dysfunction as well as mechanisms and treatments of vasoplegia. Dr. Dorothee Weihrauch studies coronary collateral growth and impaired angiogenesis in diabetes, and the regulatory role of components of the interstitial matrix, for instance in the setting of wound healing. Dr. Caron Dean examines aspects of integrated systems physiology, such as the neurobiology of stress conditions. Her recent research focus is on central neuronal circuitry at the interface of sympatho-sensory responses. In the brain, Dr. Christopher Pawela is exploring neurovascular coupling, brain connectivity, neural plasticity and cerebrovascular structure/function, including the question of how chronic hypertension affects neuro-vascular interactions in the brain. His work is directed at establishing if functional magnetic resonance imaging (fMRI) can be used as a biomarker for low-renin hypertension in the brain, which could lead to early identification of neurovascular impairment.
Neurophysiology and Novel Pain Therapies
Drs. Quinn Hogan and Bin Pan are examining a previously unrecognized process that regulates the passage of sensory impulses along the peripheral nerves that has been revealed by the paradoxical ability to relieve pain by electrically stimulating the dorsal root ganglion in the peripheral nervous system. With Dr. Hogan, Dr. Hongwei Yu is devising genetic approaches to stop pain hypersensitivity in the peripheral nervous system using virus to deliver genes that interfere with neuronal excitability. Drs. Hogan and Dean are collaborating on exploring the underlying brain pharmacology that underlies the conversion of acute pain into chronic pain, and the participation of the endocannabinoid system. Drs. Pawela and Hogan together are pursuing enhanced rehabilitation following peripheral nerve injury by applying electrical neural input to repaired rat nerves to maintain functional brain connectivity during healing. Dr. Keri Hainsworth focusses on behavioral approaches to understanding the factors that affect the individual response to pain, including the interrelationships between pain and obesity in children and adolescents.
Respiratory Control
Dr. Astrid Stucke studies regulation of breathing, particularly the depression of opioids and the influence of young age. She studies these processes in a variety of animal models. Together with Dr. Edward Zuperku, they examine the brainstem mechanisms and signaling pathways controlling breathing, including during anesthesia. In his ongoing work spanning over 30 years, Dr. Zuperku's investigations have identified the brainstem center that controls breathing frequency, the neuronal processes underlying respiratory rhythm and pattern generation, and the roles of arterial and central chemoreceptors.
Traumatic Brain Injury
Our research team has initiated a substantial project designed to identify the molecular and cellular defects that underlie the lasting consequences of mild traumatic brain injury (mTBI). This integrated program will explore the fundamental mechanisms of TBI, using an advanced rotational acceleration rat model and convergent strategies, including disruption of mitochondrial function at the molecular level (Drs. Camara and Kwok), electrophysiological consequences of this disruption at the synaptic level (Dr. Pan), and systems-level effects on specific brain regions and their interactions (Dr. Pawela), as well as the disruption of cardiovascular regulation by the autonomic nervous system (Dr. Dean).
Our Research Faculty
Click on a researcher's name to see more information about their research