Medical College of Wisconsin Anesthesiology Research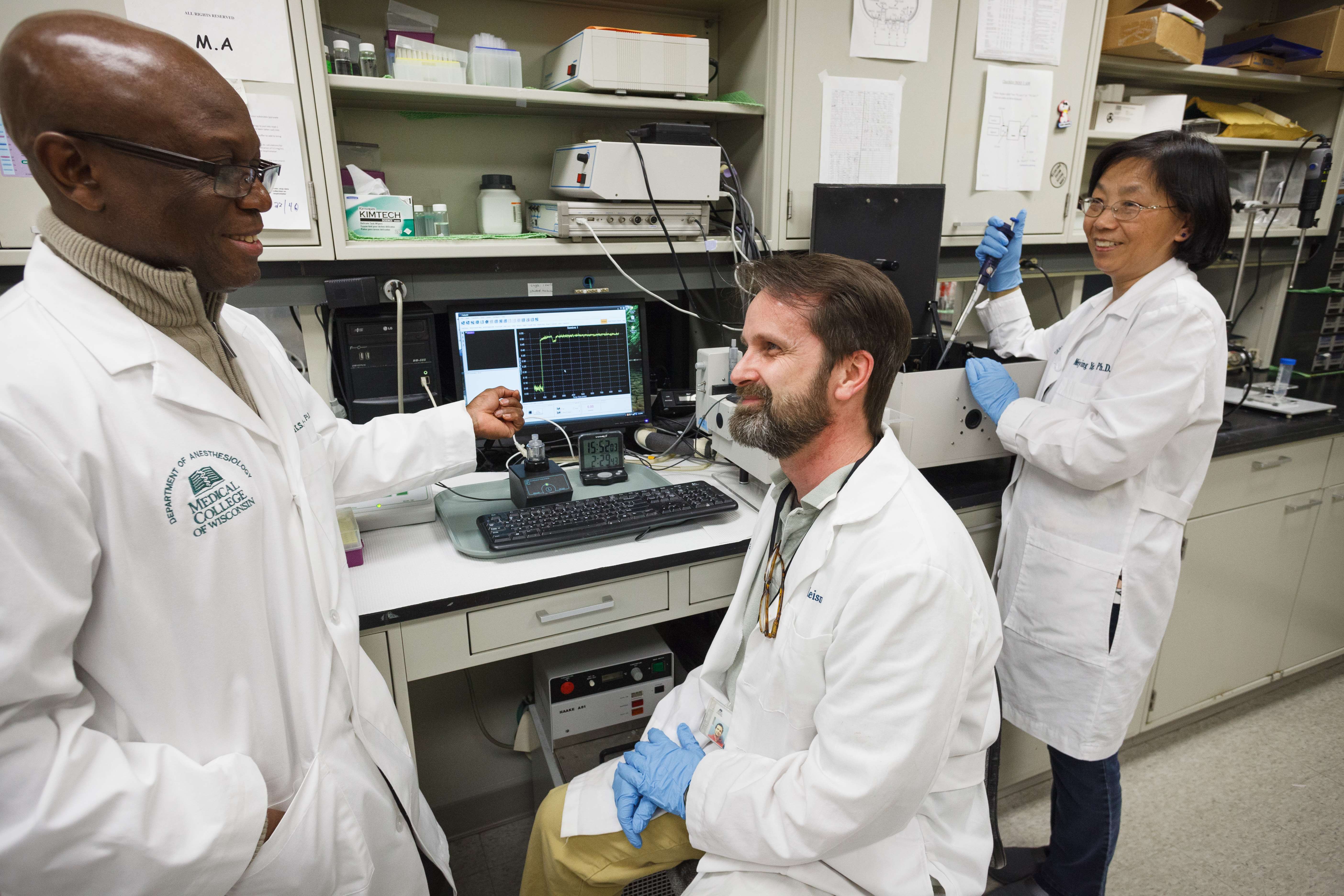 About Our Research
Our long-standing and diverse research program examines numerous aspects of anesthesia care, using both clinical and preclinical research approaches. Our research teams not only generate critical new knowledge to make our clinical activities more effective and safer, but also provide an educational environment for learners at all levels from students to residents and postdoctoral fellows. The material below describes five areas of currently funded research activities.
Respiratory function during anesthesia and analgesia
Our past work has defined the effect of various anesthetics and analgesics on ventilatory drive and gas exchange, providing fundamental observations that are key to providing safe anesthesia. Work currently underway by pediatric anesthesiologists Astrid Stucke, MD, and Eckehard Stuth, MD, together with Ed Zuperku, PhD, is expanding this knowledge by identifying the ventilatory suppression effects of opioids, which poses a particular risk in young infants. Using animal models to better understand the mechanism of action underlying this phenomenon will allow improved definition of the age group at risk for opioid-induced respiratory depression and will aid the development of specific therapeutic strategies to counteract this serious side effect of opioid analgesics.
Representative publication: Miller JR, Zuperku EJ, Stuth EAE, Banerjee A, Hopp FA, Stucke AG. "A Subregion of the Parabrachial Nucleus Partially Mediates Respiratory Rate Depression from Intravenous Remifentanil in Young and Adult Rabbits." Anesthesiology 2017,127:502-14.
Pediatric pain care
Our Department provides advanced pain care for children and adolescents at the Jane B. Pettit Pain & Headache Center in Children's Wisconsin. Clinical research is an important component of the center's mission. Research psychologist Keri Hainsworth, PhD, together with clinic director Steven Weisman, MD, and other staff, examine behavioral health issues including the influence of co-exiting diseases such as obesity on the experience of pain, and the optimization of pain treatments in this understudied population.
Representative publication: Czarnecki ML, Hainsworth KR, Simpson PM, Weisman SJ. "Parent/Nurse-Controlled Analgesia Compared with Intravenous PRN Opioids for Postsurgical Pain Management in Children with Developmental Delay: A Randomized Controlled Trial." Pain Med 2018, 19:742-752.
Neurobiology
Disruption of neurological function is a focus of interest in anesthetic topics ranging from acutely disordered autonomic function during anesthesia to chronic mechanisms maintaining prolonged painful conditions. Ongoing programs include the following. Hongwei Yu, MD, Bin Pan, PhD, and Quinn Hogan, MD, are developing novel modes of therapy for treating chronic pain, including stimulation of the dorsal root ganglion and manipulation of sensory neuron molecular function by genetic therapy with adeno-associated virus treatment. Chris Pawela, PhD, uses functional magnetic resonance imaging to monitor blood flow changes in the brain to identify changes in connectivity during hypertension and after nerve injury. A new program in traumatic brain injury directed by Amadou KS Camara, PhD, is examining changes in brain metabolism as a target for new preventive and curative treatments. William Gross, MD, PhD, studies the mechanisms of language and consciousness using brain imaging (fMRI) and recording electrophysiologic signals from the brain surface (electrocorticography).
Representative publication: Gross WL, Lauer KK, Liu X, Roberts CJ, Liu S, Gollapudy S, Binder JR, Li SJ, Hudetz AG. Propofol Sedation Alters Perceptual and Cognitive Functions in Healthy Volunteers as Revealed by Functional Magnetic Resonance Imaging. Anesthesiology. 2019 Aug;131(2):254-265. doi: 10.1097/ALN.0000000000002669. PubMed PMID: 31314747; PubMed Central PMCID: PMC6640651.
Cardiovascular Research
Historically, our Department has made significant advancements in the area of cardiovascular function and disease. Currently, Dorothee Weihrauch, DVM, PhD, studies coronary collateral growth and impaired angiogenesis in diabetes, and the regulatory role of components of the interstitial matrix, for instance in the setting of wound healing. Caron Dean, PhD, examines aspects of integrated systems physiology, such as the neurobiology of stress conditions. Her recent research focus is on central neuronal circuitry at the interface of sympatho-sensory responses. Julie Freed, MD, PhD, investigates circulatory function at the microcirculatory level using a human model. Her research explores how sphingolipids promote and prevent endothelial dysfunction as well as mechanisms and treatments of vasoplegia. She also serves as the Director of Clinical Research and is active in clinical trials that aim to improve vascular function during the perioperative period. For more information on Dr. Freed's Lab and its research visit its promotional website.
The Department of Anesthesiology works closely with the Cardiovascular Center at MCW which is currently led by American Heart Association President, Ivor Benjamin MD.
Representative publication: Freed JK, Durand MJ, Hoffmann BR, Densmore JC, Greene AS, Gutterman DD. Mitochondria-regulated formation of endothelium-derived extracellular vesicles shifts the mediator of flow-induced vasodilation. Am J Physiol Heart Circ Physiol. 2017;312(5):H1096-H104.
Mitochondrial Research
Dysfunction/dysregulation of mitochondria underlies a multitude of maladies, including neurodegenerative, cardiovascular and neoplastic diseases. Though our main model for investigating mitochondrial dysfunction is cardiac ischemia-reperfusion injury, we have ongoing collaborative projects that span from the mitochondria's role in preserving liver during transplant surgery to their contribution in traumatic brain injury. Current studies include the following projects. David Stowe, MD, PhD, investigates nitrosative/oxidative stress induced changes in bioenergetics at the isolated mitochondria to the whole organ levels. His work has culminated in the discovery of the small conductance calcium-activated potassium (sKCa) channel in cardiac mitochondria. Amadou KS Camara, PhD, studies mitochondrial calcium regulation, with emphasis on the molecular components responsible for calcium efflux/influx (mitochondrial uniporter, sodium-calcium exchanger, voltage-dependent anion channel) and on the mitochondrial buffering capacity. Wai-Meng Kwok, PhD, investigates the impact of post-translational modifications on mitochondrial transport proteins, with particular focus on the voltage-dependent anion channel. The goal of our synergistic approach is to delineate the triggers and consequences of mitochondrial dysfunction that underlie diseases.
Representative publication: Yang M, Xu Y,Heisner JS, Sun J, Stowe DF, Kwok WM, Camara AKS. Peroxynitrite nitrates adenine nucleotide translocase and voltage-dependent anion channel 1 and alters their interactions and association with hexokinase II in mitochondria. Mitochondrion. 2018 Nov 1. doi: 10.1016/j.mito.2018.10.002. [Epub ahead of print]
Our Research Faculty
Click on a researcher's name to see more information about their research