MCW's Study Payments Features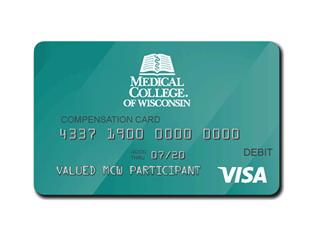 MCW's Study Payments System is a better way to efficiently manage stipends and travel reimbursements across clinical trials with our automated payment systems, now integrated with OnCore.

Featuring
A safer, more secure method of payment for clinical research participants.
An easy-to-use reloadable debit card that can be dispensed to a participant at the time of their study visit.
Funds are immediately available once a payment is loaded.
MCW Compensation Cards can be used at ATM's and anywhere Visa cards are accepted.
Ensures consistency and streamlines the travel reimbursement process.
Maximums for hotel, parking and mileage can be set ahead of time.
Ability to upload receipts and send reimbursement requests for department review.