Join Our Team
Interested in joining our team? The MCW Pharmacy School is in the process of taking applications for the following positions.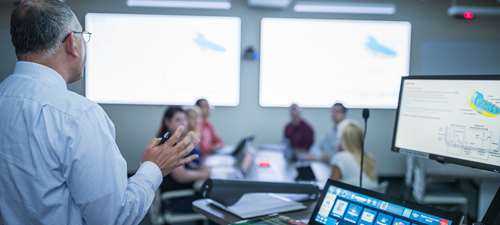 Assistant/Associate Professor in Ambulatory Care
Position Description:
The School of Pharmacy at the Medical College of Wisconsin (MCW) in Milwaukee, the largest metropolitan region in Wisconsin, invites applications and nominations for the position of Assistant/Associate Professor in the Clinical Sciences Department. Through collaborations with Froedtert & MCW, Children's of Wisconsin, and the Clement J. Zablocki VA Medical Center, this full-time, 12-month clinical faculty position is available in ambulatory care. Candidates with experience in geriatrics, cardiovascular, endocrine, adult internal medicine, pharmacogenomics, health disparities or women's health are encouraged to apply.
Opportunity
Our innovative program provides student pharmacists with early and extensive exposure to a variety of clinical settings and world-class research and care in specialties such as cancer, cardiovascular and neurology with opportunities to advance in community-engaged care and pharmacogenomics. Faculty positions provide a unique and exciting opportunity to create innovative team-based services, lead in-part by pharmacist practitioners on a vibrant health science campus. MCW School of Pharmacy provides learners with the knowledge, skills and abilities to practice at the top of their pharmacist license, as emulated by pharmacy faculty.
Core responsibilities of this position include:
Develop, implement, and maintain a high-quality collaborative pharmacy practice site to provide clinical services and experiential education, in partnership with affiliated clinical site.
Collaboratively develop and deliver didactic education via innovative teaching methods with an emphasis on interprofessional/interdisciplinary education includes lectures, active learning, asynchronous content delivery, laboratory experiences, group activities, and other instructional modalities.
Participate in the scholarship of discovery, application, integration, and teaching, in areas appropriate to the faculty member's area of interest, which advances the mission of the School, MCW and clinical partner in a collaborative approach to team-science.
Contribute to service in the School of Pharmacy, MCW, and the profession via continuing professional development of pharmacists and preceptors.
Mentor students throughout the curriculum, and, where appropriate, mentor pharmacy residents and fellows.
Contact Us
For more information, please contact us.
MCW Pharmacy School
8701 Watertown Plank Rd.
Milwaukee, WI 53226