Student Life in the MCW School of Pharmacy
MCW's Pharmacy School is located at MCW's Milwaukee campus, a prominent medical education institution that is closely linked with some of the best hospitals and clinics in the region and the nation. As an MCW pharmacy student, you will be part of a vibrant and diverse community that is passionate about improving healthcare and how it contributes to the lives of patients and their families.
Learn About One Student's Groundbreaking Time in MCW's PharmD Program
"My best experiences as a pharmacy student were the mentorship opportunities. Right off of the bat, I was paired with David Ombengi, PharmD, MBA, MPH, Associate Professor in the Department of Clinical Sciences, who has been a great mentor. And how many other pharmacy students get to be mentored by the Chief Pharmacy Officer at Froedtert Health, Philip Brummond, PharmD, MS, FASHP? I also was able to be a part of Advocate Aurora's mentorship program with Advocate Aurora's VP of Operations. It's been pretty amazing to be mentored by all of these leaders who are really great and care about the students' professional growth," Tran says.
Student Experience
As a student at the MCW Pharmacy School, you are training to become an integral member of the healthcare continuum, focused on increasing access to patient care while contributing to better outcomes. You will be learning from and alongside renowned faculty, including clinicians at some of the top hospitals in the country, such as Froedtert Hospital, Children's Wisconsin and the Clement J. Zablocki VA Medical Center. Our small class sizes and inter-professional team learning environment is designed to provide you with a truly personal and meaningful educational experience, allowing you to contribute to the Triple Aim: better care, better health and lower cost – which translates to higher quality care overall and better outcomes for your patients and the communities you will serve.
Student Involvement
Student Involvement
The Pharmacy Student Alliance (PSA) – MCW's student government and programming board for pharmacy students – serves as the umbrella organization for student chapters of national organizations. The following recognized student organizations serve as the cornerstone for student professional development and engagement.
American College of Clinical Pharmacy (ACCP): A professional and scientific society that provides leadership, education, advocacy, and resources enabling clinical pharmacists to achieve excellence in practice, research, and education. In addition to its annual meeting, AACP hosts annual clinical research and clinical pharmacy challenges for students.


American Pharmacists Association – Academy of Student Pharmacists (APhA-ASP): The largest association of pharmacists in the United States and the only organization advancing the entire pharmacy profession. APhA helps pharmacists, pharmaceutical scientists, student pharmacists, and pharmacy technicians. In addition to its annual meeting and regional meetings, APhA-ASP hosts an annual patient counseling competition for students.


American Society of Health-System Pharmacists – Student Society of Health System Pharmacists (ASHP-SSHP): Represents pharmacists by advocating and supporting the professional practice of pharmacists in hospitals, health systems, ambulatory care clinics, and other settings spanning the full spectrum of medication use. ASHP hosts the annual Midyear Clinical Meeting and Exhibition, which includes the Residency Showcase. Additionally, ASHP hosts an annual clinical skills competition for students.


Pharmacy Society of Wisconsin (PSW): Wisconsin's single advocating organization for all pharmacists, pharmacy technicians, and student pharmacists. In addition to its annual meeting, PSW hosts an annual educational conference and the annual Legislative Day at the state capitol.
Student pharmacists have the opportunity to engage in chapter meetings and activities and attend national conferences.
In addition to the recognized student organizations listed above, students form interest groups to explore additional areas of interest.
Legislative Action in Wisconsin (LAW) Committee
Student Writing Club
Student Women's Advocacy Group (SWAG)
Student Activities
Student Activities
MCW's Student Engagement Task (SET) Force provides numerous social and networking activities for students across academic programs and campuses. Activities include the following:
Variety Fest
Trivia events
Exercise classes
Athletic events
Pumpkin carving
Paint nights
Urban Ecology Center activities
Student Leadership
Student Leadership
The Pharmacy Student Alliance (PSA) serves as the student government and programming body for the Medical College of Wisconsin (MCW) pharmacy students. Every student pharmacist in good standing is a member of the PSA, which serves as the umbrella organization for MCW's student chapters of the American College of Clinical Pharmacy (ACCP), the American Pharmacists Association (APhA), the American Society of Health-System Pharmacists (ASHP), and the Pharmacy Society of Wisconsin (PSW).
First-year student pharmacists are encouraged to focus on their studies during their first semester of enrollment (Sessions 1 and 2). Then, in winter (Session 3), the PSA holds elections for the following officer positions, which comprise the PSA Executive Board:
President

Vice President

Treasurer

Secretary

Community Engagement Director
Those students elected serve in the leadership role during their second year of enrollment in the MCW Pharmacy School.
Following officer elections, the student chapters listed above each host elections for their chapter officers. Additionally, pharmacy student representatives are elected to each of the following School of Pharmacy faculty committees:
Accreditation Self-Study

Assessment

Awards & Citations

Co-Curriculum

Curriculum

Interprofessional Education
The PSA also elects pharmacy student representatives to the following MCW entities:
Alumni Committee

Diversity Committee

Facilities Committee

Graduate Student Assembly

Medical Student Assembly

Professionalism Committee

Programming Committee

Research Committee

Student Women's Advocacy Group

Wellness Committee
The PSA also recognizes several interest groups, such as the Student Writing Club, and numerous other opportunities for volunteerism and service.
Signature Events
Signature Events
Numerous signature student events serve as milestones along students' journey to degree completion. The following events are organized by the Office of Academic and Student Affairs:
Orientation: New student pharmacists are welcomed to MCW prior to the first day of classes. Students are oriented to MCW's faculty, policies, and systems and get to know their classmates. Ongoing orientation occurs as needed throughout Session 1.
White Coat Ceremony: The presentation of the white coat typically happens prior to the start of students' first Introductory Pharmacy Practice Experience (IPPE) and represents passage into the pharmacy profession, with all the associated rights, opportunities, and responsibilities. During the ceremony, students recite the Oath of a Pharmacist, committing their professional careers and practices to excellence in pharmacy.
Pinning Ceremony: The Pinning Ceremony occurs at the end of Session 8 to celebrate the conclusion of didactic coursework and student's readiness to begin Advanced Pharmacy Practice Experiences (APPEs).
Hooding Ceremony: The Hooding Ceremony, where graduates formally receive the academic hood representing their profession, is held each year, typically the day before the Commencement Ceremony. All candidates recite the Oath of the Pharmacist.
Graduation Dinner: The School of Pharmacy celebrates its graduates at the annual Graduation Dinner. At the dinner, honors and awards are announced and bestowed upon graduates.
Commencement Ceremony: This institutional ceremony celebrates all students who have completed their degree requirements. Graduating students are expected to attend commencement. If distance or other obligations prevent attendance, the dean should be notified in writing at the earliest opportunity.
Student Services
Student Services
The MCW School of Pharmacy provides numerous services to students, including the following:
Peer Mentoring: Each incoming student is assigned a mentor from the class one year ahead of them. Peer mentors provide unique insight into the student experience and serve as a helpful guide to navigating the first year of the PharmD program.
Faculty Mentoring: Each incoming student is also assigned a mentor from the School of Pharmacy faculty. Faculty mentors touch base with mentees quarterly regarding their overall experience at MCW. They also guide students' completion of the Personal and Professional Development course and provide overall educational and career guidance.
Recorded class lectures and presentations: Nearly every classroom session is recorded so that students have the ability to re-watch lectures as needed – and at two times the speed!
Academic intervention: We employ an early intervention system to help faculty course directors connect with students who may not be performing at the level of their peers.
Academic accommodations: We certainly provide testing and other academic accommodations for students with documented disabilities or other learning needs.
As an institution of higher learning, MCW provides the following student services:
Academic consultation
Peer tutoring
Mental health and wellbeing
Career services
Food center
Student inclusion
MCW has also made the most of its facilities to provide a great experience for students, including:
Individual student lockers
Private study rooms (individual and group)
Student Lounge
Tonkens Athletic Center
MEB Cafeteria
Hub Café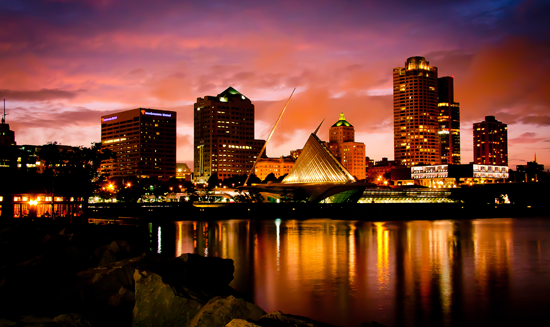 Living and Learning in Milwaukee
If your passion for pharmacy brings you to MCW, you will be surrounded by a warm and welcoming community that offers something for everyone, including old-world charm, diverse culture, historic neighborhoods, professional sports teams, a vibrant performing arts community and award-winning cuisine.