Prerequisites
If you are interested in becoming a MCW Pharmacy School student, you must complete the prerequisite courses listed below before you begin your coursework in our Doctor of Pharmacy (PharmD) program. (Includes Prerequisite Course Guides).
Prerequisite Course List
| | | |
| --- | --- | --- |
| Prerequisite | Required | Recommended |
| General Biology | 2 Courses (lab optional) | Foundations of Biology, Ecology, Zoology, Botany, Marine Biology, General Biology, Human Structure, Cell Biology, Microbiology, Animal Physiology |
| Advanced Biology | 2 Courses (lab optional) | Genetics, Neuroscience, Cellular Biology, Molecular Biology, Physiology, Pathophysiology, A&P 1 & 2, Bacteriology, Immunology, Biomedical Sciences, Molecular Genetics, Genomics |
| General Chemistry | 3 Courses (lab optional) | General Chemistry 1 & 2, Inorganic Chemistry, Analytical Chemistry, Biochemistry |
| Organic Chemistry | 2 Courses with at least 1 lab | |
| Statistics | 1 Course | Intro to Statistics, Biostatistics, Data Analysis, Accounting or Business Statistics |
| College Algebra | 1 Course | Must be a 100 level or higher Math course. We will accept Calculus, Trigonometry, Calculus with Geometry |
| English | 1 Course | Must be a 100 level or higher English, Literature, Reading or Writing course |
| Public Speaking | 1 Course | Must be a 100 level or higher Public Speaking, Speech, or Communication course |
| General Education | 4 Courses | Physics, Economics, Calculus, Ethics, Humanities, Social Sciences, Religion. No studio Art, Theater, or Physical Education |
All Prerequisites
Prerequisites must be completed at a regionally-accredited university, college or community college in the U.S. or Canada.

Online and hybrid taught classes may be accepted only from a regionally-accredited university, college, or community college in the U.S. or Canada.

Prerequisites must be a minimum of three semester credits or approximate quarter hours and be completed with a grade of C or better (pass or satisfactory on a competency based scale).

General Education courses may not include studio, performance or physical education.

A maximum of 12 credits of Advanced Placement (AP), International Baccalaureate (IB), Postsecondary Enrollment Options (PSEO) or College in the Schools (CIS) credit may be accepted if it appears on a college transcript.

English as a Second Language (ESL) and English Language Learners (ELL) classes cannot satisfy the English or Public Speaking course requirements.

Science courses must be completed within seven years of the desired year of entry.

A final official transcript will be required prior to the start of classes in the desired year of entry.
International Students
Application Guidelines for International Students
International (F1 visa, J1 visa, or international bachelor's degree) students follow the same application steps as all other applicants applying to the Doctor of Pharmacy program. The School of Pharmacy is familiar with the educational systems of most countries and will consider your application within the context of your educational environment.
Application and Eligibility Requirements
An international bachelor's degree equivalent to a U.S. bachelor's degree completed prior to entrance into the MCW PharmD program is required. Applicants are required to submit a course-by-course foreign transcript evaluation from World Education Service (WES) through the Pharmacy College Application Service (PharmCAS).
If you are an applicant who has completed course work or earned your degree outside of the U.S. or Canada, and you are not currently enrolled at a U.S. or Canadian institution, you must complete a minimum of two semesters (1 year) of academic study at a regionally accredited institution in the U.S.
All pre-pharmacy courses must be completed by the end of the spring term of your entering year. It is recommended that all prerequisites are completed at a four-year college/university in the U.S.
International applicants must submit TOEFL scores directly to MCW when applying to PharmCAS. For more information on MCW's English-language proficiency requirements, view the MCW All Student Handbook (PDF).
How to Apply Checklist
Like many other leading schools of pharmacy, the MCW School of Pharmacy uses the PharmCAS, which allows prospective students to complete one application that may be submitted to multiple schools. There is no separate MCW Supplemental Application. MCW questions and pre-reqs will be incorporated in the PharmCAS application.
On the PharmCAS application, please write your name as it appears on your passport. If the name on your academic record is different from that on your passport, enter the name from your academic record in the "Alternate Name" section. All international applicants must provide a permanent, physical mailing address (that is not a post office box).
Academic Records
International applicants must provide official copies of academic records (translated into English, if received in a foreign language) from all colleges (after high school) and universities attended.
Applicants should:
Have all academics records sent directly from the schools (whenever possible) to PharmCAS.
Submit all academic records accompanied by an official WES evaluation directly to PharmCAS.
Submit TOEFL scores directly to MCW when applying to PharmCAS.
Submit any additional documents as requested by PharmCAS and/or the MCW School of Pharmacy.
Please note: applicants with study-abroad programs may submit transcripts from the institution where international coursework was completed if those courses are listed with letter grades.
Documentation of Financial Support
The U.S. government requires all international students to provide proof of the ability to pay tuition and living expenses for the first academic year of study as determined by the MCW Financial Aid Office. For example, you may not subtract living costs if you intend to live with a relative in Milwaukee. Along with your application for admission, you must submit the documentation of available funds (such as savings deposits, checking accounts, investment portfolios, or a signed bank letter verifying the ability to pay educational expenses) to MCW. Documentation may also include proof of any scholarships or fellowships you have received or expect to receive.
Guidelines for Acceptable Financial Documents
All submitted financial support documents must include:
Name of the account holder.
Date of issue (which must be within one year of your intended program start date).
Name of the bank or financial institution on official letterhead.
Amount available for withdrawal (conversion to USD is not necessary).
Professional, certified translations if financial documents are not in English.
Estimated Cost of Attendance
The estimated cost of attendance is based on the average expenses for a full-time graduate student (taking 9 units per semester). Estimated costs for the academic year will be available mid-March with the released PharmCAS application for the coming academic year.
Financial Aid & Merit Scholarships
Although you will not qualify for need-based financial aid or U.S. federal loan programs if you are not a U.S. citizen or permanent resident, you may be eligible for merit scholarships within the school. Please contact the Admissions Office for information.
Please note: You will not be able to pay for the full amount of your educational expenses by working while you are in the United States.
All applicants who are not U.S. Citizens must be prepared to submit a Certification of Finances form and provide supporting documentation for the total cost of attendance to the MCW Financial Aid Office after being admitted to MCW School of Pharmacy. This information is not required to complete the application but needs to be submitted and approved by April 30th of the matriculation year.
TOEFL (Test of English as a Foreign Language)
The ability to communicate effectively in English — to read, write and speak the language fluently — is vital to your success as an MCW student. MCW graduate applicants are therefore expected to demonstrate their proficiency in English as part of the application process.
English-Language Proficiency Requirements
MCW accepts only Internet-Based TOEFL (iBT) test scores. Admitted students are exempt from taking the ISE Exam with the following scores:
Master's/Professional Degrees 90 or above, with 20 or above in each section.
Sending official scores to MCW: MCW must receive scores electronically from the testing service for them to be considered official. Photocopies or paper copies of scores are not acceptable. MCW's institution code is 4852. (No department code is required.)
Your scores are considered valid only if earned within two years of your intended first term at MCW. (For example, no earlier than July 1, two years prior if applying for the fall term.)
English-Language Test Waiver
International applicants are exempt from submitting English-proficiency scores under the following circumstances:
You hold a bachelor's degree completed in its entirety in the United States or another majority English speaking country.


The bachelor's degree should be earned at a regionally accredited university located in the United States, or at an officially recognized university in another country where English is both the language of instruction and the only officially recognized language of the country. Please note that the entire program needs to have been completed in the qualifying country.

Note: Dual-degree holders who completed part of their degree in the U.S. do not qualify for this waiver.

Your native language is English.


This applies to native English speakers from countries such as the United Kingdom, Australia, New Zealand, and Canada (except Quebec), where English is both the only official language of the country and the language of instruction.

MCW does not waive the English-proficiency requirement based on any other consideration such as work experience, ESL enrollment, etc. It also cannot be waived for undergraduate programs taught in English in non-English speaking countries, or for graduate degrees earned in the U.S. or other qualifying countries.
Non-Traditional US Applicants
The Medical College of Wisconsin (MCW) School of Pharmacy recognizes that there are individuals who desire a career in pharmacy who have arrived at that decision outside of the traditional undergraduate pre-pharmacy pathway. Individuals with work experience in health care and related fields such as business management/ownership, information technology, and education may find that a career as a pharmacist is especially rewarding.
All applicants are required to satisfy the Doctor of Pharmacy (PharmD) program admission requirements. On a case-by-case basis, following review of professional experience and coursework, the School of Pharmacy may extend alternative application and prerequisite course requirements to individuals who satisfy the following criteria:
Complete a baccalaureate degree in the United States or Canada no fewer than three years prior to desired year of entry into the PharmD program with a minimum cumulative grade point average (GPA) of 3.0.
Complete the Pharmacy College Admission Test (PCAT) prior to application submission.
a.

Recommended timeline: within one year prior to desired year of entry into the PharmD program
b.

Recommended minimum score: 50
Complete no fewer than 40 hours of experience as an employee or volunteer in a health care setting.
Individuals who may satisfy the criteria above are encouraged to contact the Office of Academic and Student Affairs and request to speak with an enrollment coordinator to review their specific situation.
Transfer Students
If you are currently enrolled in a pharmacy degree program at another institution, the MCW Pharmacy School may accept your request to transfer under extenuating circumstances and depending on seat availability. Consideration will only be given to students who are currently in good standing at an ACPE-accredited College or School of Pharmacy. If you have been placed on probation for any reason, temporarily or permanently suspended, required to repeat courses or involved in any adverse action as a result of code of conduct violations or academic dishonesty, you are not eligible. Please contact the Office of Academic and Student Affairs to arrange for a transcript review and to review all of MCW Pharmacy School's admission policies.
How Do I Know if I am Eligible?
If you wish to become a MCW Pharmacy School student, you must file an application through PharmCAS.
*The final application deadline for Summer 2021 enrollment for the MCW Pharmacy School is June 1, 2021. Applications completed and submitted by this deadline will be given full consideration for admission to the MCW Pharmacy School.
Effective March 12, 2020, completion of the Pharmacy College Admission Test (PCAT)/Medical College Admission Test (MCAT) is not required; rather, it's optional. If you believe the PCAT/MCAT provides evidence of your academic preparedness for the MCW PharmD program, you are encouraged to take the PCAT/MCAT and submit your scores to PharmCAS. For example, this could apply to students at or near the minimum cumulative/prerequisite GPA requirement or students who completed science prerequisite coursework more than seven years ago.
Applicants who meet the minimum requirements and do not complete or submit PCAT/MCAT scores will receive a holistic application review and be considered competitive candidates for the Doctor of Pharmacy program.
Complete the minimum pre-pharmacy requirements at an accredited college or university in the United States or Canada.
*All pre-pharmacy requirements must be completed by June 30, 2021. Students considering applying for admission to the MCW Pharmacy School must complete 90 credit hours of undergraduate study prior to matriculating to be considered for matriculation into the program.

Achieve the minimum cumulative undergraduate GPA of 2.0 on a 4.0 scale as calculated by the MCW Pharmacy School Office of Student Affairs and a prerequisite GPA of 2.5 on a 4.0 scale.
Earn a grade of C or better in all prerequisite courses.

Submit three professional or academic references by the appropriate deadline.
*Letters of recommendation must be submitted through PharmCAS.

Demonstrate the proper motivation for, and your commitment to, the profession of pharmacy through previous health-related work, volunteer experiences, research, or other related experiences.

Complete, and submit via PharmCAS, a personal statement demonstrating your written communication skills necessary to interact successfully with patients and colleagues.

Complete the MCW Pharmacy School applicant interview process, by invitation only.

All final official transcripts can be sent electronically to: pharmacy@mcw.edu

Applicants may elect to mail official documents to:
MCW Pharmacy School
Office of Student Affairs
8701 Watertown Plank Rd.
Milwaukee, WI 53226

An application to the MCW Pharmacy School is considered complete when all application criteria have been submitted by the June 1 deadline.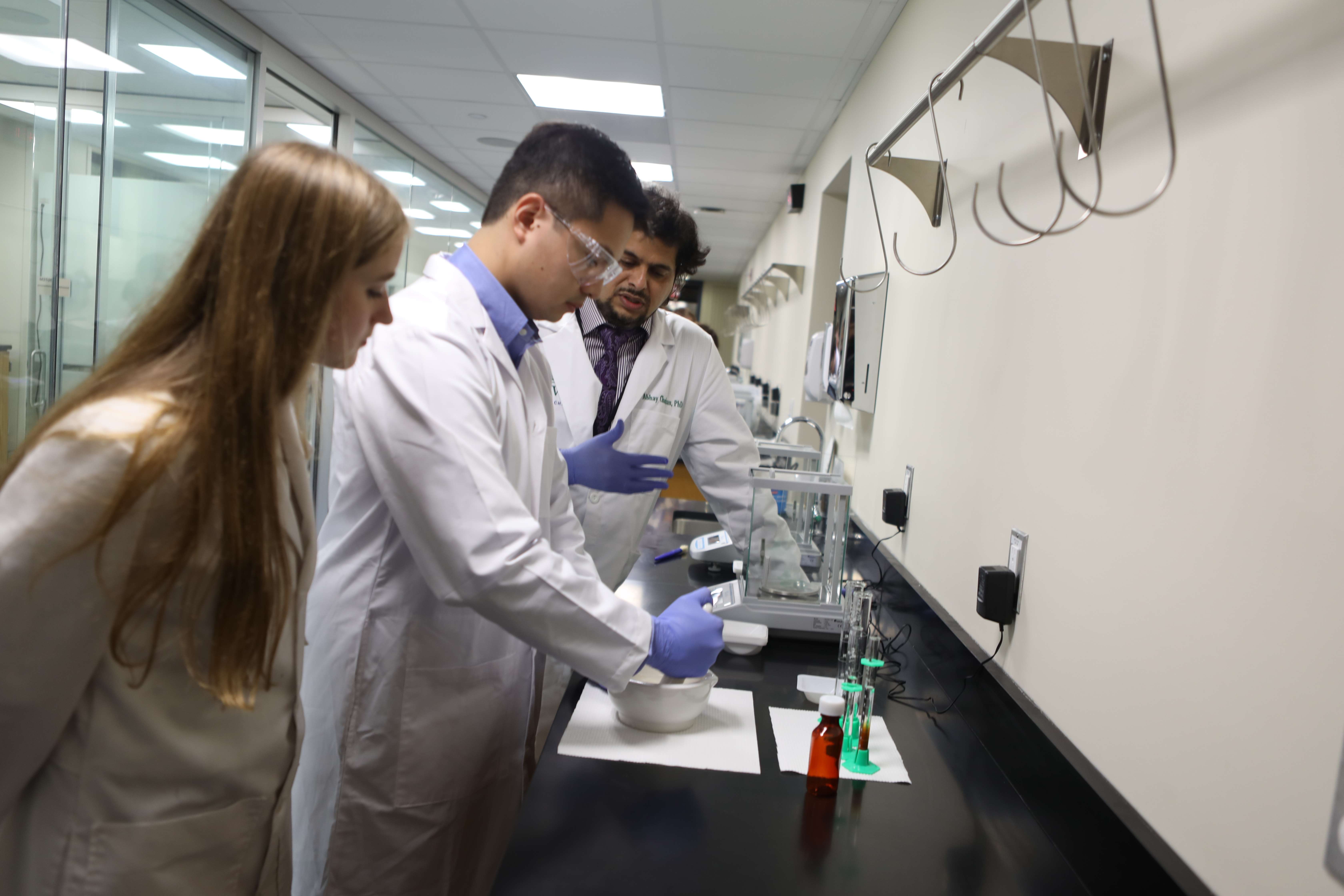 What Happens After I am Interviewed?
After you have completed and submitted your PharmCAS application it will be reviewed by the MCW Pharmacy School Office of Student Affairs. You may receive direct correspondence from the Office of Student Affairs if your application is missing important information or if your application requires any clarification. Applicants who successfully complete all the above criteria may be considered for provisional admission to the MCW Pharmacy School.

The MCW Pharmacy School has a rolling admissions decision process. Rolling admissions means your application will be reviewed shortly after a complete PharmCAS application is received. The deadline for Summer 2021 admission is June 1, 2021. Although incoming applications will be reviewed on a continual basis, you are encouraged to submit your application early to receive priority in selection, as interview spaces and seats in the class become limited closer to the deadline.

As part of the provisional admission process applicants must submit to a required criminal background check, drug screening and meet all immunization requirements set by the MCW Pharmacy School.

The MCW Pharmacy School Office of Student Affairs, Admission Committee, and Dean reserve the right at any time to rescind an offer of provisional admission to an applicant who does not meet or successfully complete the above listed criteria.

Learn More About Our Innovative Three-Year Program
MCW is one of the few pharmacy schools in the country offering a three-year Doctor of Pharmacy (PharmD) degree. Our innovative program will provide you with early and extensive exposure to a variety of clinical settings and world-class research in specialties such as precision medicine, pharmacogenomics, cancer and psychiatry. The MCW Pharmacy School accepts the PharmCAS application, which becomes available in July of each year. The final application deadline is June 1 of each year. All prerequisite classes must be completed by June 30. Qualified applicants will be offered the opportunity to interview at the MCW Pharmacy School on a rolling basis. Qualified applicants who interview may be offered provisional admission to the MCW Pharmacy School.
Contact Us
If you have any questions regarding the MCW Pharmacy School prerequisites, please contact the Office of Academic and Student Affairs.
MCW Pharmacy School
8701 Watertown Plank Rd.
Milwaukee, WI 53226