Current Students
At MCW, we are committed to delivering an advanced and engaging pharmacy education experience that will allow you to practice immediately after graduation, with the certifications and knowledge you need to offer point of care testing, medication therapy management, vaccines and other essential patient care services.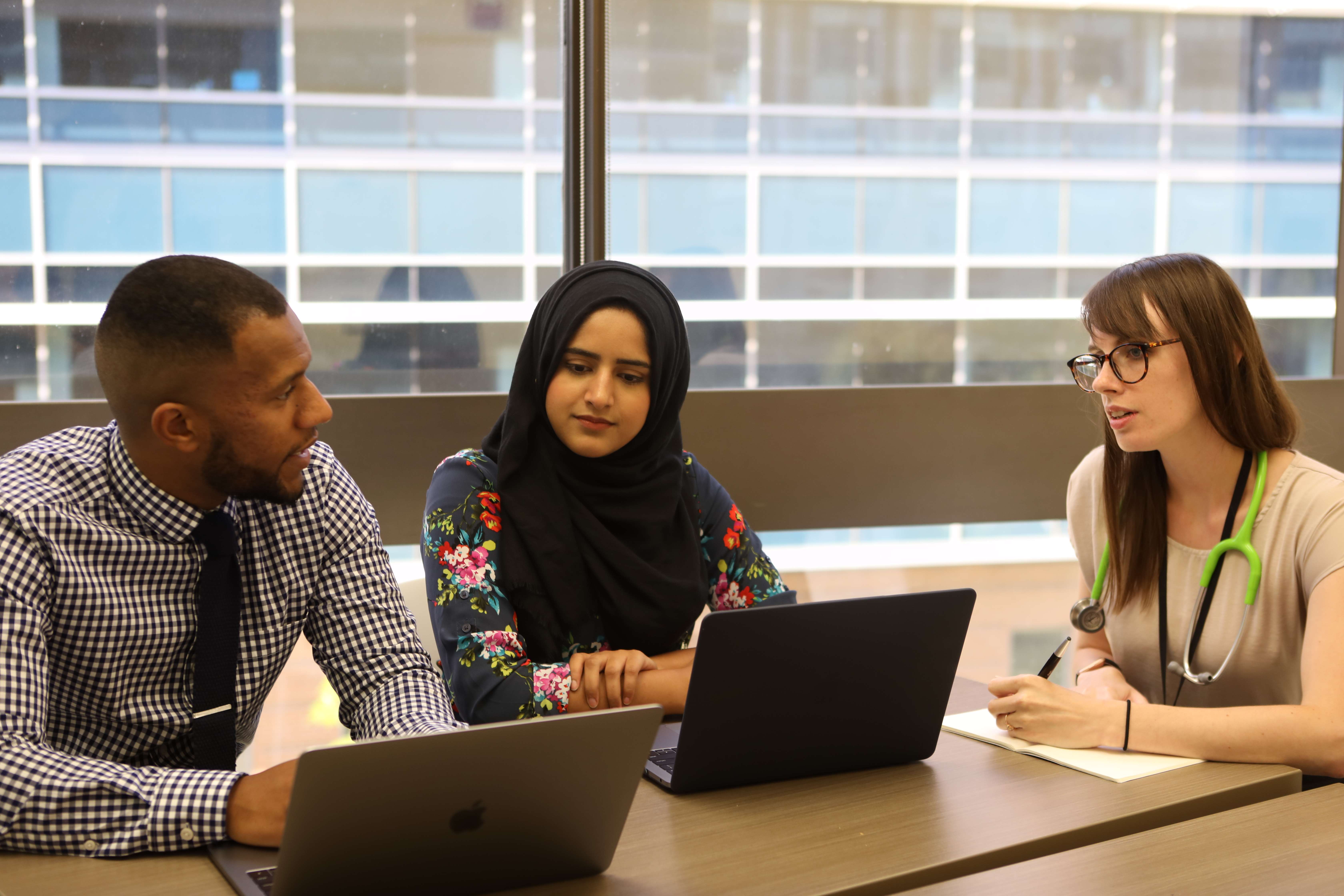 Student Life
Student Life
As a student at MCW's Pharmacy School, you are training to become an integral member of the healthcare continuum, focused on increasing access to patient care while contributing to better outcomes. You will be learning from and alongside renowned faculty, including clinicians at some of the top hospitals in the country, such as Froedtert Hospital, Children's Wisconsin and the Clement J. Zablocki VA Medical Center.

Our small class sizes and inter-professional team learning environment is designed to provide you with a truly personal and meaningful educational experience, allowing you to contribute to the Triple Aim: better care, better health and lower cost – which translates to higher quality care overall and better outcomes for your patients and the communities you will serve.

Student Resources
Graduation Requirements
Candidates for the Doctor of Pharmacy degree must:
Complete the required number of professional Doctor of Pharmacy degree credits.
Complete the courses required in the professional pharmacy curriculum, including the required number of professional electives, selected from the list of approved elective courses.
Complete the Scholarly Pathways requirements as defined by the Pharmacy School.
Complete the co-curriculum requirements as defined by the Pharmacy School.
Pay all fees and financial obligations to the institution.
Maintain technical standards for admission, promotion and graduation.
Be recommended for the degree by the Academic Standing Committee.
Complete the requirements of the Doctor of Pharmacy degree within 5 years of matriculation.
The requirements for graduation, including policies and specific courses, are subject to periodic review and may be changed from time to time as determined by the MCW Pharmacy School.
Student Handbook
MCW Pharmacy School Student Handbook (PDF)
This handbook contains information, policies, and procedures specific to students enrolled in the Doctor of Pharmacy program. It is to be used in conjunction with the MCW All Student Handbook which includes information, policies, and procedures that pertain to all students.
Medical College of Wisconsin All Student Handbook (PDF)
This handbook contains information, policies, and procedures for all students enrolled at the Medical College of Wisconsin. It is to be used in conjunction with the MCW Graduate School of Biomedical Sciences Handbook, the Medical School Handbook and/or the Pharmacy School Handbook which include information, policies and procedures specific to the schools.
Although every effort has been made to verify the accuracy of information in this publication, the Medical College of Wisconsin reserves the right to make changes to policies and procedures without notice as necessitated by governing authorities or administrative needs. Changes will become effective whenever the proper authorities so determine and will apply to all matriculated students.
Updates and changes are made annually to the handbook. Anyone with suggestions for amending or changing any of the information in this handbook should make those suggestions in writing to the Office of the Registrar.
It is the responsibility of the student to seek out clarification of policies and procedures.
Campus Safety
The Medical College of Wisconsin (MCW) prepares and publishes its Annual Campus Safety Report in compliance with the Higher Education Act of 1965, otherwise known as the Jeanne Clery Disclosure of Campus Security Policy and Campus Crime Statistics Act (Clery Act). This report outlines MCW's security policies and discloses campus crime statistics for the three most recent calendar years.

This report is available to all current and prospective faculty, staff and students. An electronic version of the report can be accessed on the Public Safety website. A paper copy of this report may be obtained by contacting Medical College of Wisconsin, Public Safety, 8701 Watertown Plank Rd., Milwaukee, WI 53226 or by calling (414) 955-8295.
Academic and Student Services 
Contact Us
For more information, please contact us.
MCW Pharmacy School
8701 Watertown Plank Rd.
Milwaukee, WI 53226