School of Pharmacy Faculty Share Their Innovative Teaching Practices at Conference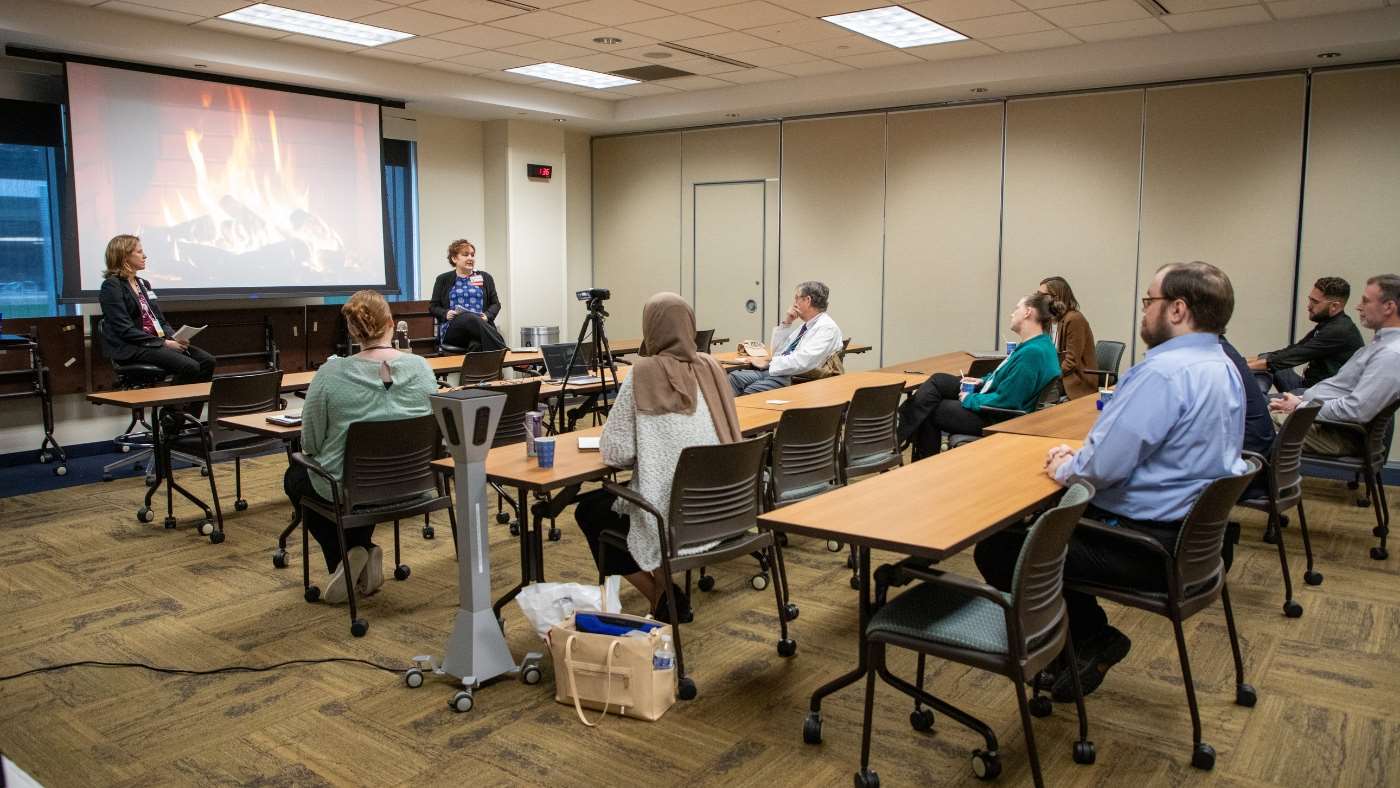 At a Medical College of Wisconsin conference in September 2023, School of Pharmacy faculty highlighted several ways educators of future healthcare professionals can boost engagement in their classrooms.
The Innovations in Healthcare Education Research (IHER) Conference brings together individuals who are passionate about discovering new approaches to assessing learning, faculty development, curricular design and teaching delivery methods that enhance the student learning experience.
Incorporating Pharmacogenomics and Gamification into the Classroom
A fireside chat about pharmacogenomics covered how genetic variants impact drug response and how educators can integrate genomics into the curriculum. Carolyn Oxencis, PharmD, BCOP, a hematology/oncology clinical pharmacist at Froedtert Health and clinical assistant professor, shared how MCW pharmacy students can choose to participate in pharmacogenomic panel testing. Through a partnership with RPRD Diagnostics, located just down the road from the MCW campus, students test their own DNA via a saliva specimen and assess how their own genes may impact drug metabolism.
"Students improve their knowledge, interest and confidence in pharmacogenomics when they have tangible evidence of how these test results may impact them," said Dr. Oxencis. "This activity allows us to practice not only interpreting pharmacogenetic results, but also simulates the perspective of the patient."
Dr. Oxencis added, "We are looking forward to expanding pharmacogenomics learning activities to include other healthcare professional programs here at MCW, including future physicians and genetic counselors."
Dr. Oxencis works with Rachel Kavanaugh, PharmD, BCACP, director of professional labs for second-year pharmacy students and assistant professor, to create pharmacogenomics labs for students. Dr. Kavanaugh is also a proponent of leveraging technology and using gamification to increase student engagement.
"I find that when students are working together in a small group, they all have a common goal, and they're either competing against each other or against time, they tend to be really focused," explained Dr. Kavanaugh. "You can tell they're able to quickly pull up that didactic information and apply it much faster than if they were sitting in a group talking about a case."
Gamified activities Dr. Kavanaugh has incorporated include a murder mystery interprofessional education activity with nursing students from the Milwaukee School of Engineering and an escape room to test students' knowledge on diabetes.
"I've had some anecdotal comments that students remember when they got stuck on the class of medication in the escape room because they couldn't open the lock. But now they won't forget that information again – so it's another way to build those connections in the students' long-term memory," added Kavanaugh.
Human-Centered and Community-Engaged Design
Lana Minshew, PhD, MEd, director of the Human-Centered Design Lab at the Kern Institute and assistant professor in the School of Pharmacy, received the 2023 Innovator of the Year Award based on her extensive involvement in the IHER Conference. Dr. Minshew gave an oral presentation how MCW Medical School faculty can help their students stand out in residency applications, conducted a world café session in which faculty brainstormed ways to increase engagement in professional development activities, and facilitated roundtable and speed poster presentations where students presented research.
Dr. Minshew and Antonina (Nina) Johnston, program manager for the Human-Centered Design Lab, led a workshop on understanding human-centered design and incorporating it into the curriculum. Dr. Minshew describes human-centered design as "designing with empathy" – collaborating with the individuals for which you're designing the solution and ensuring they feel their voice is being valued.
"Human-centered design is about creating and learning," said Dr. Minshew. "If I don't learn anything from the people for which I'm designing, then I can't design well because I'm going to miss the mark."
The workshop included icebreaker activities centered on rock, paper, scissors and the "yes, and..." rules of improvisational comedy.
"That's the community building part of design," explained Minshew, "because you can't work with people if you don't know them and you don't feel comfortable with them. You have to create a safe space that encourages people to lower their walls and know they can share and be their authentic selves."
The workshop also taught educators to reflect on the effectiveness of new activities that are brought into the classroom, and how to facilitate community feedback through prototyping activities involving Legos, play dough, construction paper, pipe cleaners and more.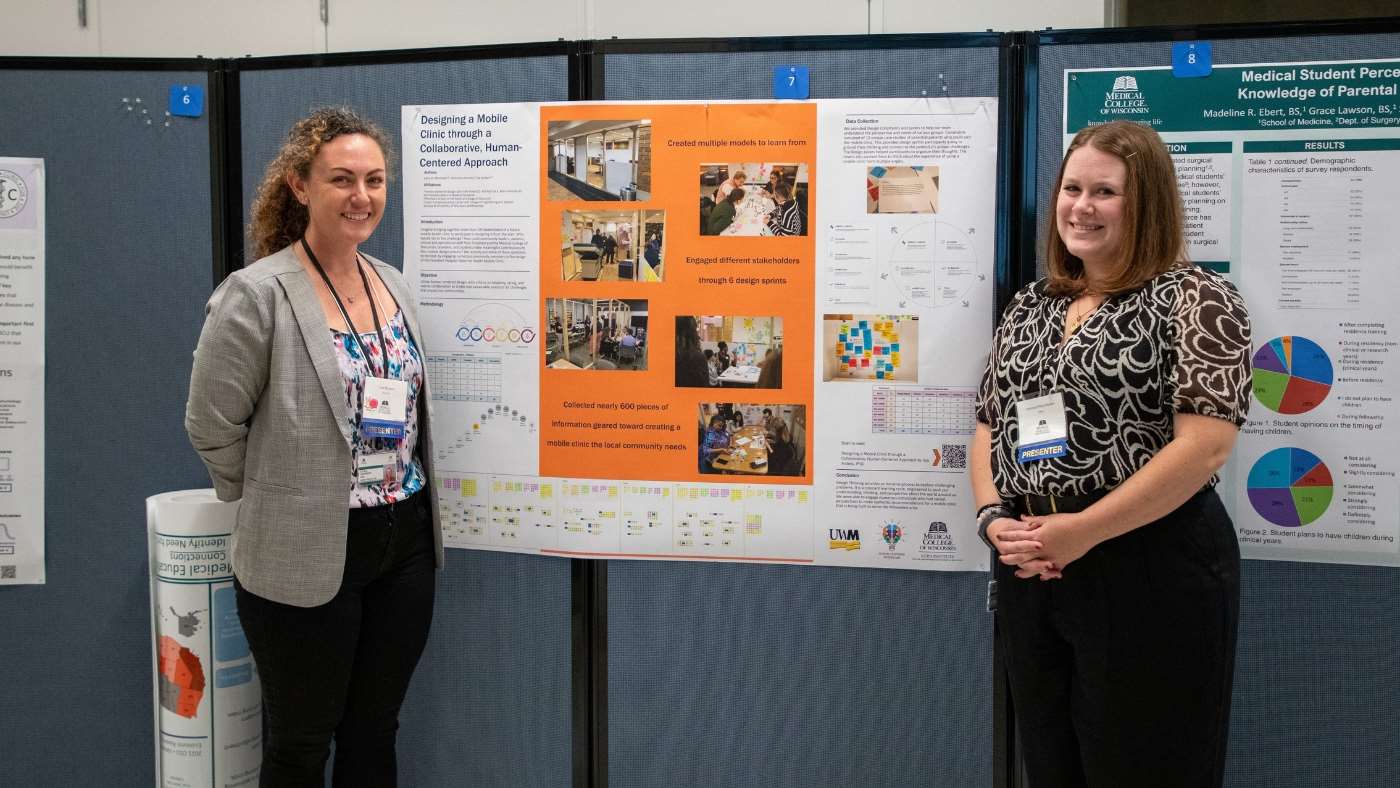 Dr. Minshew and Ms. Johnston also presented a poster on community-engaged design thinking and how to connect medical students with the communities they serve. The Kern Institute collaborated with students from MCW's medical and pharmacy schools, plus the University of Wisconsin–Milwaukee and its engineering students, to design a mobile clinic. The design team focused the mobile clinic on improving maternal health outcomes, given Milwaukee's high rate of maternal and infant mortality among African Americans in particular.
Students participated in design brainstorming sessions with community members, practitioners and leaders at Froedtert Hospital to make improvements. One key takeaway from community members was that they would want to see the same practitioner each time they visit the mobile clinic, to avoid having to outline their medical history at every appointment.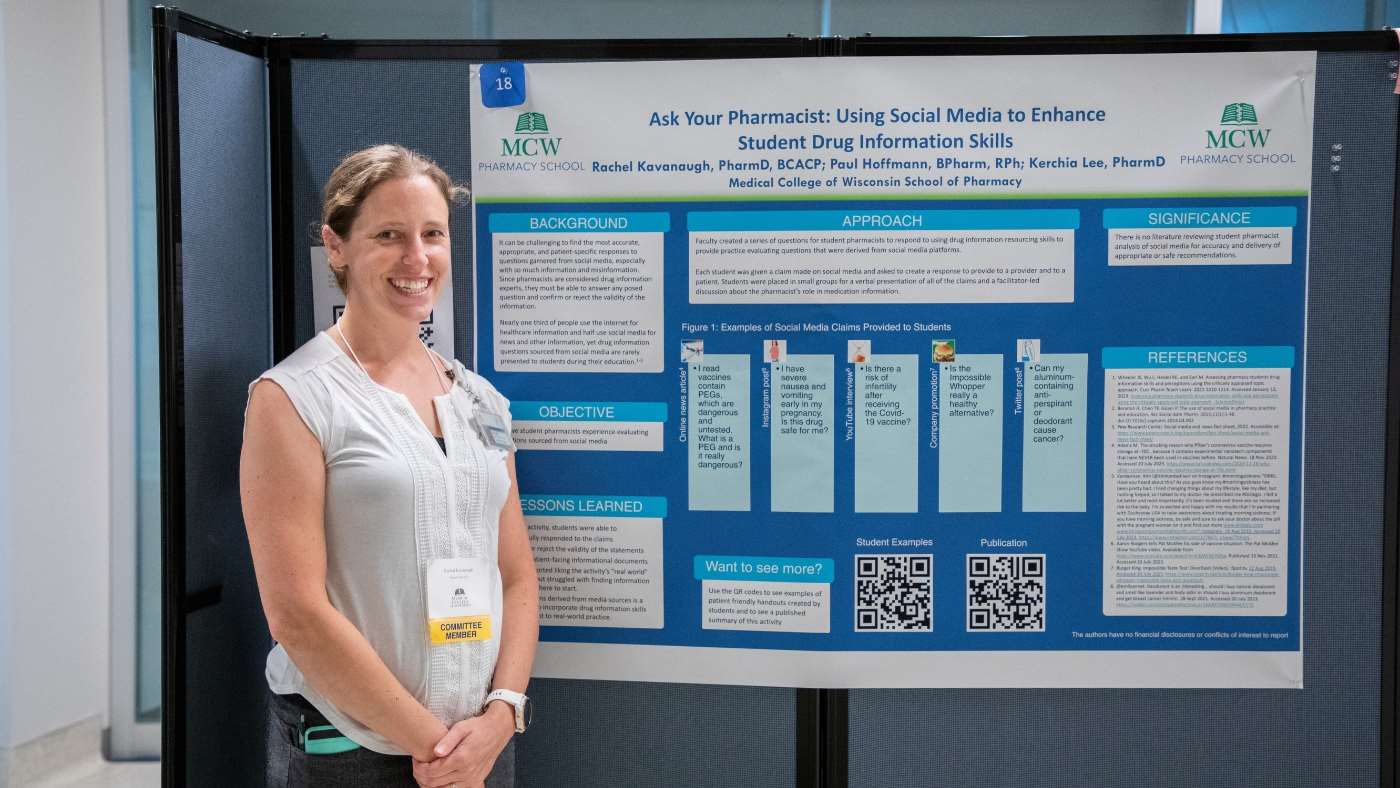 Social Media Literacy
Also at the IHER Conference, Dr. Kavanaugh presented a poster on her recent publication in the journal Currents in Pharmacy Teaching and Learning, which highlighted one of her classroom activities that asked students to evaluate situations, myths or claims made in the media that directly impact public health decisions.
"A lot of people are already using social media as their doctor – they're relying on things that are posted on Facebook as medical advice, even though it's not necessarily posted by a physician. People are taking these posts as fact and running with it, which is very scary," said Dr. Kavanaugh.
Examples of the drug information topics students assessed included COVID-19 vaccine information, whether Burger King's Impossible Whopper is a healthy alternative and if aluminum-containing antiperspirant can cause cancer. After researching the topic and assessing the claims, students practice explaining their findings to a patient and create a document or presentation that can be shared with physicians, who may be hearing the same medical myths from their patients.
Pharmacy students have found this activity to be challenging because there's lots of conflicting information and not necessarily a black and white answer.
"We need to make sure our student pharmacists are going to be critical thinkers when they graduate," said Dr. Kavanaugh. "When students go out on rotations, they find very quickly that they're the medication experts and physicians will ask questions that they may not be able to easily search. We need to make sure our students know how to compile the information to give the best recommendation possible."