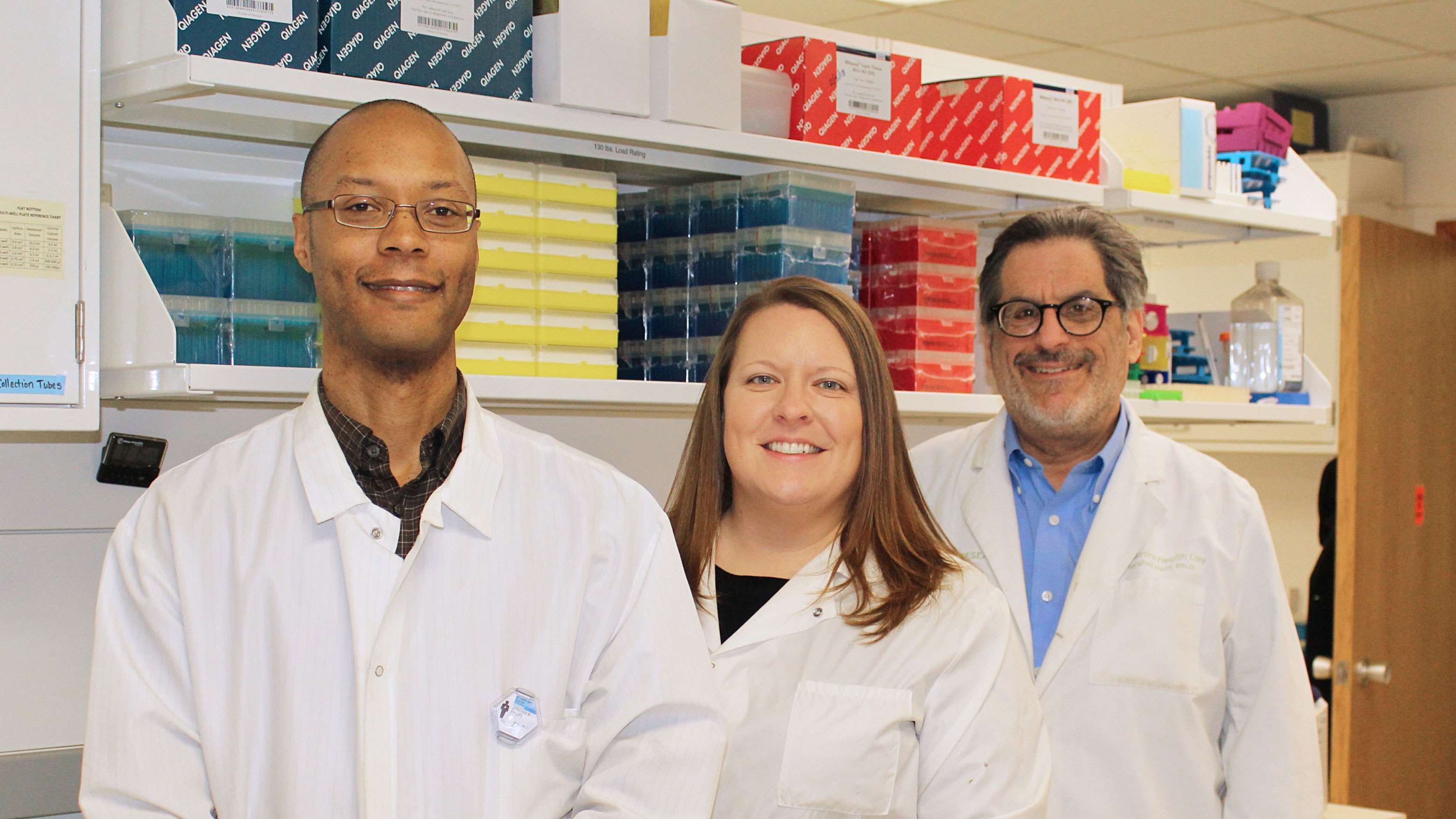 Research Areas
Hypoxia is common with preterm birth and may lead to long-term effects on the adult hypothalamic-pituitary-adrenal (HPA) axis that are sexually dimorphic due to neonatal androgens. Although the adult rat adrenal does not express appreciable CYP17 activity, the neonatal rat adrenal may synthesize androgens that could be a critical local factor in the development of adrenal function. We evaluated these phenomena by pretreating the neonatal rats on postnatal days (PD) 1, 6, 13, 20 with flutamide (a non-steroidal androgen receptor antagonist) at a standard or a high-dose (10 mg/kg or 50 mg/kg) compared to vehicle control. One day later, neonatal rats were exposed to acute hypoxia and blood was sampled. Our studies suggest that neonatal androgens play a role in regulation of adrenal function that is sexually dimorphic and changes during early development.
Premature birth is a major public health problem worldwide and can lead to transient adrenal insufficiency. The stress of premature birth includes the inability to control blood glucose and maintain normal oxygenation leading to hypoxia. Corticosteroid administration enhances surfactant production and improves oxygenation in preterm humans. However, corticosteroids can also have negative consequences. We have validated a rat model of separation and hypoxia on post-natal day (PD) 2 that emulates the stress and treatment of hypoxia in the preterm human infant. We hypothesized that the role of endogenous glucocorticoids in our neonatal rat model of preterm birth can be evaluated using the novel selective glucocorticoid receptor (GR) antagonist CORT113176 (Corcept) which is devoid of progesterone receptor effects. The differential effects of CORT113176 based on age and target tissue indicate that GR regulation changes in early development in our animal model of human prematurity. These findings may have significant implications in the treatment of hypoxia and transient adrenal insufficiency in the preterm infant as well as give insight into the nuances of the control of glucocorticoid receptor function.
Late-night salivary cortisol (LNSC) measured by enzyme immunoassay (EIA) is established as a reliable screening test and recommended as a first-line test for Cushing's syndrome. However, liquid chromatography-tandem mass spectrometry (LCMS), validated to measure salivary cortisol (F) and cortisone (E), has been proposed to be superior diagnostically as well as helpful in detecting saliva contaminated with topical hydrocortisone (i.e. cortisol). So far we have measured EIA-F, LCMS-F, and LCMS-E in 913 consecutive late-night saliva samples from patients suspected of Cushing's syndrome. EIA-F appears to be superior to LCMS-F in identifying CD patients with milder hypercortisolism using established diagnostic cutoffs. Neither LCMS-E nor F/E ratio improved the diagnostic sensitivity in newly diagnosed CD or persistent/recurrent CD after pituitary surgery. We suggest that late-night salivary cortisol measured by EIA provides the best sensitivity for CD diagnosis.
Current Members
Santiago Rolon
M3 Medical Student
Pathway Research Project
Kyle Welhouse
M2 Medical Student
Pathway Research Project
Molly Murray
M1 Medical Student
Pathway Student
Josh Kannakeril, MD
Clinical Endocrine Fellow
Alumni/Former Trainees
Clinical Fellows (Research)
Thomas P. Segerson, MD – Research Fellow
Victor O. Waters, MD – Critical Care Fellow
Santo J. Diaz, MD – Critical Care Fellow
Manoj H. Majmudar, MD – Critical Care Fellow
Robert C. Brickner, MD – Endocrine Metabolic Fellow
Pennapa Chan, MD – Endocrine-Metabolic Fellow
Scott Brock, MD – Endocrine-Metabolic Fellow
Sandra L. Ettema, MD, PhD, CCC-SLP – Otolaryngology Resident
Vidya Kidambi, MD – Endocrine-Metabolic Fellow
Ty Carroll, MD – Endocrine-Metabolic Fellow
Jay Mepani, MD-Endocrine-Metabolic Fellow
Michael Einstein, MD – GI Fellow
Giovanna Caprirolo, MD – Pediatric Critical Care Fellow
Mohamed Tahsin Jouhari, MD – Pediatric Critical Care Fellow
Neil Reisinger, MD – Chief Medical Resident
Nebiyu Biru, MD – Chief Medical Resident
Satyanisth Agrawal, MD – GI Fellow
Brian Rajca, MD – GI Fellow
Julia Leo, MD – GI Fellow
Veena Kumaravel, MD – GI Fellow
Jonathan Fahler, MD – GI Fellow
Post Doctoral Research Fellow
Paula. E. Papanek, PhD
Graduate Students
Eric D. Bruder, MS – University of Wisconsin, Milwaukee
Medical Student Research Trainees – Medical College of Wisconsin
Timothy P. Roarty
Maryam Ivanoff
Steven C. Griffen
Saeid Kohandarvish
Mark H. Rossing
Sandra K. Doepker
Pedro Lucero
Anne Nagler
Jody VanHoof
Karl Johnson (Clinician Scientist Pathway Advisor, 2011-2014; T35 Training Grant from National Heart, Lung, Blood Institute (NHLBI))
Jonathan Bodager (Clinical Scientist Pathway Advisor, 2013-2016)
Nasha Nensey (Physician Scientist – Molecular and Cellular Research Pathway Advisor, 2014-2017)
Adam Goldenberg (Physician Scientist – Molecular and Cellular Research Pathway); Advisor, 2016-2019; T35 Training Grant from the National Heart, Lung, Blood Institute (NHLBI)
Christine Huyhn (Quality Improvement and Patient Safety Pathway); Research Advisor 2017, Dr. Michael J. Dunn Medical Student Summer Research Training Fellowship)
Undergraduate Summer Trainees
A. Joseph Tector, III – Indiana University
Edward Stauber (1997 Endocrine Society Student Research Fellow) – University of Wisconsin
Genevieve Schmitt – College of the Holy Cross
Seth Auger – University of Dayton
Judson Werner – University of Wisconsin
Michael Patrick Kehoe – University of Wisconsin
Jonathan Klinger – Marquette University
John P. Tucker – University of Wisconsin
Jennifer Taylor – Northwestern University
Michael Nord – University of Minnesota
Kimberli Kamer – University of Wisconsin
Mitchell Guenther – Lawrence University
Christopher Wean – Renssalaer Polytechnic Institute
Kathan Chintamaneni – Washington University of St. Louis
Kristin Prewitt – University of Wisconsin
Thomas Gessert – University of Wisconsin
Mack Jablonski – Lawrence University
Cole Leonovicz – University of Miami
Emily Waples – Duke University
Minhal Gardezi – Wellesley College
Maya Guenther – Lawrence University
Matthew Schulgit – University of Wisconsin
Hana Siddiqui – University of Wisconsin