Admissions
Thank you for considering the Medical College of Wisconsin (MCW) for your pharmacy education. One of the best aspects of learning at MCW, in addition to our three-year Doctor of Pharmacy (PharmD) program, is the high caliber faculty who are dedicated to guiding you on every step of your journey to improve the health and quality of life for your patients.

Our innovative and interprofessional educational experience is designed to help you meet your career goals, whether you are interested in meeting the needs of patients in your community by working at a retail pharmacy, serving as a member of a patient care team in a hospital or residential facility, or joining researchers striving to deliver individualized treatments to effectively treat society's most pressing diseases.

We invite you to take a closer look and get to know us. If you have any questions on how to begin your pharmacy education journey at MCW, we're here for you!
Contact Us for an In-Person Tour
For more information on in-person tours, please contact us.
MCW Pharmacy School
8701 Watertown Plank Rd.
Milwaukee, WI 53226
pharmacy@mcw.edu
(414) 955-7476
Angela Kowalski, MS
Enrollment Program Manager
Office of Student Affairs
School of Pharmacy
Medical College of Wisconsin
akowalski@mcw.edu
(414) 955-2646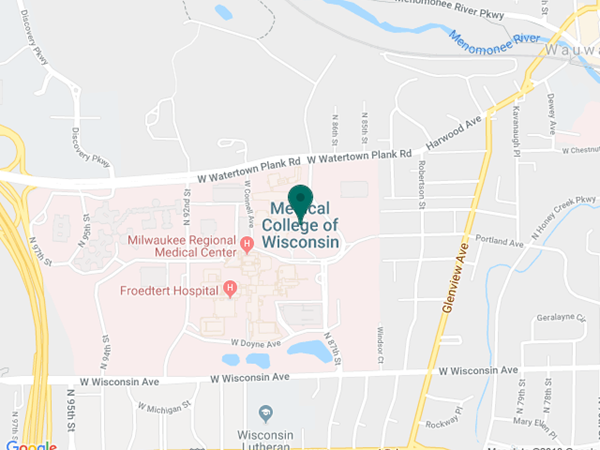 Innovative 3-Year Program
MCW is one of the few pharmacy schools in the country offering a three-year Doctor of Pharmacy (PharmD) degree. Our innovative program will provide you with early and extensive exposure to a variety of clinical settings and world-class research in specialties such as precision medicine, pharmacogenomics, cancer and psychiatry. The MCW Pharmacy School accepts the PharmCAS application, which becomes available in July of each year. The final application deadline is June 1 of each year. All prerequisite classes must be completed by June 30. Qualified applicants will be offered the opportunity to interview at the MCW Pharmacy School on a rolling basis. Qualified applicants who interview may be offered provisional admission to the MCW Pharmacy School.