Cardiac MRI
The MCW Cardiac MRI Imaging Group offers unique quality and expertise in the domain of cardiac MRI imaging. This is a collaborative group consisting of both cardiologists and radiologists who hold weekly joint imaging conferences to assure the highest standard of image interpretation.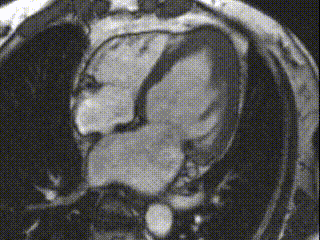 Core Exam - Cardiac Morphology and Function
This study uses a variety of MRI techniques to evaluate cardiac chamber sizes, function, and exclude significant valve disease. It can provide most of the same information as a complete echo and is particularly advantageous over echo when poor ultrasound images are anticipated (obese, severe COPD), differentiating masses or diseases that infiltrate heart muscle (tissue characterization), or when serial studies with a high degree of accuracy and reproducibility are needed (chemotherapy).


Tissue Characterization
Ability to characterize abnormal myocardial tissue or masses. Preferred over echo when interested in cardiac effects of systemic disease such as sarcoidosis, amyloidosis, systemic sclerosis. May assist in diagnosis of myocarditis, Fabry disease, hypertrophic cardiomyopathy and ARVD.


Viability
A very sensitive test to detect evidence of previous infarct or myocardial damage as a result of some systemic diseases. May request viability study by itself or will automatically be included with all stress test requests.



Cardiac MRI Adenosine Stress Test
Identifies obstructive CAD with sensitivity and specificity; it is as good or better than echo or nuclear imaging. Viability study automatically included with all requests. Patient does not need to be NPO but should have no caffeine for 24 hours prior to test.
Learn what to expect before, during and after your MRI
Cardiac MRA
Angiography of the thoracic aorta for size and coronary anatomy (but not CAD), especially when associated with abnormal aortic valve. Useful for diagnosis and surveillance of thoracic aortic aneurysm in a way that avoids ionizing radiation.


Monitored Pacemaker/ICD MRI scans of any body part
The Medical College of Wisconsin also offers specialized protocols for performing MRI scans on patients with both MRI-compatible as well as the older, non-MRI compatible ICDs and pacemakers.

Call (414) 777-1690 to order or schedule an MRI scan. This may be done under the MagnaSafe trial: Determining the Risks of Magnetic Resonance Imaging in the Presence of Pacemakers and Implantable Cardioverter Defibrillators; NCT00907361.
Hypertrophic Cardiomyopathy
Cardiac MRI is very useful in the diagnosis and evaluation of suspected
hypertrophic cardiomyopathy
. It can often give a better view of overall wall thickness (especially apically) than is possible by other imaging modalities. It will also give amount of fibrosis (by delayed enhancement) which is an important piece of prognostic information in HCM.
Infiltrative Cardiomyopathy
Cardiac MRI can be helpful to determine etiology of cardiomyopathy. It can often distinguish between ischemic, hemochromatosis, amyloid and sarcoid.


Arrhythmogenic Right Ventricular Dysplasia (ARVD/C)
Cardiac MRI is critical in establishing the diagnosis of ARVD. MCW physicians have been able to optimize the false positive/negative rate due to high volume experience.


Cardiac Masses
Cardiac MRI is critical in establishing the etiology of cardiac masses and is the gold standard for evaluation of intracardiac thrombus.


Contact Us
Referring Physicians Information
To order a cardiac MRI:
Call Radiology Ordering Hotline at (414) 805-3700

To discuss a case with a cardiac MRI physician:
Call the Access Center at (414) 805-4700 or (877) 804-4700. (For physicians and staff only.)
Nurses are available 24 hours a day, seven days a week.
Patient Information
Please call 1-800-DOCTORS to make an appointment for heart and vascular services.
Information is also available on the Froedtert Hospital website.