Society for Research Excellence
To foster, promote, and recognize excellence across MCW in all types of research and discovery
About the Society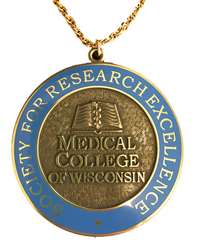 The Office of Research is pleased to host the MCW Society for Research Excellence, a collective of select MCW faculty with a demonstrated
commitment to discovery, mentorship, leadership, and advancement in research. New members are elected each year and announced at the fall Convocation ceremony.
Members of the SRE are characterized by such experience as:
Sustained research leadership leading to high impact discoveries or findings
History of serving as an effective mentor for trainees and/or junior faculty
National recognition for research, such as high visibility publications, national or international leadership roles, and/or receipt of awards
MCW full time or full professional effort appointment for at least 5 years
The nomination period for new members typically runs June - July annually. For inquiries about the society, contact the Office of Research.
Emeritus Members
Emeritus members are no longer active with MCW, however they are listed here in recognition of their service with their induction year.
Julie Panepinto, MD, MSPH (2017)
John Imig, PhD (2018)
Parameswaran Hari, MD (2021)