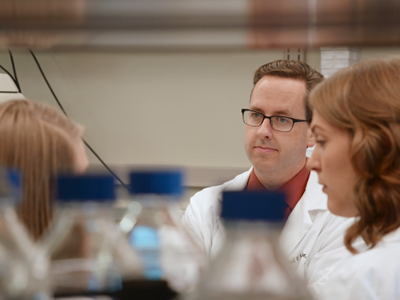 Medical College of Wisconsin Neuroscience PhD Program Faculty and Research
Neuroscience Research at the Medical College of Wisconsin is cutting-edge and highly translational. Close connections and collaborations between basic neuroscientists and clinicians make the atmosphere at MCW dynamic, disease-relevant and a rich environment for training. Our NDP students are an integral part of our research community because they receive one-on-one training from our NIH-funded faculty. If you are a prospective student looking for innovative, world-class training in a synergistic, exciting atmosphere, we invite you to explore our faculty research areas below!
Neurodegeneration and Neurotrauma
Neurodegenerative diseases including ALS, Parkinson's Disease and Spinal Cord Injury are studied using stem cells, animal models and human tissues.
Neuroimaging, tissue to brain
State-of-the-art brain imaging is used to study language, vision, hearing, learning and memory, and brain diseases including cancer.
Cellular and Synaptic Communication
Neuronal Communication at the cellular level is studied using cutting-edge genetic and electrophysiological tools in order to dissect mechanisms of development and disease in the visual system, learning and memory, and addiction.
Function of Neural Systems in Normal and Disease States
Neural circuits and pathways that underlie essential physiological functions and their misregulation in disease are studied. These include sleep disruption, breathing, chronic stress, reward systems, hearing, touch sensation and chronic pain.